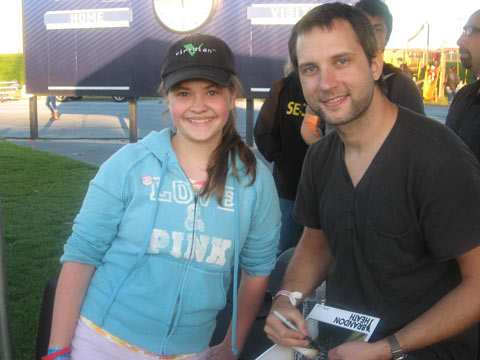 Lizze and Brandon Heath
Favorite Band/Artist: Brandon Heath
Featured Fan: Lizzie
Location: Stillwater, MN
When/Where Was The Above Photo Taken: National Sports Center- Blaine, MN
What About This Artist's Music Speaks To You: Brandon is very inspirational to me. I love all his songs and I've always loved them even before I knew who he really was. I really can't go a day without listening to him either. He writes things that most people can relate to, and I find that really cool. Brandon is my inspiration. I'm the only one of my friends who listens to Christian music and I don't care if I stick out from the crowd because he gives a really good message through all his songs. I also love his voice. He has amazing pipes and I wish I could sing like that. One day, I want to be a Christian singer like him. Thanks Brandon :)
Favorite Album by This Artist: Leaving Eden... Even though I love them all
Favorite Song by This Artist: "The Light in Me Fave"
Number of Times Seen This Artist Live: 2
Favorite Live Show Experience: The Leaving Eden Tour
Favorite Piece Of Merch/Item You Own From This Artist: Signed Leaving Eden Shirt and CD
Website: twitter.com/lizzieheath33

Submit your photo and reasons why YOU'RE a fan for a chance to be featured here!