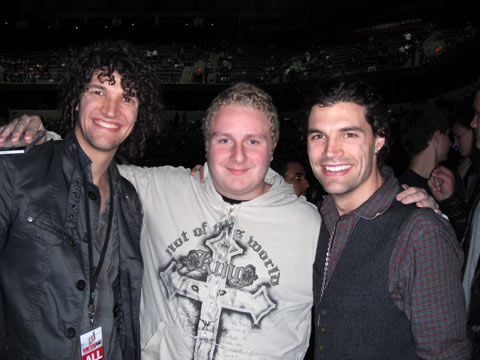 Alex Vanderspek and Joel & Luke

Favorite Band/Artist: for King & Country
Featured Fan: Alex Vanderspek
Location: Menifee, CA
When/Where Was The Above Photo Taken: Winter Jam 2011 in Ontario, CA
What About This Artist's Music Speaks To You: I first heard For King and Country when Air1 started playing their song "Busted Heart (Hold On To Me)." The song speaks to me in such a big way because sometimes I feel like I am a failure. The song "Proof of Your Love" also helps me in my walk with God and says I need to be Him to the world. I would definitely say this is the band that brought me back to God.
Favorite Album by This Artist: Crave
Favorite Song by This Artist: "Light It Up"
Number of Times Seen This Artist Live: 1
Favorite Live Show Experience: Them walking up to me and autographing my CD
Favorite Piece Of Merch/Item You Own From This Artist: Autographed Crave CD
Website: http://tinyhampster.info/

Submit your photo and reasons why YOU'RE a fan for a chance to be featured here!