We live in a world today where music is all around us and almost any possible song, album or tune is available at the drop of a hat. This is wonderfully convenient and we are lucky to have all of this digital technology around us, but isn't there something inherently organic about listening to tracks on vinyl? There is this warm energy and sense of rawness that vinyl records produce that is almost indescribable that digital ones just don't have.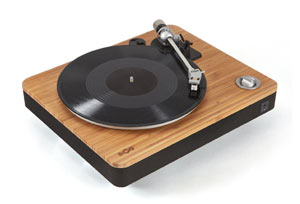 I love seeing live music and going to shows. Whether it be a major star at an amphitheater, someone playing at a bar or smaller venue, or even local artists playing downtown on the sidewalks. I love seeing an artist portray his or her craft to the audience. There is a certain kind of closeness you feel when you see a musician perform live and in person. When I can't make it to shows or concerts, there is only one other place to feel this closeness, and that is on a vinyl record. I listen to vinyl records almost every day; it is my preferred method of listening to music.

Of course I still purchase CDs and do use iTunes for digital purchases--it is almost impossible not to. Digital music is a powerhouse in the industry today. Almost anyone with a computer can create music if they wanted to and I think this is fantastic. Music is the best way for an artist to express to listeners what they are going through. Their pain, bitterness, happiness, etc.; it is a perfect outlet and can be very therapeutic. However, digital recordings just seem to take away from the authenticity of these sentiments. If an artist is hurt, you can feel that hurt on vinyl. If an artist is smiling, you can feel that smile on vinyl. The feelings are just more genuine. Now I know not every single artist out there has the ability to produce vinyl records and that is okay, we are still listening! Keep doing what you are doing.

But I think part of it is that there is just a simplicity to analog recording that makes it so beautiful. When an artist or band records an album meant for vinyl--generally this happens in a recording studio--the sound produced in the studio is transferred to a tape called the master recording. It is then ready to be transferred to a lacquer. A lacquer is placed on a special machine designed to take electric signals from the master recording and engrave a channel or groove into the lacquer as it rotates on the special record cutting machine -- hence the spiral-looking design on a vinyl LP. This lacquer is then sent to the production company for mass pressings of the vinyl record. A metal stamp is made from the lacquer by taking a mold from the grooves on the lacquer and then used in a hydraulic press to create the finished product. Now you can stick the finished record on a record player, drop the needle and enjoy!

Digital recording is a bit different. In digital recording, you are basically converting a sound wave into numbers to create a replica of the played sound. The sound waves travel through an analog to digital converter to convert the soundwaves into a number sequence and is then sent through a digital-to-analog converter to change the number sequence back into a soundwave for listening purposes. Seems tricky right? It is. Though digital recording makes it easier for any musician with a laptop and recording software to make music, it is easy to lose the music's sincerity with all of the conversions. Digital music is great because it makes it easier to store, transfer and listen to music, it is however a tad inorganic.

If you have not listened to a song or artist you enjoy on vinyl before reading this, I urge you to do so. Find a cheap record player or ask around if you do not have one and drop that needle. Whether you are a huge music guru or not, it will transcend you. It will be like listening to your favorite song for the first time but better. You will hear the songs in a way that will make you think differently and it may inspire you make your own art. No mater how you look at it, digital music and technology will continue to advance and that is a good thing. However, vinyl is still being produced for a reason and I strongly encourage you to do your ears a favor and listen to a vinyl record.

- Jessica Kane is a writer for SoundStage Direct, the number online source for the best vinyl records and turntables.