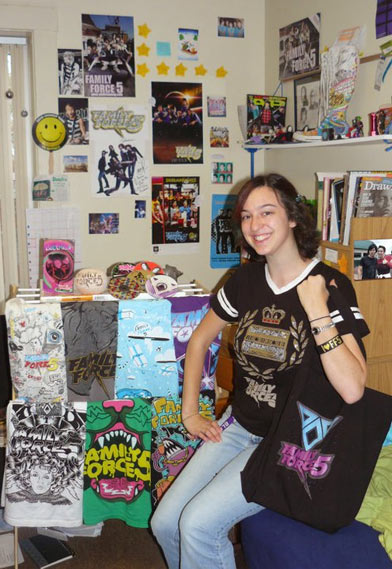 Megan Yoder with her Family Force 5 merch collection

Favorite Band/Artist: Family Force 5
Featured Fan: Megan Yoder
Location: Kalona, IA
When/Where Was The Above Photo Taken: This was taken in my dorm room in front of my FF5 shrine :)
What About This Artist's Music Speaks To You: I love their crazy but fun personalities, and their music is simply genius with how they express their love for God and people, no matter who you are! And they have a blast doing it! Plus their music just blows my mind!! It never gets old.
Favorite Album by This Artist: ALL OF THEM!!! I don't think I could chose one.
Favorite Song by This Artist: It's a 7-way tie between "Drama Queen," "Love Addict," "Dance or Die," "Fever," "Supersonic," "DIE 4 YOU,' and "Ghostride the Whip"
Number of Times Seen This Artist Live: 5!! But believe me. There WILL be more.
Favorite Live Show Experience: Either Sonshine Fest 2010 or a Dance Rawr Dance II show Times
Favorite Piece Of Merch/Item You Own From This Artist: One of my shirts, the tote bag or the bracelet. :)
Website: Megan's Twitter

Submit your photo and reasons why YOU'RE a fan for a chance to be featured here!