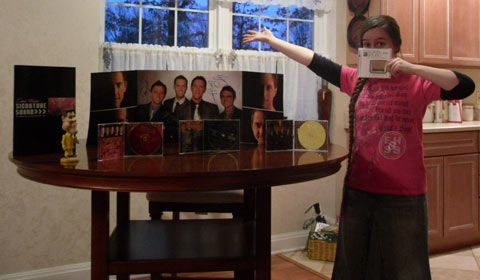 Lisa and her spread of Ernie Haase & Signature Sound merch

Favorite Band/Artist: Ernie Haase & Signature Sound
Featured Fan: Lisa P
Location: Pennsylvania
When/Where Was The Above Photo Taken: At my house, 3/10/11
What About This Artist's Music Speaks To You: EHSS music speaks to me in so many ways. There's songs like "Until We Fly Away," which really encouraged me through a particularly rough time in life, while songs like "Get Away Jordan," and "The Old Landmark" are fun songs that always put me in a good mood! "Oh What a Savior" is one of the best songs they've ever sang, and every time I hear it, it reminds me of how great God really is, and all He did for us on Calvary. If you think Southern Gospel is for your Grandparents, EHSS proves it's not!
Favorite Album by This Artist: Just one??? Hmmm, tie between Get Away Jordan and A Tribute To The Cathedral Quartet
Favorite Song by This Artist: "Oh What A Savior"
Number of Times Seen This Artist Live: 3
Favorite Live Show Experience: All of them!
Favorite Piece Of Merch/Item You Own From This Artist: Autographed "Oh What A Savior" tshirt.
Website: http://lifewithlisap.blogspot.com

Submit your photo and reasons why YOU'RE a fan for a chance to be featured here!