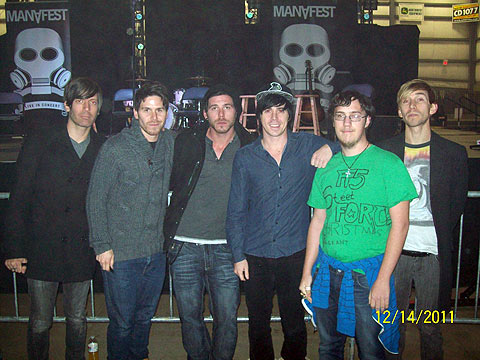 Adam Simpson and Family Force 5

Favorite Band/Artist: Family Force 5
Featured Fan: Adam Simpson
Location: Manhattan, Kansas
When/Where Was The Above Photo Taken: The Christmas Pageant 2011, Spencer, IA
What About This Artist's Music Speaks To You: Family Force 5's music speaks to me that no matter what, you can be yourself. When I became a Christian, most of my friends left me because I wasn't the same anymore, but through FF5 I have found that you can be just as crazy and still be a strong Christian.
Favorite Album by This Artist: III
Favorite Song by This Artist: "Kountry Gentleman"
Number of Times Seen This Artist Live: 2
Favorite Live Show Experience: When I got to dance on stage in a ridiculous Christmas Costume at The 2011 Christmas Pageant!!
Favorite Piece Of Merch/Item You Own From This Artist: Tough question.... Probably my Bling Ring.
Website: http://twitter.com/#!/dr_talk404

Submit your photo and reasons why YOU'RE a fan for a chance to be featured here!