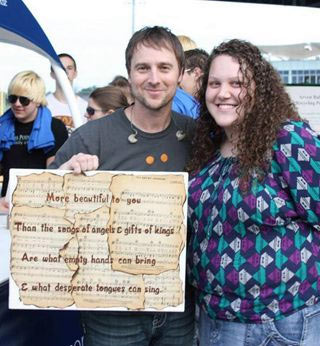 Bebo Norman and Patricia Jones

(Bebo Norman, myself and the lyric art (from his song "Hear it From Me") I made for him as a token of appreciation for his music!)
Favorite Band/Artist: Bebo Norman
Featured Fan: Patricia Jones
Location: Tulsa, OK
When/Where Was The Above Photo Taken: May 11th, 2012 at the Northwest Arkansas Naturals stadium at the pre-game set.
What About This Artist's Music Speaks To You: Bebo Norman's music has impacted my life more than that of any other musician. In my 10 years of listening to Bebo, I have been so blessed by this artist who is not afraid to pour his heart and soul into an album whether the songs are accepted as "radio friendly" or not. It seems like there is a perfect, uplifting Bebo Norman album for whatever I am facing. In the recent months I had been really struggling spiritually and Bebo Norman's latest masterpiece (Lights of Distant Cities) ministered to me in such a deep way. I was so moved by this album that it seems like it was written just to give me hope and encouragement. I am so thankful for the hand of God in Bebo Norman's music and I will continue to listen as long as he is making music.
Favorite Album by This Artist: Lights of Distant Cities
Favorite Song by This Artist: "Walk Down This Mountain"
Favorite Live Show Experience: May 11th I traveled to Springdale, AR to see Bebo perform for the first time in 6 years. I was front and center!
Number of Times Seen This Artist Live: 3
Favorite Piece Of Merch/Item You Own From This Artist: The setlist from the May 11th show
Website: Twitter

Submit your photo and reasons why YOU'RE a fan for a chance to be featured here!