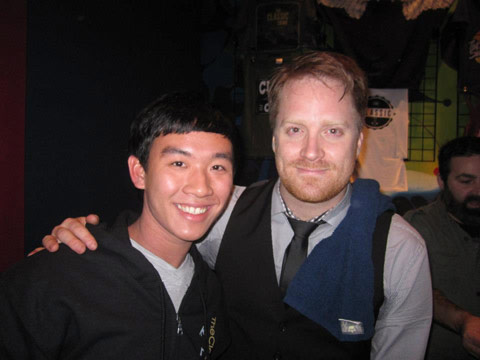 Daniel Chang with Matt McDonald of The Classic Crime

Favorite Band/Artist: The Classic Crime
Featured Fan: Daniel Chang
Location: Maryland
When/Where Was The Above Photo Taken: November 2012, The Fillmore at Silver Spring, MD
What About This Artist's Music Speaks To You: The Classic Crime captures just about every emotion in their music! They have plenty of happy, feel-good songs that make you want to dance, and then they have some slower, more reflective songs as well. Their lyrics often address really deep issues about ourselves, and how God is the only answer. For example, "Beautiful Darkside" has the lines "I need to find some meaning, Something true to believe in, 'cause left to my own devices, the beautiful darkside wins" Great music, great lyrics, great guys, what more can you ask for? Last, one fun thing about this band if you don't know them: They have a lot of "Whoa" songs (songs with "whoas"), and you'd think that would be annoying, but they do them EXTREMELY well!
Favorite Album by This Artist: Phoenix with The Silver Cord at a very close second!
Favorite Song by This Artist: "Abracadavers," "The Beginning (A Simple Seed)," "The Precipice," "Glass Houses"
Favorite Live Show Experience: This one!
Number of Times Seen This Artist Live: 1
Favorite Piece Of Merch/Item You Own From This Artist: Hoodie and signed poster
Website: N/A

Submit your photo and reasons why YOU'RE a fan for a chance to be featured here!