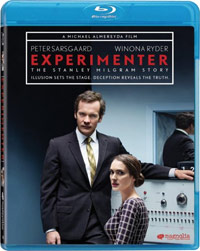 Experimenter


- for thematic material and brief strong language.
Director:
Michael Almereyda
Starring:
Peter Sarsgaard, Winona Ryder, John Leguizamo, Anthony Edwards, Jim Gaffigan
Running Time:
1 hour, 38 minutes
Theatrical Release Date:
October 16, 2015
Blu-Ray Release Date:
January 5, 2016 (
Amazon.com
)
Plot Summary
In 1961, famed social psychologist Stanley Milgram conducted a series of radical behavior experiments that tested ordinary humans willingness to obey authority. (from IMDB)
Film Review
The average moviegoer typically only comes across just a fraction of the films that release each year. More than just a few fly well under the radar and probably appear as direct-to-home-video releases due to their very limited release. Or, in the example of right now when the seventh Star Wars epsiode is shattering box office records globally, they just get eclipsed by bigger, more high-profile releases. The premise--and cast--of the indie film Experimenter piqued my interest recently, so I decided to take a chance on the film for review purposes. When I popped the blu-ray disc in, I was surprised to find that all of the previews before it were for documentaries. It definitely made me curious as to what was in store for me with the feature film.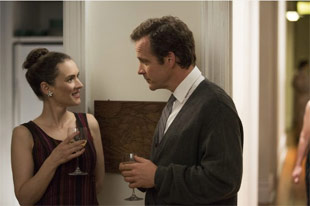 Experimenter is part documentary and part drama that tells the story of Stanley Milgram, a Yale professor and psychologist who immersed himself in the study of human obedience. The film opens with Peter Sarsgaard as Milgram, setting up an obedience study where a "teacher" asks questions of a "learner" who must remember a series of word associations (and who is behind closed doors) and is tested to see if one can learn through repetition of punishment. The teacher then delivers electric shocks that increase in intensity as the learner continues to get answers wrong. But, as part of the real study--one of humans' willingness to obey authority--the learner consistently gets the answers wrong, forcing the teacher to up the voltage, believing they're delivering more painful shocks as it progresses. Meanwhile, the learner is calling out from the room, unseen, asking for the teacher to stop. We soon learn that all of it is staged and that the "teacher" is the one being studied, not the "learner," and the learner is merely a recording behind closed doors with no one actually being caused pain. Milgram's study, of course, is brought under scrutiny, but the results of the test are really fascinating.
The film, directed by Michael Almereyda, has some really quirky elements to it. For starters, the film often feels like a play. Sarsgaard often has Milgrim turning towards the camera and talking directly to the audience, frequently within a scene in which he's interacting with people as part of the story. It's a little jarring at times, but it's also kind of amusing, and always quite interesting. Milgram's study says a lot about humanity, and it was also intriguing to see that there were just as many supporters of the study as there were opposers. As the story progresses, we see how the study matures and evolves, and we learn about more familiar studies, like that of "six degress of separation." The period aspects of the story definitely complicate the storytelling a bit--especially due to the film's limited budget, but Almereyda makes some pretty inspired judgment calls by keeping actors in the foreground with real-life photographs and set pieces from the time used as picture backdrops. It adds to the feeling that we're watching a play, but the film's key players deliver cinematic quality performances that makes this really quirky, oddball film surprisingly fun. It works only because the performances are convincing and it's done with quality. However, this isn't to say it's an easily accessible film. If you gravitate towards strictly blockbuster films, this one is surely a snoozer, but it's definitely more of a documentary for those who don't like documentaries and even perhaps a play for those who don't like plays. Add in the fact that the subject matter is fascinating and you have a really strong end product about the study of human nature's willingness to obey authority.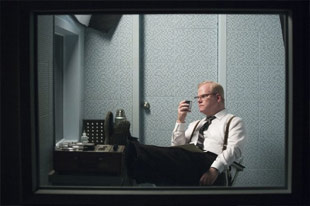 I'd say the content of the film is weighty at times due to the subject matter, but Almereyda's approach does tend to lighten things up considerably at times. Still, there's a scene where one man relays a vivid description of human atrocities that involved people being hung on meat hooks and cut open--with other humans being willing to inflict such unthinkable horror. Another scene has a very unnecessary, pointless and flippant use of the "F" word from a random side character, which really had no bearing on the film or story and really didn't fit (they even have the character speak it while they're not visibly on the screen, making it even easier to cut out or have kept out entirely). There are a few other minor curse words, but other than that, the only other aspects of the film that warrant its rating are the thematic elements of the shock experiments. Until the moment we know it's all fake, it seems like a pretty intense thing, but the revelation that these experiments aren't real (that no one is actually being shocked) is made quite early on.
Experimenter was a pleasant surprise. It's not your usual drama or historic film, but that might be what makes it such an enjoyable film; Almereyda's approach keeps it from being predictable. If great acting and an intriguing premise aren't enough to keep you invested for the hour and a half, you're probably better off grabbing the latest Mission: Impossible outing (which was a lot of fun), but if any of the central cast or the subject matter interests you, you'll find a lot to like about Experimenter.
-
John DiBiase
(reviewed: 1/4/16)
Blu-Ray Special Features Review
Experimenter
is available on DVD, Blu-Ray and through the regular digital providers. Along with the feature film in high definition are the following extras:
The Making of Experimenter (5:51) - This all-too-short making-of featurette mostly talks about Milgram's experiments. We do have some brief cast interviews, though, as well as a fleeting quote from Milgram's real-life wife.
Understanding Stanley Milgram: An Interview with Joel Milgram (5:33) - Here, Stanley's brother Joel talks about the famous man's character and what he was really like.
Designing Experimenter (5:10) - Lastly, the production designer talks about designing the experiment room accurately and capturing the film's time period faithfully, within the limited budget they had to work with.
-
John DiBiase
,
(reviewed: 1/4/16)
Parental Guide: Content Summary

Sex/Nudity
: We see Stanley and Sasha passionately kissing and then move out of the frame. We then see them just lying on a couch together, fully clothed, and talking.

Vulgarity/Language
: 1 "F" word, 1 possible muffled "J-sus," 1 "d*mn," 1 "S.O.B," 2 "Oh G-d"

Alcohol/Drugs
: None.

Blood/Gore
: None.

Violence
: A few characters receive an "example shock" to see what the "learner" would be receiving; For the first test, which we don't really know is faked for sure just yet, we hear the learner's audible grunt at 90 volts. We then hear him grunt in pain with 120 volts, then 150 and so on. We soon find out that the "learner" is totally fine and not being shocked and a recording of these pained reactions are played on a reel-to-reel recorder. Examples of these pained reactions, however, include pounding on the wall, yelling, and begging for it to stop; As Stanley talks about how they tried different changes to the experiment, we see a shot of the teacher holding the learner's hand down on a pad that would shock them, but again, it's staged and the learner isn't actually being harmed; A man describes violent atrocities done to people in his country, including people being hung on meat hooks and cut open.
Disclaimer: All reviews are based solely on the opinions of the reviewer. Most reviews are rated on how the reviewer enjoyed the film overall, not exclusively on content. However, if the content really affects the reviewer's opinion and experience of the film, it will definitely affect the reviewer's overall rating.
To find out why we don't typically review R-rated movies,
click here