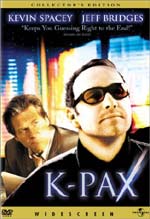 K-Pax


- for a sequence of violent images, and brief language and sensuality.
Director:
Iain Softley
Starring:
Kevin Spacey, Jeff Bridges
Running Time:
2 hours
Plot Summary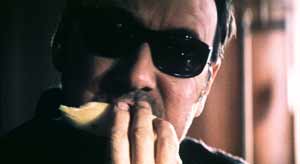 When a mysterious man named Prot (Kevin Spacey) appears at an airport out of nowhere claiming to be an extraterrestrial from a planet called K-Pax, it isn't long before he is admitted to a mental institution. There he meets Dr. Mark Powell (Jeff Bridges) who immediately takes a liking to his new eccentric patient and makes it a goal to find out what is wrong with Prot and if he can cure him. In the process, Prot's constant convincing talks about K-Pax encourage fellow patients and causes Dr. Powell to question whether or not Prot is telling the truth. Will Dr. Powell figure out what is wrong with "Prot"? Is Prot really from K-Pax or just crazy?
I could start off this review by complaining about critics again and how stupid they are, but I won't. I won't go off about how they loved Zoolander and didn't care much for K-Pax. I won't go off about how they whine over trivial things and condone some of the most ridiculous or putrid stuff. No. I'll start this off nicely by saying, "Wow."
The previews definitely enticed me when I saw them sitting in a theater one evening. But when I heard this film was classified as a "drama," I began having second thoughts. To me, dramas have become dirty words when you have the dreary anything-but-happy flicks like Stepmom, Notting Hill, (no matter what people say, I found Notting Hill more depressing than funny) or a world of other films in that genre. But I discovered K-Pax to be enjoyable, intriguing, and successfully hold my attention from beginning till the credits rolled. An interesting storyline, convincingly strong acting, and a talented cast. The film makes you think. And, in many ways, will make you think more than you'd expect. And as a Christian, will either offend you at times... or convict you.
In one scene where Prot is talking to Dr. Powell during a session, Prot comments to Powell on how Christians and Buddhists claim to believe in their religions yet don't seem to learn or follow the ways of Buddha or Christ. This hit me because not only is it a secular view of Christianity, it's in many ways true. Oftentimes we don't learn from or adjust to the ways of Christ as we should and it becomes obvious in our daily living, myself included. We become so hung-up on being a Christian that we forget what being a Christian is all about: Jesus Christ and His sacrifice for us so we might live eternally with the Father. God has given us the perfect example of how to live our lives written for us in the scriptures and we just simply forget. It hit me hard, but it's a sad-but-true point.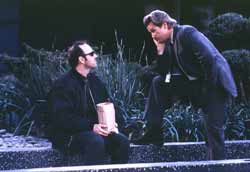 As far as the film's content goes, Language was relatively mild for a PG-13, however Prot does mumble the "f" word while during a serious moment in one of his sessions with Powell. Other "colorful" words and phrases are present that could also have easily been left out of the film. Sexual content is almost non-existent. Prot briefly describes how reproduction occurs on K-Pax in a descriptive yet non-graphic way. There is some violence, however, including glimpses of a struggle resulting in a man's death as well as brief distorted views of two dead female bodies with some blood on them and their surroundings. The scene is important emotionally to the film and for the story, but could have been handled in a less intense way.
Another redeemable quality to the picture is a strong pro-family message. Several moments and scenes stress the importance of family and loved ones and how we can take them for granted. You're likely to walk away from this one appreciating your loved ones more for sure.
Overall, I really enjoyed this movie. It's not suitable for everyone, but it made me think about some things and it offered some decent entertainment for the hour and a half time it ran. Please read the content here carefully before making a decision to see it. And as always,
-
John DiBiase
(reviewed: 10/27/01)
Parental Guide: Content Summary

Sex/Nudity
: Prot briefly describes how reproduction occurs on K-Pax in a descriptive yet non-graphic way.

Vulgarity/Language
: 1 "f" word, 11 "s" words, 1 "g*dd*mn," 5 "h*ll," 4 "d*mn," 2 "cr*p," 1 "a" word, 1 S.O.B., 6 "Oh my G-d," 1 "For G-d's sakes," 2 "G-d"

Alcohol/Drugs
: Mark and Rachel have some wine on an occasion, and serve beer and wine at a party. Mark and Prot share Scotch in another sequence.

Blood/Gore
: In a brief scene we see some blood on a knife, some blood on a wall, and two moderately bloody figures lying dead. Most of the shots are shown distorted.

Violence
: We learn of a man attacking another, we see a woman get robbed, we see a distorted view of two men struggling and a body hit the floor; etc
Disclaimer: All reviews are based solely on the opinions of the reviewer. Most reviews are rated on how the reviewer enjoyed the film overall, not exclusively on content. However, if the content really affects the reviewer's opinion and experience of the film, it will definitely affect the reviewer's overall rating.
To find out why we don't typically review R-rated movies,
click here