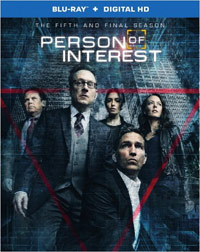 Person of Interest: The Complete Fifth and Final Season

Starring:
Jim Caviezel, Michael Emerson, Amy Acker, Sarah Shahi, Kevin Chapman
Running Time:
Blu-Ray - 3 discs: 572 minutes
Blu-Ray/DVD Release Date:
July 19, 2016 (
Amazon.com
)
Plot Summary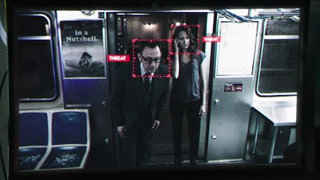 For years, the Person of Interest team of tech genius Harold Finch, ex-agent John Reese, NYPD Detective Lionel Fusco, cyber-hacker Root and missing-in-action operative Sameen Shaw have been protected by The Machine, but as worlds collided and a rival AI known as Samaritan finally cornered The Machine inside the nation's power grid, it was the POI team's turn to protect Finch's creation. In season five, the cold war is over. The world around us might look the same, but something has drastically changed. Samaritan's lethal "correction" has initiated its control. Finch's Machine is essentially dead. Shaw is still missing. And the team is once again hiding in plain sight. But with Samaritan's invisible grip tightening everywhere, will Finch be able to rebuild and resurrect The Machine? And if he does, will it be the same Machine when it comes back online? (from CBS)
Season Review
The end is here. It's tough when you really get into a show to have to see it come to an end. But some shows actually get more calculated send-offs (like White Collar)--instead of abrupt cancellations (like this year's Castle), and thankfully the "Fifth and Final Season" for Person Of Interest was a deliberate conclusion. I'm going to take a look at the fifth season here as if the reader is familiar with the four previous seasons, so if you haven't seen the show before or aren't caught up, you may want to pass on this review.
A lot happened up until the beginning of the fifth season. Shaw (played by Sarah Shahi), one of the main "irrelevants" on "Team Machine" (as fans affectionately call the show's heroes), remains missing, with her fate unknown, while the rest of the team is on the run. At the end of Season 4, The Machine had been dismantled and confined to a briefcase that the team was trying to rescue from being terminated. A few recurring characters were killed off and the season literally concluded with the team walking into gunfire, guns ablaze. It could have been an ambiguous send-off for the show, but instead, we get a crisp, 13-episode conclusion that closes the story in a very satisfying way.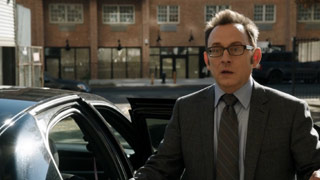 While Person of Interest episodes were like mini-movies each week with Jason Bourne-style action and science-fiction flavored technology wars happening as an arch around the week-to-week stories, the sci-fi aspects of the show grew with each season. Season 1, which may remain the series' strongest season, was a bit of a modern day Minority Report mixed with Bourne-style fighting as Jim Caviezel's John Reese fought to save or stop a perpetrator each episode from either being victimized or committing a crime (they didn't know which it would be until sometimes too late - and that was always a big part of the fun of the show). As the show progressed, we saw more lore about the A.I. of "The Machine" that could predict these crimes, and then a competing A.I. was introduced, called Samaritan. And Season 4 was all about a faction trying to bring Samaritan to power in the country, while stopping The Machine in the process. Harold Finch, played by LOST's Michael Emerson, is the creator of The Machine who always struggled with the power he created and what kind of rights it should have, and that all comes to a head in Season 5, along with the war with Samaritan. And because the showrunners could plan out the final 13 episodes to pace out the conclusion, each episode feels very purposeful and tightly planned out, with little fluff in the mix. While a lot of shows stuff their 20-something episode seasons with filler episodes that do little for the overall season's arch (DC's Arrow and even The Flash are quite guilty of this), this final season of Person Of Interest is a nail-biter that ups the stakes and ratchets up the tension with each episode as it nears the big finish.
Not all of it is perfect, however. The show is seldom graphic and seldom overtly sexual, and my absolute least favorite episode of the entire series crosses both lines this season. (Some minor Season 5 spoilers are ahead here.) In "6,741," we finally find out Shaw's fate as we see that she's being held by Greer (who runs Samaritan) and has been tortured psychologically in an attempt to turn her into an asset against The Machine and its team. They implant something in her head--which gets more graphic than usual--and she manages to escape. Some more violent and bloody things happen, which are usually pretty shocking, and then there's this random scene where Root (Amy Acker) helps Shaw by letting her stay at her place, and tries to make advances toward Shaw. Now, Shaw has a personality disorder and is chronically emotionless, and doesn't really have a romantic bone in her body. Also, when Shaw kisses Root in Season 4, after Root's relentless flirting, before she thinks she goes off to her death, it didn't feel like anything more than a friendly gesture and a "Ah well, here you go" kind of giving-in. But in this episode, Shaw approaches Root during a sleepless night and the two girls start making out and ripping each other's clothes off. It turns into easily the most steamy (and awkward) scene in the series. The two are then shown in bed together and it all just feels completely out of character for them and for the show. Now, this is all later revealed as a simulation in Shaw's mind, but they're her chosen actions, which seems even more surprising and unlikely. And, in the end, the episode feels like more of a service to those who were campaigning for the two girls to get together and less like something that really properly serves the show and its story.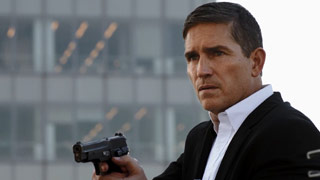 Otherwise, as a final season, it's solid. Questions are answered, story arcs are tied off, and the action and storytelling is compelling. I found myself thrilled by (nearly) each episode and excited to see where the story would go next. The finale is a bittersweet conclusion. It closes the door on some storylines, while also giving some hope to continue on - either in fans' own hearts or if the series ever got rejuvenated via NetFlix or something. The 2015 San Diego Comic-Con panel that is included as a bonus feature offers some of these sentiments from creater Jonah Nolan, but by the actual end of the show in 2016, it sounds a bit more final from the production end. It's sad to see it end, but it's also better to see it go out on a high note than run its course or overstay its welcome with too many seasons.
The content to be most careful of in the show is pretty consistently the violence--with the exception of this season's "6,741," in which there's a pretty steamy love scene between two women (as I mentioned above). And as I've stated in previous season reviews, like in my Season 4 review, the action is the kind of stuff you'd see in a Mission: Impossible or Bourne film, but it's seldom graphic. It's a little bloody at times--especially in "6,741" and the series finale--but it's rare. If the show had a rating in the cinemas, it'd be PG-13. Language is mostly just mild stuff like "h*ll" and "d*mn," with maybe an occasional use of "*ss" or "S.O.B," but it's pretty infrequent and there isn't any significant blasphemy.
This is the end, folks. For final seasons, it's strong. For series finales, it's bittwersweet but satisfying. To compare, it's a far more rewarding and complete conclusion than Castle received this year in its abrupt final season and series finale. If you've ever enjoyed watching Person of Interest, it's worth catching up to this season and watching it. If you enjoy action shows with investigations and some mystery with a technological twist, you'll definitely want to check out Person of Interest. It's come a long way from its humble beginnings as a crime drama, but it's still one solid television series.
-
John DiBiase
(reviewed: 7/30/16)
Blu-Ray Special Features Review
Person of Interest: The Complete Fifth and Final Season
is available with all 13 episodes in a slim 3-disc Blu-Ray set (with Digital HD) or a 3-disc DVD set. The special features are sadly few for this set, especially since it's the final season, and it feels a little rushed. Previous seasons had gag reels and behind-the-scenes featurettes and interviews. Some even had episodes with commentary. This set only has 3 featurettes - two are from the same round table session with the show creators and writers and one cast member, Michael Emerson. The third featurette is highlights from their panel at San Diego Comic-Con.
If you're on the fence about high definition over standard DVD's, I'm a firm believer in Blu-Ray and I highly recommend grabbing the Blu-Ray set if you have the capabilities for playing it. The show looks really excellent in HD.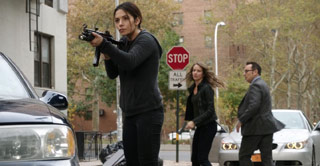 Person of Interest 2015 Comic-Con Panel (32:59) - If you couldn't go to San Diego Comic-Con last year to sit in on the Person of Interest panel, you're still in luck. There's a half-hour cut of highlights from the panel that features show runners Jonah Nolan and Greg Plagueman with producer Denise The and cast members Jim Caviezel, Michael Emerson, Kevin Chapman and Amy Acker. The group talk about what happened in Season 4 and tease some things that can be expected in Season 5. They also take questions from the audience which we get to also hear the answers for. It's sad to think this will be the final panel for the show...
Revelations of Person of Interest (17:50) - This is a round table discussion with show runners Jonah Nolan and Greg Plagueman with producer Denise The and cast member Michael Emerson, who plays Harold Finch. The foursome talk about the deaths in the series (and finale), The Machine as a character, various character arcs, as well as the infamous sex scene between Root and Shaw. Nolan also briefly touches on the information hack involving Snowden (and what he revealed about our privacy), and Google and the way they try to predict what people will do or buy.
Finale for the Fans (16:30), oddly, is a continuation of the above. It's the same four talents behind the show, and here they talk about the fans of the show and their support. Emerson and Nolan also reflect on shooting in NYC for 5 years and the kinds of people they met on the street there. Denise and the others talk about planning to bring characters back for this season, and Nolan states that, with the show over, he sees its story and future now in the hands of the fans. (He also uses the "S" word once in conversation here.)
Disclaimer: All reviews are based solely on the opinions of the reviewer. Most reviews are rated on how the reviewer enjoyed the film overall, not exclusively on content. However, if the content really affects the reviewer's opinion and experience of the film, it will definitely affect the reviewer's overall rating.
To find out why we don't typically review R-rated movies,
click here