WINTER JAM 2008 ATTRACTS MORE FANS THAN EVER BEFORE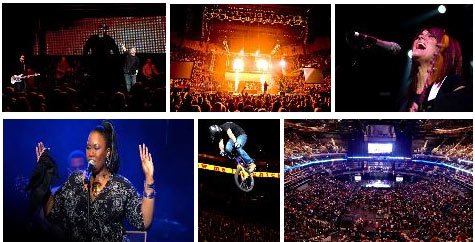 Attendance escalates more than 20 percent to see best selling artists
MercyMe, Skillet, BarlowGirl, NewSong and Mandisa
NEWS SOURCE: The M Collective
February 20, 2008

Nashville, TN-February 20, 2008- The Winter Jam Tour Spectacular is Christian music's largest annual musical tour and in 2008 they are bringing in more fans than ever before, with attendance trending 20 percent ahead of last year. In just six weeks, over 194,000 fans have come out to see the tour, while they have also seen a 32 percent increase of people making decisions for Christ. This year is the biggest show yet, bringing in Platinum selling artists such as MercyMe, Skillet, BarlowGirl, NewSong, American Idol's Mandisa and Connersvine featuring Indianapolis Colt, Hunter Smith.
"We're in awe at what God is doing at Winter Jam each night. The stories of changed lives continue to excite us as we see the Holy Spirit moving in a mighty way," says The Premier Group's Roy Morgan, co-producer of the Winter Jam Tour Spectacular with NewSong.
Last year Greensboro, NC was Winter Jam's largest show in its history, and this year they broke their own record there with over 18,000 people in attendance. As the excitement Winter Jam creates comes to each city, a "tail-gate" atmosphere forms, causing people to line up three to four hours in advance to get in to the show and see their favorite artists. With the tour continuing to be such a draw in 2008, local TV and print media have shown immense support of Winter Jam with coverage in nearly every market.
Winter Jam is bringing quite the concert experience to cities across the US, but it's not just the fans having a great time, it's the artists involved as well. "This tour is the biggest and best tour Skillet has ever done all the way from the amount of people showing up to the amount of people making decisions for Christ, says John Cooper, lead singer of Skillet. "It's absolutely been a really good experience for us."
The 10-week tour will conclude at the Sommet Center in Nashville, TN on March 16th hitting 19 states along the way. Grammy-nominated and Dove Award-winning, NewSong is hosting the high-energy event for the 13th consecutive year, which also features special guest speaker Tony Nolan and the Xtreme sports Real Encounter BMX/Skate Team.
Holt International, the world's leader in child adoption and relocation services has received 2, 395 sponsorships thus far. The Wayne E. Bailey Produce Company is another organization sponsoring the event along with HearItFirst.com who is giving out free download cards to the first 500 in line each night. Dave Ramsey's "Generation Change" student finance curriculum is also a new sponsor this year. Word Label Group is also hosting the Pre-Jam Party featuring pureNRG and Group 1 Crew. Co-sponsored by media giants Fox Faith and Word Label Group, this event begins forty minutes before the official start of the show. For more information, please visit www.jamtour.com.
Tour Schedule: (All dates subject to change)
February 22 Columbia, SC The Colonial Center
February 23 Jackson, MS Mississippi Coliseum
February 24 Southaven, MS DeSoto Civic Center
February 28 Oklahoma City, OK The Ford Center
February 29 Tulsa, OK Mabee Center
March 1 Wichita, KS Charles Koch Arena
March 2 Colorado Springs, CO World Arena
March 6 Lexington, KY Rupp Arena
March 7 Ft. Wayne, IN Allen County Memorial Coliseum
March 8 Knoxville, TN Thompson-Boling Arena
March 9 E. Lansing, MI The Breslin Center
March 13 Huntington, WV Big Sandy Superstore Arena
March 14 Fayetteville, NC Crown Coliseum
March 15 Atlanta, GA Philips Arena
March 16 Nashville, TN The Sommet Center
- ### -