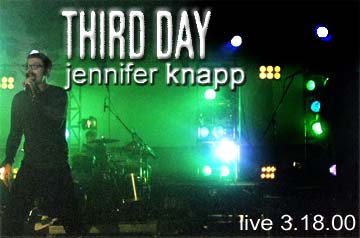 Third Day, Jennifer Knapp
3/18/00, Hershey, PA. Hershey E-Free Church.
Third Day never ceases to amaze me. I've seen them live at least 6 times now and their shows just keep getting better and better. This was my second outing to a Third Day concert since the release of Time, and this concert was just as good and possibly a little better than the other one.
The night opened with Jennifer Knapp, who came backed by a live band for the best possible sound. My concert-going team arrived a bit late so we missed probably most of her set, but what I saw of her performance was impressive. She seemed passionate and animated in delivering her music. I totally dug her spirit. Since I'm not familiar with her music, I only recognized her song "A Little More" which appeared on the Sparrow Records praise compilation Listen|Louder and also on Knapp's brand new album Lay It Down which released the end of last month.
After Knapp's impressive set, they broke for a mini intermission for the stage to be set up for Third Day. Once the lights went out, a recorded montage of songs having to do with time played in the format of a radio transmission. The crowd reacted to the different songs played as "Time Is" by dc Talk, "Crazy Times" by Jars of Clay among others. As the clip ended, the silouettes of the 5 Atlanta guys could be seen taking their positions under the low light... as they broke into playing "Sky Falls Down," a current single off their latest album, Time.
The band did knew just how to get the crowd going and pumped them up a bit by flattering them by saying they were the best crowd of the three Pennsylvania shows that week. Lead singer, Mac Powell, often danced around, encouraged crowd participation and interacted with his fellow bandmates. The lived up the crowd with such favorites as "Alien," "Believe," "Consuming Fire," "Have Mercy," and others. At one point, the band slowed the set down a bit and at one point stopped all together for Mac to talk about World Vision and his experiences in sponsoring a child. Afterwards, they played "Love Song," an old favorite off their debut album.
At one point, Powell began to talk about a new album releasing July 11th, currently untitled, but having the focus of being a praise album. They played a brand new song as well as "My Hope is in You." Other songs played during the night were "I've Always Loved You" and "I Can't Take the Pain."
I can't remember which song they ended their set with (possibly "What Good" or "Have Mercy"), but they left the crowd screaming for more for a couple minutes. And when they finally came back on stage, they had brought with them a guest... Jennifer Knapp. Knapp stood alongside Powell and helped deliver "Agnus Dei" to a screaming crowd. The setting was that of intimate worship to our Creator and was the icing on the evening's cake. Another 2000 tour that shouldn't be missed.
--
John DiBiase
The Time Tour Photo Gallery
click on an image for a bigger size
Third Day
*all photos by John DiBiase and are the property of Jesusfreakhideout.com