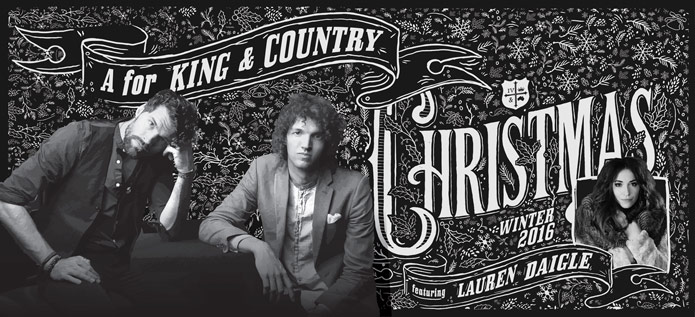 A For King & Country Christmas
for King & Country, Lauren Daigle
12/2/16, at First Baptist Woodstock in Woodstock, GA
On the heels of the Priceless theatrical premiere, For King & Country are in the midst of an ambitious 15-city Christmas tour with Lauren Daigle. Despite the holiday theme, the tour is the band's biggest, landing in significant major-market venues including New York City's Prudential Center and L.A.'s Honda Center.
We caught the tour in the Atlanta suburb of Woodstock, Georgia. Fans who purchased premium tickets enjoyed a pre-show question and answer session with Joel and Luke Smallbone and Daigle, who were gregarious and relaxed. A young fan asked the three which of their songs they most enjoyed performing. Daigle told the story of "Trust in You," then looked a bit sheepish in mentioning that it wasn't actually planned for her set that night. With persuading from the Smallbones and the fans, she was willing to sing a few bars. Her voice, a cappella and intimate, was everything the VIP ticketholders hoped it would be.
Shortly thereafter, Lauren Daigle opened the show with a seven-song set featuring a brass section and an upright bass that lent a jazzy flavor to Christmas classics. In particular, "White Christmas" turned the venue into a Louisiana dance hall. A version of "Light of the World," featured on Daigle's new Behold album, was the only Christmas original in her set, and it fed nicely into "How Can it Be." To close, Daigle offered "O Holy Night," declaring that it's her favorite Christmas song, "and not just because of that one note at the end." Nothing like raising expectations. By the time the final chorus arrived, the whole room anticipated that one note. Suffice it to say, Daigle delivered.
For a band whose live show is built around percussion, it was a fairly obvious choice for FK&K to open with "Little Drummer Boy." And there it was, with all massive bombast. It was a decided contrast from Daigle's band's muted trombones and brushed cymbals, but it worked. A few songs in, after a quick story about what Christmas is like in their native Australia, Joel declared, "I feel a bit distant from the people in the back." Then, for the first of several occasions during the evening, various members of the band wandered the floor, the balcony, and a few carefully placed out-stages.
Next, the band showed how deftly they could transition between Christmas songs and hits from their other albums. A brief intro to the Priceless film kicked off the movie's eponymous song, which flowed into the band's new Christmas song, "Glorious," and its techno backbeat. Despite the mid-tempo song, the energy never waned. "It's Not Over Yet" had a hip-hop swagger, dueling cellos, a Richter-scale-shaking drum riser, and a deft cap-toss that must have reached the 20th row.
Following a break to spotlight Compassion International, Smallbone sister Libby performed a duet with Geoffrey Andrews, "Who Would Imagine a King?" All told, six of the seven Smallbone siblings were present at the show, most working in various capacities. One designed the stage, which featured a Hollywood Bowl-style shell which often served to silhouette the drummer's fetching Tom Petty-esque top hat.
The spoken-word intro to "Run Wild" opened the final set, followed by the first verse sung through a megaphone, Crowder-style. "Fix My Eyes" was next, highlighting an important peculiarity: for a Christmas concert, a band need not save their biggest hits for show closers or encores. Accordingly, "Shoulders" followed in-turn. Another visit into the crowd brought a lovely carol sing, first a cappella and then layered over time with a drum, then horns, then a pair of guitars, and then keys. Phone lights were invited during "Silent Night" and called "Our best attempt at a candlelight service." Finally, Daigle joined for a chorus of "O Come All Ye Faithful."
For a band that's not actually supporting a new Christmas album, the concert worked well. Daigle is a wise pairing, with her own lofty energy channeled in decidedly different ways than the frenetic Smallbones. For King & Country have a lot of shows under their belts by this point, so the Christmas format served to mix things up and keep the mood vibrant. The set list was well-crafted, the enthusiasm high, and the show served to welcome the Christmas season in fine style.
--
Mark D. Geil
, 12/10/16
Lauren Daigle Set List

01. O Come All Ye Faithful
02. What Child is This?
03. White Christmas
04. Jingle Bells
05. Light of the World
06. How Can it Be
07. O Holy Night

For King & Country Set List

01. Little Drummer Boy
02. O Come, O Come Emmanuel
03. Baby Boy
04. Angels We Have Heard on High
05. Priceless
06. Glorious
07. It's Not Over Yet
08. Who Would Imagine a King? (Libby Smallbone and Geoffrey Andrews)
09. Run Wild
10. Fix My Eyes
11. Shoulders
12. Into the Silent Night
13. Hark the Herald Angels Sing
14. Joy to the World
15. Silent Night
16. Proof (with Lauren Daigle)
17. O Come All Ye Faithful (chorus) (with Lauren Daigle)
A for King & Country Christmas 2016 Photo Gallery
click on an image for a bigger size
**vertical images cropped for thumbnails**
for King & Country / Lauren Daigle Q & A
Lauren Daigle
Libby Smallbone and Geoffrey Andrews
for King & Country
*all photos by Mark D. Geil and are the property of the photographer and Jesusfreakhideout.com