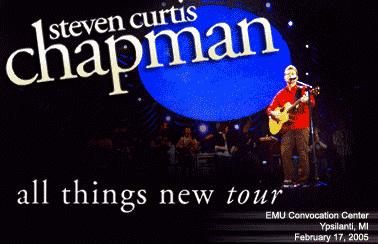 Steven Curtis Chapman, Christ Tomlin, Casting Crowns
7/10/05, Seaholm High School in Ypsilanti, MI
Whenever I attend a concert, I usually never know exactly what to expect. Steven Curtis Chapman's "All Things New" Tour (with Casting Crowns and Chris Tomlin) was no exception. But I could have never anticipated Mr. Steven Curtis Chapman himself taking center stage firstů yes that is right-first! While it may have seemed odd that this five-time Grammy Award winning artist came to the microphone alone armed with nothing more than his acoustic guitar, Mr. Chapman expressed his desire to open the show with prayer and then treated the audience to a special concert version of his latest release to radio "Much of You." After the quick welcome, Steven Curtis left the stage to make room for new artist phenomena Casting Crowns.
Upon the seven-member outfit taking the stage, they instantly launched into their hit single "If We Are The Body." The band continued to build momentum with songs from their self-titled record such as "Who Am I" and "American Dream." No doubt the audience was enjoying every minute especially when headliner Steven Curtis Chapman joined Casting Crowns for their current, chart-topping single "Voice of Truth" (which was co-written by Chapman). With the crowd's attention secured, lead singer Mark Hall took time to speak about his struggle through the years with Dyslexia and ADD along with the band's work with youth. Casting Crowns then brought their thirty-minute plus set to a close with the energetic "What If His People Prayed" with the evening's concert goers gladly singing along. Overall, Mark Hall and company pulled off an impressive set that didn't hint towards the bands "new artist" status.
Steven Curtis Chapman has never been one to put on an ordinary show. This was proven when he, accompanied by his complete band, rolled out onto a corner of the stage to perform some older fan favorites. The brief "montage" set performed during the set changes from Casting Crowns to Chris Tomlin featured hits such as "More to Life," "Not Home Yet," and "The Walk," among a few others. With SCC fans pleased for the time being, worship leader Chris Tomlin began his half hour segment with the familiar "O Come Let Us Adore Him." Within his time slot Tomlin and his three-piece band worked their way through various praise songs including his recent number one pop worship song "Indescribable." The crowd on this particular evening seemed quite satisfied while joining Tomlin in worship, raising their hands, and, of course, a cell phone wave. While most seemed pleased with Tomlin's adequate set, some may have been shocked by the lack of the hit "Famous One," which was replaced with other lesser known songs recorded by the singer. But would the set be complete without yet another visit from Steven Curtis Chapman? Apparently not, as he joined Tomlin halfway through "How Great Is Our God." Once the duet was finished, Chris Tomlin brought his time to a close by leading the audience in "How Great Though Art."
Now, just as I thought, Steven Curtis Chapman would make his final trip to the stage to begin his full set. Once again, he came to the stage to perform just one song "What Now," from his Grammy Award winning, 2004 release All Things New. Upon finishing the song, he spoke about his family's involvement with adoption and then featured a video about his organization "Shaohannah's Hope"- a foundation dedicated to assisting families with the financial burden of adoption. With the video finished, it was now time for intermission where I began to wonder at that point whether or not Steven Curtis would actually have a full set. All my questions were answered after the fifteen-minute break when the lights went down and music came up.
Finally, Steven Curtis Chapman along with the full band (keyboardist and band leader Scott Sheriff, drummer Will Denton, bassist Adam Nitti, and guitarists Adam Lester and Justin York) made their way to the stage kicking into "All Things New," the title track of SCC's latest project. That particular hit was followed up with other high energy numbers including "Jesus Is Life" and "Only Getting Started." But before the typically favored pop tunes took over the show, it was time for Steven to offer a special tribute to his wife, Mary Beth Chapman. Because he never toured in promotion of his 2003 release All About Love, SCC put together a montage of songs from that record which featured "I Will Be Here" and "All About Love," among others. The songs were even complimented by a multimedia screen that displayed photos of Steven Curtis and Mary Beth Chapman during their lives together. Mr. Chapman didn't only speak of his wife through the night, however, he also sprinkled stories about his six children throughout the show. He even sang the adoption-themed ballad "When Love Takes You In," which left few eyes dry in the building.
Later on in the evening, Steven Curtis performed "Believe Me Now" from All Things New, but what about Mac Powell's (of Third Day) distinctive background vocals for the song? While the Third Day frontman, of course, was not present, Casting Crowns' lead singer Mark Hall joined Chapman halfway through the song to sing the second verse and fill in Powell's parts. That was not the only guest vocalists in Chapman's segment, though. A few songs later, Chris Tomlin entered the stage to carry out yet another hit- "Speechless" before jumping into the finale.
Although notables such as "Live Out Loud" and "Dive" seemed to be missing from the set list, they were saved for the end to create an impressive, jam-packed finish. Before calling it a night, SCC and company revisited the tour's theme song "All Things New" and welcomed back the Casting Crowns members, along with Chris Tomlin and band, back to the stage. Everyone, both the performers and the audience, seemed to be having a good time as Steven Curtis Chapman finished off a show that was to indeed celebrate "all things new."
--
Lauren Summerford
, 2/23/05
Casting Crowns Set List
01. If We Are The Body
02. Praise You With A Dance
03. American Dream
04. Who Am I
05. Voice of Truth (with Steven Curtis Chapman)
06. What If His People Prayed


SCC "Mini Set" List
01. More To This Life
03. The Call
03. Free
04. Not Home Yet
05. The Change
06. The Walk


Chris Tomlin Set List
01. O Come Let Us Adore Him
02. Holy Is God Almighty
03. Forever
04. On Our Side
05. Indescribable
06. How Great Is Our God (with Steven Curtis Chapman)
07. How Great Though Art
SCC Set List
01. All Things New
02. I Do Believe
03. Jesus Is Life
04. Only Getting Started
05. Much of You
06. I Will Be Here/ We Will Dance/ All About Love/ I'm Gonna Be (500 Miles) Medley
07. When Love Takes You In
08. Believe Me Now (with Mark Hall of Casting Crowns)
09. Great Is Thy Faithfulness
10. Magnificent Obsession
11. Speechless (with Chris Tomlin)
12. Live Out Loud
13. Great Adventure
14. Dive
15. All Things New

All Things New Tour 2005 Photo Gallery
click on an image for a bigger size
Casting Crowns
Chris Tomlin
Steven Curtis Chapman
*all photos by
Lauren Summerford
, and are the property of the photographer and
Jesusfreakhideout.com