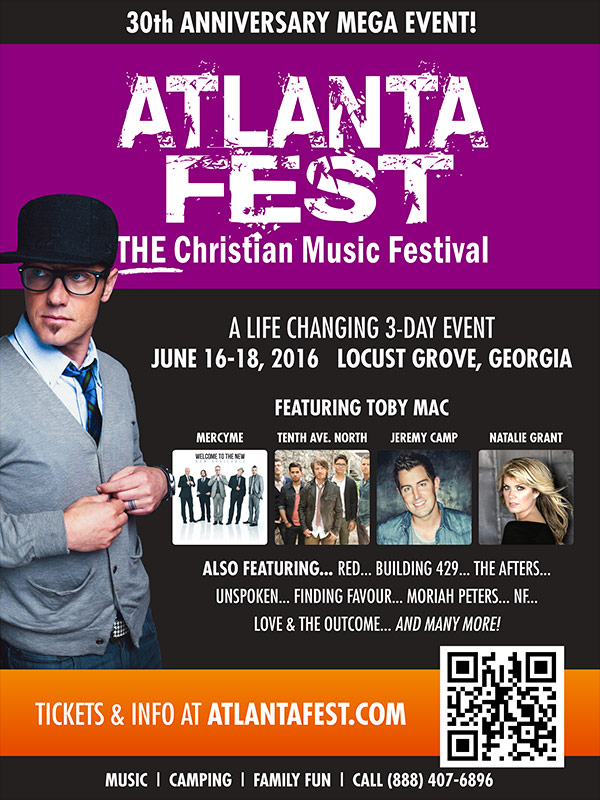 Atlanta Fest 2016
6/16-18/16, at Strong Rock Christian School in Locust Grove, GA
Summer music festivals have been going on for decades now. Families have been given the opportunity to join in on the fun with Christian versions that can appeal to both young and old, with a variety of genres that make festivals enjoyable for everyone. Atlanta Fest, celebrating their 30-year anniversary, held their annual festival in a new location with new owners after a one-year hiatus. The one-year break to help aid in the transition was frustrating to regulars of the festival, but it's a move that paid off. Atlanta Fest 2016 came back (mostly) better than ever.
Kicking off things on Thursday on the main stage was NF, rapping with songs such as "Grindin'" and "How Could You Leave Us." His energy was fantastic, and a great choice to kick the festival off. Next up was John Waller Worship, whose praise and worship styled music was a great choice and they did a good job all three days they performed. Speaker Tony Nolan delivered a message before 7eventh Time Down came on. As a concert goer, there are times that a band that you aren't too familiar with blows you away, and 7eventh Time Down did just that, with their huge hit "God is on the Move" played last in their set. RED followed them up with a style that is unmatched in Christian Rock. Even though they didn't do a full production show, they still rocked the audience with hits like "Feed the Machine" and newer songs such as "Take Me Over." Their ever changing set list (sans the closing "Breathe into Me") is refreshing, and they have one of, if not the best live shows Christian rock has to offer. Hollyn brought a great pop sound with her set, playing "Alone" and "Nothin' on You." The talented young woman showed good stage presence and her 5-song set list primed the audience for Thursday's closer, TobyMac. He closed the first day of Atlanta Fest out in style, as he and the Diverse City band gave the audience a great show with songs such as the newer "Move" and the classic "Catchafire." Suffice to say, nothing has changed since I saw him last and he has one of the most energetic shows in Christian music.
Friday was the first of two full days Atlanta Fest had to offer, with The Royal Line kicking things off at 10:30 a.m., and acts including Vanessa Honea, Stars Go Dim, Gregory J, We Are Messengers, OBB, Ian Zumback, Meredith Kingleigh, Jason Fowler, along with speaker Frank Shelton, alternated performances between the side and (a welcome addition to any outdoor festival) indoor stage. While most of the artists that played early in the day were lesser known, it was still cool to see them welcomed to a big name festival as well as given the opportunity to get their name out there to more people. Unfortunately, the 2 smaller stages were clear across campus from the main stage, and not particularly close to one another either. While this was probably the most logistical placement possible, the walk between stages became tiresome as the day went on. With that being said, the indoor stage was a great idea, as it gave those making the trek some more incentive and a break from the notorious Atlanta summer heat and humidity.
The weather did cool off some later in the day, but it came at a cost, as a storm that came through delayed the start of the acts on the main stage, ultimately forcing Love and the Outcome to cancel their set. Fortunately the storm wasn't too severe and the stage crew did an efficient job with the cleanup before John Luke Robertson did an interview on stage and Matt Hammitt followed up with a 4-song set list, including Sanctus Real's hit "Lead Me." Even though it was disappointing to hear the news last year that he departed from his former band, it was great to see him perform that song live. Danny Gokey came on after him, and did songs such as "Hope in Front of Me" and the hit "Tell Your Heart to Beat Again." John Waller performed and a great message delivered by speaker Dr. Samuel Thomas followed up, before the last 2 artists came on. Natalie Grant preceded MercyMe with songs such as "How Great Thou Art" and "Be One." As the artist lineup for Friday especially seemed to indicate, she did a great job of contributing to the praise and worship vibe set up by artists that came on before her. MercyMe headlined Friday in style, and those who stuck through the heat, humidity, storm (and subsequent delay) to see them play were rewarded with a great show. Their production was top notch and it took their show to the next level, as songs such as "Shake," "Let It Go," and the homage to Bart Millard's younger years, "Dear Younger Me," were played. With the second day of Atlanta Fest having the most issues and the weakest lineup of the three days, the final act was a huge bright spot and sent everyone to the exits in a great mood, to be sure.
The third and final day of Atlanta Fest was kicked off by 3 Shades of Blue and continued on with another set by The Royal Line, along with artists Young Noah, Ryan Stevenson, Moriah Peters, Rapture Ruckus, with Audio Adrenaline playing last on the smaller stages. The bigger name artists opening up Saturday was a clear indication that the best lineup was saved for the last day. Continuing this theme was Finding Favour starting things off on the main stage with songs such as "I Am" and "Cast My Cares." After them, Unspoken came on with "Start a Fire" and "Higher," among others. Rounding out the last of the openers on the main stage was The Afters, who played tunes such as "Broken Hallelujah" and one of their biggest hits "Light up the Sky."
After a great final performance by John Waller Worship, a great final speaker in Scott Dawson, and a surprise on-stage marriage proposal from one attendee to another, Building 429 played. Lead singer Jason Roy came out in style as "Impossible" was played, followed by songs "We Won't be Shaken" and "Where I Belong," among others. While their set was ultimately cut short due to a long testimony given by Jason, it was well worth it to hear his story of giving a plane passenger hope by simply saying a prayer for her. Up next was one of my favorite performers in Tenth Avenue North. As much as some CCM artists can sound similar and deliver the same kind of performances on stage, this band stands out from the crowd. Lead singer Mike Donehey has outstanding stage presence and his crowd interaction is top notch. Pair that with great songs in their library that were played, including "Losing" (one of my favorites) and "By Your Side," they had one of the best performances of the entire festival. Jeremy Camp was the final artist of the festival, starting off with "I Will Follow" and continuing on with amazing songs such as "Same Power" and "The Way." His production was outstanding, making for a great show for all in attendance and a perfect choice of artist to conclude Atlanta Fest. Making the departure from the festival was inspirational, as Jeremy sang while the concert goers left with their cell phone flashlights on, representing bringing light into the world.
Aside from all the great artists to be seen, the real mission of Atlanta Fest was to worship Jesus, as well as encourage others to help out to the less fortunate, as people were invited to help prepare food to be sent overseas, as well as sponsor a child. From that perspective, the event succeeded greatly. From an entertainment standpoint, it was good. More diversity in artists would a good improvement, as most of the artists fell into a few genres, leaving only a few hip hop (NF, Young Noah), and one true rock band (RED) left in the lineup. Despite that--and the fact that stage placement left something to be desired, a weak second day, some uncooperative weather--held back Atlanta Fest 2016 from being "perfect," it was still a great one to be at. The message of Jesus resonated the entire time, leaving a lasting impact to everyone in attendance. I look forward to seeing if next year can top what was done this year.
--
John Breuer
, 8/1/16
Atlanta Fest 2016 Photo Gallery
click on an image for a bigger size
**vertical images cropped for thumbnails**
3 Shades of Blue
7eventh Time Down
Audio Adrenaline
Building 429
Danny Gokey
Dr. Samuel Thomas
Finding Favour
Frank Shelton
Gregory J
Hollyn
Ian Zumback
Jason Fowler
Jeremy Camp
John Luke Robertson
John Waller
Matt Hammitt
MercyMe
Meridith Kingleigh
Natalie Grant
NF
Rapture Ruckus
RED
Scott Dawson
Stars Go Dim
Tenth Avenue North
The Afters
The Royal Line
TobyMac
Tony Nolan
Unspoken
Vanessa Honea
We Are Messengers
Young Noah
*all photos by John Breuer and are the property of the photographer and Jesusfreakhideout.com