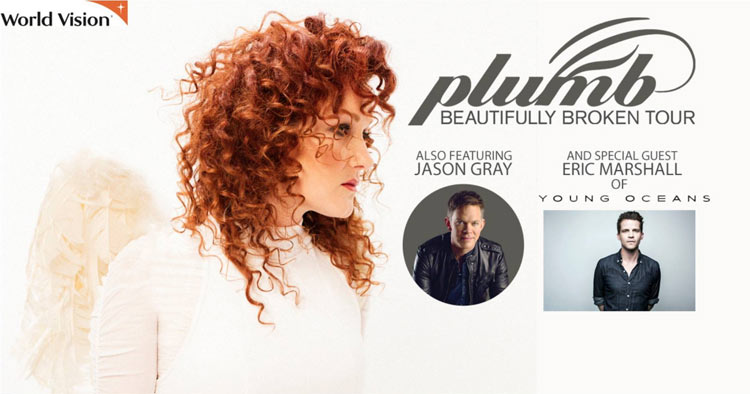 Beautifully Broken Tour
Plumb, Jason Gray, Eric Marshall of Young Oceans
11/10/18, at The Junction Center in Manheim, PA
It's hard to believe that Plumb has been rocking and inspiring audiences for over two decades now. I remember first picking up Plumb's debut preview CD-Rom (anyone remember those?) that released just before their first album hit streets in 1997. At the time, Plumb was a band with Tiffany Arbuckle serving as the band's lead vocalist. A few years later, after some member changes, Plumb eventually adopted the moniker as her own stage name, and as they say, the rest is history.
Plumb's latest project, titled Beautifully Broken, is a wonderful look at our human frailty and need for a Savior, and it's a message she's long cultivated. For the Beautifully Broken Tour, the artist was able to pair up many of her songs throughout her career to support a unified theme. For this first fall run, Plumb bas brought out Young Oceans front man Eric Marshall and CCM favorite Jason Gray to open the night. When we arrived, Eric had already begun performing, and he was up on stage with just an acoustic to accompany his vocals. It was an intimate, coffee shop style set that seemed more fitting for a Jars of Clay or Andrew Peterson show than a Plumb show, but I didn't mind. It was a nice way to ease into the night, and it was well representative of the intimate feel the evening would offer. The venue was also appropriately intimate. The Junction Center, home to WJTL in the Lancaster, PA area, used to be an outdoor tent style venue before being converted into an official building. It's a nice size and perfect for a smaller show -- and this evening was packed out, which made it feel fuller. I liked the tent venue, but this was exceptionally better. Marshall performed a few Young Oceans songs, and was joined at one point by Plumb's keyboard player, and played songs like "The Gates," "Until These Tears are Gone" (a song he wrote for his mother-in-law after she committed suicide), and "Suddenly."
For what turned out to be one of the quickest set transitions in recent memory, as soon as Marshall finished his song "Suddenly," he introduced Jason Gray and traded the spotlight with the singer/songwriter. Gray wasted no time launching into his set either, and after stopping as soon as he started to re-tune his guitar--which he handled gracefully with humor--his set was underway with "Glow in the Dark." Gray then took a moment to inform the audience of his "speech handicap" (a stutter) and talk about how anxiety is so rampant in today's society (and how it's impacted his own life). He then performed "Sparrows" before talking about his son Kipper and their new collaborative EP, The Kipper Gray Sessions. He used this to introduce "Be Your Own Kind of Beautiful" from the EP, which was a song inspired by a girl who had been bullied. Gray then talked about the cycle of life and how we tend to experience disorder amidst life's chaos, but God uses it to "reorder" our lives when we come out of the hardship. He then performed a brand new, not yet released song titled "Order, Disorder, Reorder," which was a wonderful thematic addition to the evening. "I Will Rise Again" followed, and then the singer/songwriter closed with "Remind Me Who I Am," for which people rose to their feet and sang along. Although Jason performed alone on stage, he sometimes recorded a piece of percussion he created on the spot by tapping his guitar, or playing a few chords on his strings and then loopimg them while performing a song. (I've seen other artists like Josh Wilson do this a lot before.) It's really effective and a great way to flesh out a song being played solo that most people know for having larger production in recorded form. After he finished his last song, Jason began talking about World Vision and child sponsorship, and then introduced a short testimonial video from a World Vision sponsor that proved to be incredibly moving and inspiring.
After a brief intermission, Plumb took the stage to the tune of "Impossible," from her latest album. She then introduced the next song as being about struggling with temptation, and how the beginning of the night would be a journey through brokenness and our need for Jesus. The rocker "Acrobat" followed, aiding in a high energy start to the night. Plumb introduced the next song as being an old school song, and it certainly was! "Here With Me" first appeared on the singer's sophomore album, candycoatedwaterdrops, nineteen years ago. It's a classic Plumb favorite and it was a joy to hear her play it live again. She dedicated the next song to anyone who has suffered abuse of any kind, and "Damaged," from the same album, followed. However, it wasn't the version that first appeared on that 1999 release. Instead, it was her synth-heavy 2011 rendition that she had self-released via Noisetrade. It's got more of an edge, and she brought that more energetic approach to this powerful, updated version live.
She paused again afterwards to talk about her next song and its origins, taking us back to MySpace when someone had written on her page asking if there were any other "cutters" out there. "Cut," from her 2006 album, Chaotic Resolve, inevitably followed, and coupled nicely with "Damaged." Even more appropriately, "God Help Me" was next, serving as a fitting successor. She then read one of her poems and performed "I'm Not Alone" from her latest record. At this point, the tonal shift in the night was tangible and Plumb even traded in her all-black ensemble to don a white shawl as she performed her worship anthem, "Exhale." And with the mood lifted and the air feeling lighter, she performed the title track from Beautifully Broken with her Alice in Wonderland tea party themed music video serving as the performance's backdrop. Her current single, "Crazy About You" (the album version, not the recently released remixed version), came next, and she revealed how the song is from God's point of view to us. Plumb then talked about her new book, Fight For Her, and how the idea was born out of a little argument she'd had with her daughter Clementine in Target one day. Clem was actually in attendance this evening and Plumb dedicated the song "Fight For You" to her and even frequently looked to her off stage (where she was sitting but not visible) and sang the song directly to her. It was a really sweet moment to witness. After "Fight For You," Plumb talked about letting the light in and surrendering to God, and introduced the next couple songs as a time of worship. A more acoustic rendition of "Lord, I'm Ready Now" was next (a song that appeared both on the deluxe edition of her album Need You Now and then her 2015 worship album, Exhale). The anthemic and desperate "Need You Now (How Many Times" was next, before Plumb and her band closed with "Somebody Loves You" from Beautifully Broken. It was a heartwarming way to end the evening with encouragement and love. She then said that she and the opening artists would love to meet everyone after the show, and left the stage.
I've seen Plumb live many times through the years -- at festivals, opening for other artists, and even headlining her own tour. She never disappoints and the Beautifully Broken Tour is no different. If you've yet to see her live, don't miss your chance if you can make it to one of her shows. And if you need a night of encouraging music that cuts right to the heart to encourage you right where you are, a Plumb show is a wonderful remedy for the soul, and a fantastic place to be.

-- John DiBiase, 11/11/18
Plumb Set List
01. Impossible
02. Acrobat
03. Here With Me
04. Damaged (2011)
05. Cut
06. God Help Me
07. I'm Not Alone
08. Exhale
09. Beautifully Broken
10. Crazy About You
11. Fight For You
12. Lord, I'm Ready Now
13. Need You Now (How Many Times)
14. Somebody Loves You
Beautifully Broken Tour Photo Gallery
click on an image for a bigger size
**vertical images cropped for thumbnails**
Eric Marshall of Young Oceans
Jason Gray
Plumb
*all photos by John DiBiase and are the property of the photographer and Jesusfreakhideout.com