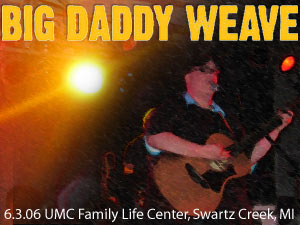 Big Daddy Weave
6/3/06, at UMC Family Life Center, Swartz Creek, MI
Pop/worship group Big Daddy Weave recently made a stop in Swartz Creek, Michigan for the "Hometown Days" celebration. The band came prepared to share their music and engage an eager audience. After a couple of local acts performed briefly, the Weaver brothers - Mike and Jay - accompanied by the rest of Big Daddy Weave, quietly geared up to kick off their twelve-song set.
Numerous Dove Award nominations, a slew of hit singles, and three popular albums on Fervent Records, have all helped shape the career, as well as the sound, of Big Daddy Weave. So it should be no surprise that this five-piece ensemble is capable of putting on a solid, well-rounded live show. "Set Me Free" and "Fields of Grace" (both from the sophomore project Fields of Grace) paved the way for much more worship-oriented fare. A cover of David Crowder Band's "Undignified" ensued, which inspired cheering and dancing from many of the concert's attendees.
Big Daddy Weave's breakout hit "Audience of One," which appeared on their debut One and Only, proved to be the crowd favorite of the night. This was a perfect way to lead into other praise tunes such as "Without You" and "Amazing Love." Though many of the set's songs were borrowed from earlier studio efforts of their own or tracks from other artists, material from the most recent What I Was Made For seemed to be saved for last. The title track from that disc alongside "Worthy Of My Praise" (originally recorded with BarlowGirl) displayed their current work and the band's impressive live performance abilities. Of course, the show wouldn't be complete without yet another smash hit - "In Christ" - which served as an excellent encore.
Word on the street is Big Daddy Weave plans to hit the road this fall with Mark Schultz in support of a forthcoming album. If their previous outings and live show are any indicator, this upcoming helping of music will be very well received.
--
Lauren Summerford
, 6/12/06
Big Daddy Weave Set List
01. Set Me Free
02. Fields of Grace
03. Undignified
04. Never Goin' Back
05. Neighborhoods
06. Audience of One
07. Without You
08. Amazing Love
09. Just The Way I Am
10. What I Was Made For
11. Worthy Of My Praise
12. In Christ
Big Daddy Weave Photo Gallery
click on an image for a bigger size
*all photos by
Lauren Summerford
and are the property of the photographer and
Jesusfreakhideout.com