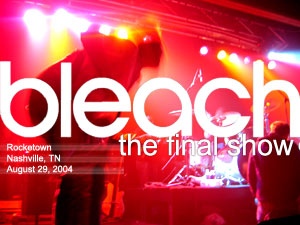 Bleach, Relient K, Seven Day Jesus, Supertones, The Lonely Hearts
8/29/04, Rcktwn, Nashville, TN
Again, for the last time... Bleach is one of the more hardworking blue collar acts in CCM and it's been more than a pleasure to witness their changes and growth since their national debut Space in 1996. Bleach has sustained many personnel shifts and personal tragedies over the years and 2004 marks the final chapter being written for this incredible band.
On Sunday, August 29th, 2004, Bleach rented out Rocketown (aka "Rcktwn"), a popular Nashville venue, and put on what would be their last live performance ever as a band. Gathering a barrage of fans and friends to help celebrate their momentous run, Bleach orchestrated one extremely memorable evening. An impressive lineup of artists showed up to pay tribute to Bleach including The Lonely Hearts (Holland), O.C. Supertones, Relient K, and a special reunion of Seven Day Jesus. The sold-out show saw a turnout of roughly 1,300 people stuffed into a venue with a capacity for 1,000 -- a recipe for one tightly packed and intimate audience experience.
The Lonely Hearts, (consisting of members of Holland and sometimes confused as such), opened the evening with their rock n' roll set. Being a relatively new act, their set of all new songs were received with mostly blank stares and numbness. Although an admirable performance, Lonely Hearts seemed out of place, which was only reinforced when the Orange County Supertones took center stage. With the majority of their six members clad in Bleach tees, it was infectious to see the band displaying their Bleach spirit. The Tones opened fiercly with their new hit "Wake Me Up On Time", in a fury of energy across the stage. The audience immediately began coming to life as the Supertones continued to do what they do best, really pumping up the crowd. They went forward with their classic "Return Of The Revolution" before inviting former Superdrag frontman John Davis up for a special performance of "Transmission". It was fun to see how excited the band was to play with Davis as many of the Tones were fans of his work before becoming a Christian. Davis humbly accepted their invitation to finish out the set with them as they continued with "Where I Find You" and ended with their single "We Shall Overcome".
One of the highlights of the evening followed when rock band Seven Day Jesus performed their first set as a band since splitting in the late 90's. Since their disbanding, lead singer Brian McSweeney has been working in Chicago-based mainstream act Matthew, a darker and considerably less Christian-audience-friendly rock quartet. Those who have been more familiar with the recent live shows and recordings of Matthew will probably be surprised about this reunion. Nevertheless, it was a momentous occasion that any Seven Day enthusiast could appreciate. And disappoint they did not. Opening with a track from their more artistic 1996 release The Hunger, McSweeney seemed a little rusty and uneasy at first but it wasn't enough to hinder an elated grin to spread across my face. The band was really into each chord and note of the songs, particularly bassist Russ Fox who made no bones about exploring the stage's space. "Down With The Ship", from their pop/rock 1997 self-titled (and final) recording, followed, along with other favorites including "Flybye", "Always Comes Around", and the anthemic "Ashamed". Seven Day Jesus finished off their energetic set with the thematically heavy response to a friend being raped long ago entitled "Forgive You". An odd choice to end their set with (especially for those who know the story behind the song), it served as a bittersweet closing.
Ohio-based pop punk-rock band Relient K served as the intro to the main event, and proved to be a significant draw for a core number of the audience. Given that many Nashville fans rarely get a chance to see the band in town, the popular act drew quite a few people who came only to see their set. And given the evening's purpose, it still came as a surprise and disappointment to some when their set didn't exceed a half a dozen songs. Sadly rumored to be bassist Brian Pittman's final show with Relient K, the band opened with "Forward Motion", drawing massive fan sing-a-long participation which didn't stop as they continued with "Mood Rings", and "Chapstick, Chapped Lips, and Things Like Chemistry". With a new album slated for a November street date (entitled Mmhmm), the foursome performed a new song called "Who I Am Hates Who I Was", followed by the rare EP-exclusive "A Penny Loafer Saved, A Penny Loafer Earned". They closed with the thoughtful "I Am Understood?" which featured Matt Thiessen performing a special piano solo of the chorus from Bleach's ballad "All To You" and shared a personal story about the band. An extended set change followed, allowing Bleach's family and friends to grab special seats on the stage for the last hoorah.
While many rock bands might take the introduction to their final set to hit the audience with a hard-driving favorite, Bleach subtly opened with Davey Baysinger's piano solo in "Patience". From there, Dave was joined by Milam, Jared, Sam, and Jerry for a well-varied setlist of Bleach favorites spanning their career. "Perfect Family", from their ForeFront Records debut Space, sparked the band's energetic set. The audience was consumed with each song the band performed with Bleach giving all they could offer for their last time out. And as Davey pointed out, 'it wouldn't be a Bleach show without technical difficulties' and, sure enough, he did manage to lose his mic for a short time. "Found You Out" and "Plan To Pull Through" lead into the humbling worship of "Knocked Out". It was hard to watch the final performance of this incredible song, but the worship the band displayed was infectious, with Baysinger taking to his knees before the song's end. An incredible mix of favorites continued with the classic "Child Of Sod", and the more recent "December", "Broke In The Head", and "Once Again Here We Are". Russ Fox, who served as part of Seven Day Jesus before filling in on bass in Bleach for their self-titled 2000 record, rejoined the guys for a special accompaniment for "Race". It was so much fun to see Russ back up there and it was clear he was enjoying every second of it. From there, the band paused to offer their gratitude to the audience and to their friends, presenting gifts to their manager "Shack" and other important people in their lives, including gift certificates, autographed final show posters and an X-Box. "Living" served as an intro to a series of slower songs including "Rundown Town" (which saw Baysinger returning to the piano), "Good", and the rock ballad "Jaded Now". For "All To You", Relient K's Matt Thiessen briefly joined the guys for the chorus of voices in the song's closing. As the set continued, the songs began building more and more momentum, pumping up the crowd more and more. Joining the throng of Bleach intimates lining backstage, Ben Cissell, drummer of Audio Adrenaline, wandered the stage most of the evening taking video of the set and encouraging the enthusiasm of the crowd. At the same time, the Supertones' Dan Spencer was also taking video while Ethan Luck snapped a series of photos. The activity on the stage all night just continued to increase and it showed no sign of slowing by the time the band went into "Breathe", "Land Of The Lost", and an especially rousing and raucous version of "Get Up". By the time Bleach ripped into "We Are Tomorrow", the energy was hopelessly unbridled and members of Relient K and the Supertones assisted Bleach on background vocals as Baysinger took a leap into the audience. To everyone's surprise, they closed the song by waving goodbye and quickly exiting the stage. With Cissell's encouragement acting as kerosene to the flame, the audience screamed for more with their cries soon answered by the band's return to the stage.
I have seen hundreds of artists perform in the past decade but no encore has ever come close to matching Bleach's finale. Opening their extended encore with the seldom heard classic "Epidermis Girl", Bleach made it clear they knew what their fans wanted. With each song serving as rousing anthems, the audience only grew louder and louder. "Baseline" pounded into "Super Good Feeling" with the finale being the hard-hitting worship rocker "Sun Stands Still". Thiessen and Luck joined Sam Barnhart on the mic as they emphatically sang the "Hallelujah" choruses as the song closed. But at a moment when the end just didn't really seem tangible, the Bleach boys pulled off their guitars and began laying them in a pile. Jared Byers tossed his drumsticks on top and the boys joined arms, tightly huddling in a circle. The crowd continued to cheer and the original Bleach drummer (who left the band somewhere around 2000), Matt Gingerich, took a seat on the drum riser and began offering acoustic accompaniment. When the guys pulled away from the huddle, Davey wiped away tears before composing himself to sing "What Will Your Anthem Be?" to Gingerich's guitar. With a calming presence and a focus aimed heavenward following the song, Bleach waved goodbye and left the stage for the last time.
It's not like us to hop on a plane to go to a show, but this wasn't a show. It was a tribute. It was a privilege, an honor, and a blessing to be a part of CCM history as one of the greatest garage rock bands in Christian music was laid to rest in the most humbling and appropriate way possible. Thanks Davey, Sam, Jerry, Milam, and Jared for your songs, your ministry, and for the memories. We're the lucky ones.
--
John DiBiase
, 8/31 - 9/3/04
The Lonely Hearts Set List
01. War Brides
02. Mermaid
03. Love Comes Quickly
04. Heartbreaker
05. Love and Politics
06. Passive Agressive


Supertones Set List
01. Wake Me Up On Time
02. Grounded
03. Return Of The Revolution
04. Transmission
05. Where I Find You
06. We Shall Overcome


Seven Day Jesus Set List
01. Pavement
02. Down With The Ship
03. Flybye
04. Always Comes Around
05. Ashamed
06. Forgive You


Relient K Set List
01. Forward Motion
02. Mood Rings
03. Chapstick, Chapped Lips, and Things Like Chemistry
04. Who I Am Hates Who I Was (New Song)
05. A Penny Loafer Saved, A Penny Loafer Earned
06. I Am Understood? / All To You


Bleach Set List
01. Patience
02. Perfect Family
03. Found You Out
04. Plan To Pull Through
05. Knocked Out
06. Child Of Sod
07. December
08. Broke In The Head
09. Once Again Here We Are
10. Race
11. Living
12. Rundown Town
13. Good
14. Jaded Now
15. All To You
16. Breathe
17. Land Of The Lost
18. Get Up
19. We Are Tomorrow
Encore:
20. Epidermis Girl
21. Baseline
22. Super Good Feeling
23. Sun Stands Still
24. What Will Your Anthem Be?
The Bleach Farewell Show Photo Gallery
click on an image for a bigger size
The Lonely Hearts
Supertones
Seven Day Jesus
Relient K
Bleach
*all photos by
John
, and are the property of the photographer and
Jesusfreakhideout.com