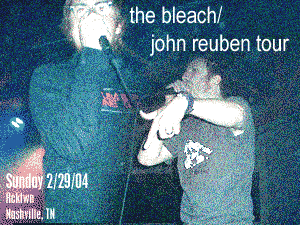 Bleach, John Reuben, Number One Gun
2/29/04, Rocketown, Nashville, TN
It is funny to think that I, at first, thought that this show would be sold out. But when one realizes that two of the biggest rock bands in the world today will be playing right across the street, the playing field changes drastically. Yes, at the Gaylord Entertainment Center, an easy walk from Rcktwn, the location of John Reuben/Bleach show, were Linkin Park and P.O.D. Needless to say, there were not too many people at Rcktwn.
Sad, but true. I hate to say it, but I like small crowds, as long as the crowd is not too small. This crowd was small, but not too small. Make sense? Good. The point is, if Linkin Park and P.O.D. were not across the street, that place would have been a lot more packed.
Number One Gun started their short set with "You Fail Sometimes." They had an incredible stage presence, moving around the stage freely as they played. The small crowd never really got into the act as much as the energetic four on stage as they played. Though, audience participation was demanded on "Get Up (The Way I Feel)." After playing a few others from their release Celebrate Mistakes, including the title cut, they ended their set with their current single "The Starting Line."
After some sort of technical difficulty which lasted about fifteen minutes, making the overall intermission approximately thirty minutes, John Reuben made his way onto the stage and began playing the first single from his newest release Professional Rapper, "Move." This was my second time seeing John Reuben live (The first being See Spot Rock last year), and the energy this man brings to a stage is unbelievable. He worked what little he had to work with into a frenzy. But, then again, that could be attributed to the fact that the people at Rcktwn were there because they really, really wanted to see these artists. Otherwise, they would have been across the street with the "cool" people. Reuben then moved into other songs from his newest release, "Treats" and "No Opinion."
Reuben actually played with a live band. Iím not quite sure if this is his first tour doing so, but it was simply fantastic. Really, it is only the addition of one guitar and drums, but it makes a world of difference, improving Reubenís already stellar show.
Reuben made crowd participation a must. He also engaged in something familiar to anyone who has seen Reuben live before. His "three cheap audience tricks" included telling us that he had lied everyday of the tour and that we, the Nashville crowd, were the best ever; playing, as he called it, "your corny 80's and 90's pop hits"; and finally, giving away free stuff.
After playing his classic "Do Not," as well as others from his new record, and of course, "Doiní," Reuben informed the crowd that we were going live on ESPN, MTV, C-Span, Cartoon Network, as well as many, many others. But he wanted to do it right. He told us to go crazy when he exited and scream for "one more song." We, of course, did as we were told. Reuben came back and played "Life Is Short" and ended his set.
After a very short intermission, Bleach took the stage, with a very peculiar band addition. Will Holland of Lonely Hearts, formerlly Holland, was on guitar, as well as piano when for the band's song "Jaded Now."
Bleach started their set with "December," proving what an electric force they are on stage. It will be a great shame to see this band break later this year, but they said they were going to try to make it to Nashville one more time. They proceeded to play others from their new release, Astronomy, as well as some classics, including "Once Again, Here We Are." The mood slowed as Dave Baysinger talked of Godís faithfulness through the hard times. Fittingly, they then played "Sun Stands Still." After the powerful song, Dave talked directly about Josh Byerís death in Iraq. It was a beautiful testimony. He talked about doubting God through the hard times. They then played "Jaded," before playing more from their latest release. They came back for an encore and finished with a bang on "Super Good Feeling."
Through Number One Gunís aspiring talent, John Reubenís impeccable ability to reach a crowd, and the electricity of Bleach, this is one tour not to be missed. Be sure to catch it, because you never know if Bleach will come back to your town on their farewell tour.
--
Josh
, 2/29/04
The Bleach/John Reuben Tour 2004 Photo Gallery
click on an image for a bigger size
Number One Gun
John Reuben
Bleach
*all photos by
Josh
, and are the property of the photographer and
Jesusfreakhideout.com