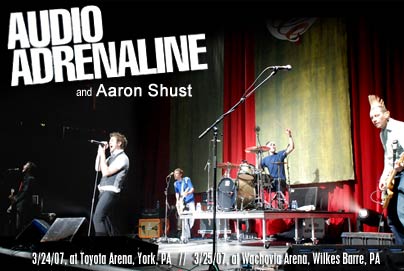 Audio Adrenaline, Aaron Shust
3/24/07, at Toyota Arena, York, PA // 3/25/07, at Wachovia Arena, Wilkes Barre, PA

Last Fall, many were under the impression that the Coming Up To Breathe Tour, featuring headliner MercyMe, would be Audio Adrenaline's last ride. However, the popularity of the tour spurred news of a Spring leg of the tour, extending AudioA's farewell into 2007. But because the Fall tour was supposed to be the band's final run, drummer Ben Cissell and guitarist/vocalist Tyler Burkum already had previous engagements (Burkum can be found currently touring with Mat Kearney), and the band would have to find replacements to make it back out on the road. Enter former lead vocalist/guitarist of Seven Day Jesus, Brian McSweeney, and Bleach drummer Jared Byers and you have a complete band once again.
A brief scan of the shows we've reviewed at JFH since 2000 will reveal just how much we've loved seeing Audio Adrenaline live over the years. It's no mystery how much I personally have loved the band's music and ministry, since they were my first live concert ever back in October, 1994. Their messages and ministry struck a chord with me at a young age and no other band has left such an impression. So naturally, when I learned of two final Pennsylvania dates on their tour with MercyMe, I decided to try and hit both, back-to-back, something I've never done before.
I'm glad I went to both, too, because it's amazing the difference a good venue can make for a tour. The first night, Saturday March 24th, was located in York at the Toyota Arena - York Expo Center. I was rather surprised how basic the setup for the Arena actually was - mere folding chairs arranged in three separate sections spreading out far into the back of the building. It was only floor seating without bleachers, so if you did happen to have seats in the back, you probably were best to have brought binoculars if you don't like feeling quite so disconnected from the show's events. The following night took place at the Wachovia Arena in Wilkes Barre, a drastic difference from the previous evening. This Arena did have bleachers, including a few tiers, with slightly nicer floor seats in the middle. It was considerably shallower which just meant each seat was a little closer to the happenings on stage.
The audiences for both shows were pretty alive, which made for pretty similar shows in that respect both nights. Aaron Shust kicked off the events, offering his brand of rock-flavored worship music. Shust has a charming stage presence and a genuine heart for praising our Creator. While some worship leaders may look like they're trying too hard, Shust is very natural and welcoming. His songs of choice mixed selections from his debut Anything Worth Saying, as well as a few new ones from his upcoming record Whispered And Shouted. The new stuff sounded great, with Shust even playing one of the new songs live for the very first time at the Wilkes Barre show. But although his set was well received by the audience, he really captured their attention when he closed with his smash hit, "My Savior My God." In the Fall leg of the Coming Up To Breathe tour, Phil Wickham opened, and while Phil has a great knack for creating an intimate worshipful mood, he was too calm of an opener for Audio Adrenaline's set. Wickham probably fit better with MercyMe than maybe Shust, but at the Manhattan show we saw in October, the audience seemed mostly in shock by the time AudioA came on after being lulled by Wickham's set. Shust's performance was a perfect setup for the AA boys.
Now, the main attraction for me both nights was Audio Adrenaline (as if this wasn't clear already). And those looking for a MercyMe review will once again be disappointed because we weren't able to stick around for their set either night. But our main reason for attending the shows was to see the rock band for our last time(s), and to bid them a fond farewell. Their sets were identical each night, even most of their wardrobe was the same. But it was a foolproof batch of ten songs, which seemed rather short for a band with sixteen years worth of music making a final run. After Shust left the stage, with the lights still out, a medley of clips from songs throughout AudioA's career briefly played. It sort of reminded the audience of who they were about to see and, at the same time, summarized the highlights from their impressive catalog of music. From clips of "We're A Band," "Big House," and "Chevette," to more recent tracks like "Ocean Floor," it was bittersweet but appropriate to hear such an introduction. When it concluded, "Clap Your Hands" began as the lights kicked on and the logo for their final studio record Until My Heart Caves In was revealed on a banner displayed behind the band. The guys had energy that showed that they still adored what they do. While one show last year seemed to lack the passion they normally wear openly, the band seemed almost renewed - and it was hard to imagine this was the end. Perhaps having more than half the band being made up of fill-ins allowed for any kind of road weariness to be replaced with raw enthusiasm and excitement. Brian Whitman, who's toured with the band for a few years now as a second guitarist for their live shows, was bumped up to lead guitar and lead vocal status in place of the absent Burkum. Whitman seemed more lively in the role and having Seven Day Jesus' Brian McSweeney tearing it up on guitar and background vocals behind him only aided in the energy on stage. And while the presence of the always smiling Ben Cissell behind the drum kit was missed, former Bleach drummer Jared Byers was a real treat to have giving it his all on stage. With Saturday's great performance followed up by Sunday's equally impressive results, it was evident that there was something inspired about this collection of five guys on stage. Rounding out the tour's AA roster were original members Will McGinniss on bass and frontman Mark Stuart, whose ailing vocals were the main reason for their impending demise. Although his voice is undoubtedly raspy and hoarse, Stuart's voice sounded the best it has in some time.
The band churned out the hits, continuing with "Worldwide One" and on to "Mighty Good Leader" before breaking out their most famous song, "Big House." As Stuart waded into the crowd, the band switched to a few choruses of "Free Ride" as a disco ball descended from the ceiling and gave the stage a wonderful retro feel. Stuart brought the song back on track to finish "Big House" with the aid of an audience member. When Stuart returned to the stage, the band launched into "Until My Heart Caves In," which spurred on a speech from the lead singer about the church needing warriors for Christ to go into the world and preach the Gospel. This perfectly lead into "Hands and Feet" before Whitman would take lead on "Ocean Floor." The Brian's shared verses while Stuart joined in from time to time as well. The end result was one of the best live mixes of the song I'd heard yet. They followed the serious, forgiveness-themed song with the worship-minded "Beautiful" which gave the band a chance to allow some fans on stage to sing and dance along with the guys. The infectious "Get Down" was next, followed by a brief word from McGinniss in which he urged fans to support their effort in Haiti building an orphanage called The Hands And Feet Project, announced their final show in Hawaii at the end of April, and closed with a word of gratitude. Their love song to the fans and farewell anthem "Goodbye" inevitably followed, with Whitman and McSweeney sharing lead before Stuart ended the song with an emotional adieu to the audience. It was tough to watch them finally exit the stage on Sunday night, knowing that was all...
With only a couple weeks left on MercyMe's Coming Up To Breathe Spring Tour with Audio Adrenaline, I can't stress it enough for fans of AudioA to go out and see them one last time. If you've never seen them live, don't let the partial member attendance dissuade you. It's a fantastic rock show, one that shouldn't be missed. This band will be leaving a massive void in the Christian music world when they leave, but it's been one great ride. Thanks again guys!
--
John DiBiase
, 3/31/07
The Coming Up To Breathe Tour Photo Gallery
click on an image for a bigger size
Aaron Shust
Audio Adrenaline
*all photos by
John DiBiase
and are the property of
Jesusfreakhideout.com
*For a clip from the show, check out the video below*