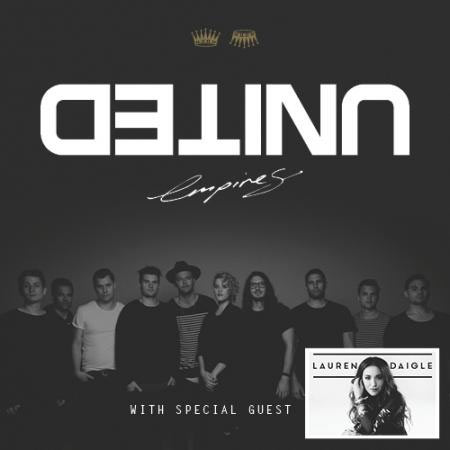 Empires Tour 2016
7/29/16, at Consol Energy Center in Pittsburgh, PA
The Hillsong crew rolled through the "Steel City" on the second-to-last night of their huge Empires Tour. Joined with new sensation Lauren Daigle, they hosted a night of worship and praise for the thousands in attendance.
Anywhere you turn nowadays, Lauren Daigle is there and rightfully so. Her original worship tunes have absolutely blown up and become anthems for many. Due to the restrictions on my press pass, I was only able to photograph and witness the opening three songs of Daigle's set before being escorted to a back area in the arena. She opened with "First" before belting out "Come Alive" and "Trust In You." In the brief performances I witnessed, Daigle yet again proved that she is a shining star in the midst of a talented pool of Christian performers nowadays with a unique, powerful voice. All in all, her set seemed to last approximately twenty minutes.
After a brief intermission, Hillsong UNITED took the stage opening with the beautiful "Here Now (Madness)." There was a nice mix of new and old performed, although the set did rightfully skew more towards the Empires record - appropriate, given the tour name. One thing I did want to note was the absolutely stunning production. The video screens, lights, and videos displayed in sync with the music was some next level production; some of the best I've ever seen. Three large video screens back-lit the UNITED team and shifted into various configurations, depending on the song and what was being shown in the background. The one moment of production that really stood out to me was the displaying of the beatitudes in front of some really emotionally gripping footage throughout the 20th century.
The song performances ranged from high energy to intimate and solemn, all sung with passion and seemingly flawless execution. I would recommend that anyone seek out this tour, however, by the time this review posts, it will have concluded. Still, you can never go wrong with these two worshipful acts in the future. Both Daigle and UNITED bring a unique artistry to the worship genre that isn't always readily available in a seemingly saturated music world. Both acts are gems and worthy of a few bucks to see the spectacle and worship in the moments.
--
B.J. Smith
, 7/30/16
UNITED Set List
Here Now (Madness)
Rule
Say The Word
Heart Like Heaven
From the Inside Out (pre-chorus & chorus only)
Touch the Sky
All I Need Is You (chorus & bridge only)
Prince of Peace
Empires
No Other Name / Shout Unto God (Hillsong Worship cover)
Scandal of Grace (with "I'd Be Lost" bridge)
Street Called Mercy
Even When It Hurts (Praise Song)
Take All of Me (chorus & outro only)
Closer Than You Know
Open Heaven (River Wild) (Hillsong Worship cover) (chorus & bridge only)
Oceans (Where Feet May Fail)
The Stand (chorus only)
With Everything (chorus & bridge only)
Relentless
Empires Tour 2016 Photo Gallery
click on an image for a bigger size
**vertical images cropped for thumbnails**
Lauren Daigle
Hillsong UNITED
*all photos by BJ Smith and are the property of the photographer and Jesusfreakhideout.com