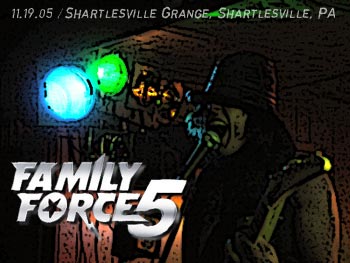 Family Force 5
11/19/05, at Shartlesville Grange, Shartlesville, PA
We made our first trip to the pivotal GMA Week in Nashville, TN earlier this year for our own experience of the most loved (and equally dreaded by many) week in Christian music. Among the highlights of the week for us was the "discovery" of a new group called Family Force 5. And although the band hadn't officially signed with Gotee Records by the time they had played the label's showcase, the band was already buzzing as a new Gotee signing. Since the showcase in April, Family Force 5 has gone on to tour the Summer festivals, leaving a lasting impression on crowds at such high-profile events like Purple Door and Creation Fest. With a live show to grab the attention of even the most jaded music critic, of course we knew we had to see them again when their van was scheduled to roll into our neck of the woods this Fall.
When Kevin (who was completely unfamiliar with the band at this point) and I pulled into the tiny parking lot of the Shartlesville Grange in the middle of nothingness, Pennsylvania, we hadn't a clue we'd rushed the whole way there only to have to sit through four struggling local acts to get to the main event. While I knew very well that what we were waiting for was well worth the wait, Kev didn't, strictly having to go on my seal of approval (which hey, I'll be the first to admit, isn't foolproof). And while I'll leave the opening acts that left me disenchanted nameless for the sake of being polite, at the same time, writing them off in just a sentence or two doesn't quite do the wait we had to endure justice. But then again, I doubt many readers would sit through 40 pages of my ramblings to get to my review of Family Force's show, right? Right.
The small venue housed a modest but adequate crowd. It was rather late at this point on this Saturday evening, and although nearly the entire Family Force 5 entourage was suffering from a cold, a great show and a great time was to be had. No mere bug was about to stop the Olds brothers and company from ruling the stage. Displaying a new member on guitar dubbed "Chapstick," the krunk quintet (with sidekick and faithful stagehand Xanadu, of course), the band opened with "Color Of Water." Now, for those wondering who this band is or how in the world to get your hands on recorded music by them, Family Force 5 is currently in that pre-debut album limbo that causes a band to suffer obscurity amongst some concertgoers. Those anxious for their debut, which incidentally finally has a late March release date and a title - Business Up Front, Party In The Back, - still have to wait a few months to get their hands on a full album of music. But ever since the Summer, the band has made a couple different EP's available, including an 8-song CD-R that was on sale at festivals and a more recent, more officially-presented 5-song EP from Maverick Records. But I was surprised to see so many audience members were singing along to these songs. The band continued with "Ex-Girlfriend," "Drama Queen," and their single "Kountry Gentlemen," pausing between songs a few times to express their love and devotion for Christ. The band's music may not be very spiritual lyrically, but the members are unashamed of their faith. Their music is of the feel-good brand, making for one especially fun live show. Continuing with a tour de force of energy on stage, the band closed their set with "Kadillac Phunque," "Love Addict," "Numb," and the especially raucous "Erfquake."
It's exciting to see bands like Family Force 5 live because they are proof you can love Jesus and still have good, clean fun. If you're in the mood for a light-hearted and somewhat silly show with a group of talented guys tearing up the stage, you'll do yourself a favor when you see Family Force 5. And be sure to check out their debut record in March...
--
John DiBiase
, 11/24/05
Family Force 5 Set List
01. Color Of Water
02. Ex-Girlfriend
03. Drama Queen
04. Kountry Gentlemen
05. Kadillac Phunque
06. Love Addict
07. Numb
08. Erfquake

Family Force 5 Photo Gallery
click on an image for a bigger size
Family Force 5
*all photos by
John DiBiase
and are the property of
Jesusfreakhideout.com