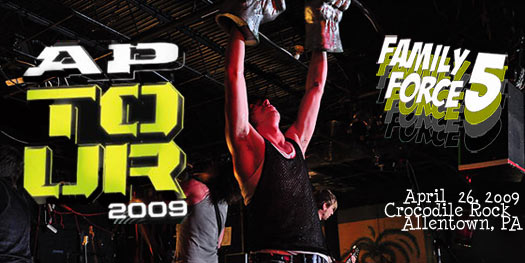 AP Tour
Family Force 5
4/26/09, at Crocodile Rock, in Allentown, PA
As Family Force 5 has garnered more mainstream attention, doors have opened for the band to take their dance-friendly, crunk-flavored party tunes to the masses. For the Spring, 2009 AP Tour, Family Force 5 was one of three co-headliners among a tour filled with mainstream acts (several of which were anything but family-friendly), to attempt to shed a little light and win over a new audience that otherwise would never hear their music.
For the tour, FF5 was rotating in different slots among the other headliners each night, and on their stop at Crocodile Rock Cafe in Allentown, PA, the band was slated to be the closer, something they weren't especially excited about, since a lot of the audience might leave after secular act 3OH!3 (and therefore not stay for their set). However, despite the late night start time, a decent number of the sold out crowd stayed for Family Force 5's stellar set.
Prior to the Allentown show, guitarist Derek "ChapStique" Mount had severely injured his knee during a show which caused him to cut it up rather badly when he fell on a slippery stage. For the band's set in PA, Mount sat on a chair to rest his wounded leg through a good portion of the set, occasionally kicking it out of the way to hobble to his feet for a few key show moments.
The quintet from Atlanta (with their loyal honorary sixth member and stage manager Xanadu at their side) opened with the fan favorite "Kountry Gentleman" to a sweaty and eager audience. Croc Rock has two stage sections for shows with the main floor being the largest of the two reserved for bigger shows. It only made sense for the AP Tour to be held here, so a good portion of the room functions as standing room (or a dance floor), and more than half of the room remained packed for the Family Force. With each member wearing plaid pants, the guys pressed forward with the party anthem, "Fever" and then another classic fan favorite, "Drama Queen." Solomon "Soul Glow Activatur" Olds then paused to introduce the band members by their stage names, along with Nadaddy, who was celebrating a birthday that day. With that, they launched into the band's break dance anthem, "Numb," with Solomon encouraging the Allentown audience to form a dance pit. As the song went out with a pop, Xanadu helped drummer Jacob "Crouton" Olds do a handstand on his kit while Solomon did one center stage. It's stage antics like that - and when Jacob dances on top of his kit during a moment in "Earthquake" - that help make their show so visually engaging. "Party Foul" was next, along with "Supersonic," "Radiator," and another classic, fan favorite "Love Addict." By the end of the song, for which Solomon donned his signature Hulk gloves, Olds found himself writhing on the floor, and as he slid his way up the wall, it became a nice segue into the infectious "Get Your Back Off The Wall." The set continued to move like clockwork, but before long, a sample from C&C Music Factory's "I've Got The Power" rang out to begin the band's final song, "Earthquake," which has always been the perfect grand finale for a Family Force 5 set. After their set's conclusion, the guys hung around a bit to meet with fans (with poor Derek on crutches) before calling it a night.
Family Force 5 still remains one of the top live acts in music today. They always put on a solid and entertaining show. It's a shame that this particular tour didn't have many acts worth watching (and that statement, I'm sure, will be argued by many. To each their own), but if you can catch FF5 at a festival this Summer or on another tour this year, do it!
--
John DiBiase
, 5/20/09
Family Force 5's AP Tour 2009 Photo Gallery
click on an image for a bigger size
**vertical images cropped for thumbnails**
Family Force 5
*all photos by
John DiBiase
and are the property of
Jesusfreakhideout.com