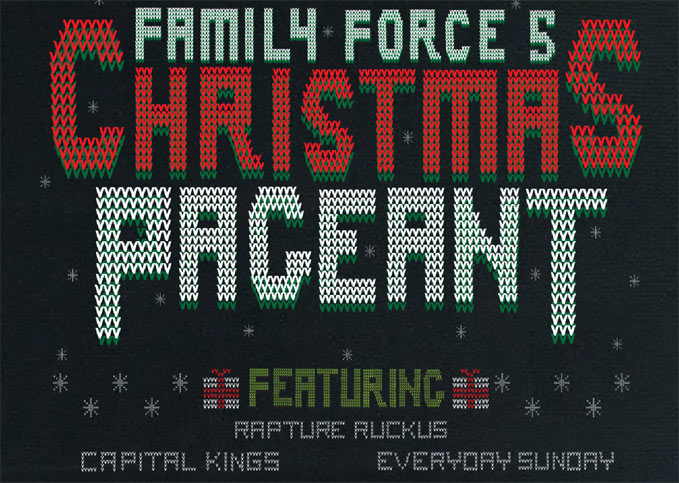 Family Force 5's Christmas Pageant 2012
Family Force 5, Rapture Ruckus, Phenomenon, Capital Kings, Everyday Sunday
12/8/12, at GenXaret in Columbia, MD
Three years ago, in conjunction with the release of their debut Christmas project, Atlanta's Family Force 5 launched their annual Family Force 5's Christmas Pageant. Its inaugural year had more of a focus on the band's versions of Christmas carols, feeling more festive in its execution, but this year, they still managed to work in a Christmas flair without playing as many holiday tunes. The tour, once again, did not come to our neck of the woods, so we ventured to Columbia, Maryland for the second night of the tour where the guys played to a sold out show at a pretty cool club called GenXaret (www.genxaret.com). With a little built-in cafe and a stage setup that was once used as some kind of submarine testing facility, it's just got a super unique and cool vibe to it.
The night began with the new direction presented from Everyday Sunday. While the band has restructured their sound from pop rock to an electronic pop sound, the full band wasn't able to make it for the tour, leaving frontman Trey Pearson to represent the band exclusively. It was a big change to see, but given the style shift ES is taking, it worked fine for Pearson to just sing to tracks for the night. Still, it's been a few years since I've seen Everyday Sunday live in concert, and it was certainly odd to see Trey by his lonesome on stage. Even more interesting was the fact that not a single song Everyday Sunday performed was from any of their previous albums. Trey opened with "Calculate," their current single from their forthcoming new album, New Beginning, and followed it with "Solar" and "Perfect Time (Fall In Love)," also from the new record. Pearson moved around the stage, jumping and interacting with the crowd as he debuted the band's new music for the audience. The electronic pop packaging worked especially well for this tour, as Pearson was in good company with the other acts to follow. He then donned a Santa's cap and waved a giant candy cane lawn ornament around as he played their new Christmas single "Jingle Bell Rock" (which is also available for download on iTunes, along with "Calculate"), before closing with the title track from the new record, "New Beginning," which featured pre-recorded vocal accompaniment from Group 1 Crew's Manny.
New Gotee Records duo, Capital Kings, took the stage next, featuring a keyboard and samples as Jon White and Cole Walowac volleyed providing vocals. "All the Way" from their January 2013 self-titled debut launched their set. It became a bit more like a DJ'ed dance party as the lights would strobe at times and the pair would encourage the audience to jump and get into the music. "Ready for Home," "Be There," "You'll Never Be Alone" and "Born To Love," also from the debut, were next, and then a dubstep and techno-heavy intro that even utilized a clip of Skillet's "Monster" served as the lead-in to the title track from their debut EP, "I Feel So Alive." It was a fun set, which was soon followed by Family Force 5's Josh Olds sitting on the edge of the stage to talk about the tour and its sponsor, CURE.
There were little intermissions between each set, which were great for trips to the merch tables or the refreshment counter, and soon Capital Kings was followed by a unique, surprise act of the night: Phenomenon. Now, if you follow Family Force 5 tenaciously, you'll know what that means, but if you're a more casual listener, you're still wondering what in the world I'm talking about. In November, it was announced that Family Force 5's Solomon Olds would be hosting a weekly show for NGen Radio that would be focused on dance/party music. It was dubbed "Phenomenon," complete with a free single, and it was quite surprising to me that the gang would go so far as to provide a special set for this entity on their Christmas tour. Sure enough, the fivesome emerged with a laptop for programming, all dressed in matching sweaters, prepped and ready to have a dance party. The gang started out jumping around to a remix of "D-I-E-4-Y-O-U" from their Dance or Die With a Vengeance project. The sound unexpectedly dropped out at one point, but they were able to recover quickly without it being a real issue. Their remix of "Fever" then followed, with the "Phenomenon" single close behind. Finally, they finished with a new rap tune which found Solomon asking "Where my gangstas at??" with a chorus that encouraged the audience "bow to the knees, yeah, crank it like a chainsaw!" It was a fun set and a nice addition to an energetic evening of music.
Another intermission preceded New Zealand trio Rapture Ruckus' electronic pop set. I had caught their live show for the first time earlier this year on Fireflight's Stay Close Tour and I really enjoyed what I heard. Front man Brad Dring's stage presence is energetic and infectious, and it doesn't hurt that he has a live guitarist and drummer adding to the live experience. After a sampling of the Tron: Legacy soundtrack theme by Daft Punk, Rapture Ruckus peformed "Tonight" from their BEC Recordings debut Open Your Eyes, which released at the end of last year. Dring then introduced his band members before performing the catchy "All Things New." The lights then dimmed as the image of Brad's head wearing sunglasses appeared on three screens behind him for the fun highlight "Break The Line." Brad then removed his sunglasses to share openly with the audience about how BEC found them a few years ago and how his dream of performing in the states became realized. They then played the anthemic "Going Home," which Dring then blended into U2's "Where The Streets Have No Name." Brad then offered a bit about his personal testimony and followed it with "No Matter What" from the 2010 Rapture Ruckus EP, before closing with a merger of the Christmas classic "Mary's Boy Child" and Three Dog Night's "Joy To The World." It was a unique way to end their show and set things up for the evening's anticipated headliner.
Family Force 5 walked out on stage -- which was decorated with a few white, pre-lit trees and stockings -- in top hats and vests for a very self-aware Charles Dickens' kind of vibe. It added to the Christmas feel of the night, but surprisingly was something they didn't really keep up with since they ended up opening with "Wobble" instead of a Christmas song (on the 2009 tour, they opened with "Carol of the Bells"). It was still fun, however, because it kept up the dance party feel of the entire evening, even if it wasn't exactly a festive song. But they surprisingly followed it with "Ghostride The Whip" before finally getting to one of their Christmas songs with "Angels We Have Heard On High" (for which they gave a new intro from the album version and encouraged the audience to make winged motions with their hands). Solomon dedicated "The Baby" to his son Cash (who was also in attendance) and then took a moment to talk to the audience candidly about the tour and the baby Jesus being the reason for their show and the season. The fun tunes continued with "Supersonic" and the fan favorite "Radiator" before the crowd pleasing classic "Put UR Hands Up" preceded the remix version of "Dance or Die." Solomon then jokingly introduced the "elves" on stage (i.e. the band members) and then spun off into a tangent about the Rapture Ruckus guys being from New Zealand. It inspired him to sing the next song in a mock New Zealand/British accent for "Love Addict." They then blended their old cover of "Grandma Got Run Over By A Reindeer" into "Love Addict" and then back to their song before its end. Family Force 5 then played the "Fever" remix version, with Solomon continuing to sing it with an accent. It was pretty funny and only seemed oddly appropriate given the way they were dressed. The pounding arena anthem "Can You Feel It," from their album III, was next, and then Solomon encouraged everyone to "get their paws up" to "walk like a zombie" for their recent hit single, "Zombie." They then performed another fan favorite in "Kountry Gentlemen" before inviting some festively dressed fans on stage to dance around and act crazy for "Carol of the Bells" (I especially dug the giant silver ornament costume). They even threw some gift-wrapped presents into the audience for the fans. Finally, they ended the night (complete with starry Hulk gloves) with the patriotic dance anthem "Cray Button."
Sometimes a good tour consists of a variety of musical styles, offering a sampling of different kinds of music for all ages. However, there's something to be said for lumping together a group of artists who are all very good at their craft, and putting together one big dance party for this year's Family Force 5's Christmas Pageant tour was a great little gift in and of itself. It was a super fun and solid night of poppy dance music, and it's a tour you most certainly won't want to miss if you can get a chance to see it!
--
John DiBiase
, 12/10/12
Family Force 5 Set List

01. Wobble
02. Ghostride The Whip
03. Angels We Have Heard On High
04. The Baby
05. Supersonic
06. Radiator
07. Put UR Hands Up
08. Dance Or Die (Remix version)
09. Love Addict / Grandma Got Run Over
10. Fever (Remix)
11. Can You Feel It
12. Zombie
13. Kountry Gentlemen
14. Carol of the Bells
15. Cray Button
Family Force 5's Christmas Pageant
click on an image for a bigger size
**vertical images cropped for thumbnails**
Everyday Sunday
Capital Kings
Phenomenon
Rapture Ruckus
Family Force 5
*all photos by John DiBiase and are the property of Jesusfreakhideout.com