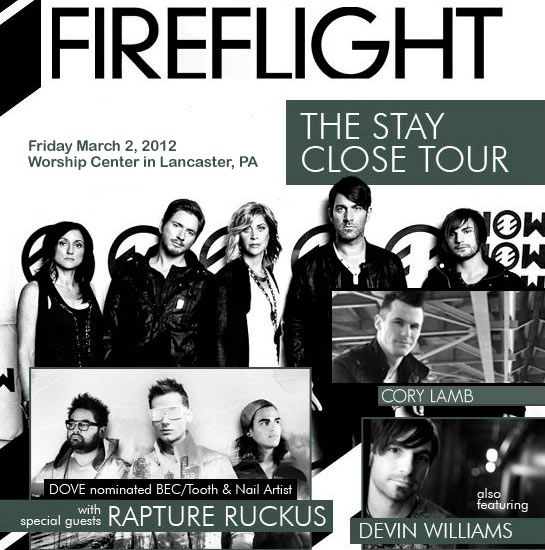 Stay Close Tour 2012
3/2/12, at Worship Center in Lancaster, PA
To prep fans for the forthcoming release of their new album, Fireflight set out on the Stay Close Tour, bringing along with them fresh talent in BEC's Rapture Ruckus, as well as a pair of unsigned, underground artists--Devin Williams and Cory Lamb. The evening was an intriguing mix of electronic and rock music that brought listeners of all ages a live show they most likely wouldn't soon forget.
The Worship Center, a beautiful church that looks brand spankin' new in appearance (I believe it's only a couple years old), was buzzing with young folks on this particular Friday evening as fans of all ages filed into the sanctuary for the concert. When everything was set up and ready to go, Nashville resident Devin Williams emerged with his live band to offer up a raw rock performance. Opening with his song "Save Me," Williams--who was sporting a front-heavy mohawk of sorts--brought forth a sound that wasn't too far from a late-90's era Creed rock sound, complete with vocals similar to Scott Stapp's. Williams was good at what he does, no doubt, but the style did seem a bit dated for 2012. However, the audience sure didn't seem to mind as the youthful Lancaster audience was largely buzzing over each musical performance through the course of the night. "Eraser," another rocker, followed, before Williams reminded the audience he resides in Nashville and therefore performed an acoustic number with "Start Over." Devin then took a moment to share about his love for Jesus, and that love being the reason why he sings, before closing with another rock song, titled "Overload." While his music may not be everybody's cup of tea, fans of the aforementioned Creed and Nickelback would do well to check out Devin's work.
After a brief set change, another indie artist, Cory Lamb, took the stage with his band. Lamb, who's garnered quite a buzz with his album Break The Cycle, delivers an energetic pop rock sound (sort of a Tony Vincent / Eric Champion blend, even stage presence-wise, with a modern approach) that was perfect for this lively audience. Lamb's stage energy was certainly infectious as he frequently danced and moved around the stage, hardly staying in one spot for very long. His supported band was just as lively, too, and it all served as a good set to pump up the audience for the rest of the night. Lamb also made no bones about his love for Jesus and he and his band performed several cuts from Break The Cycle, including "Something More," "It's A Good Day" and the title cut (which he closed with). But he also debuted a brand new song for the Lancaster folk, entitled "Safe In Your Arms."
When Lamb and his band left the stage, Dawn Michele, the lead vocalist for the evening's headliners, Fireflight, came out to share with the audience a little bit about World Vision. Dawn shared from her heart about her experiences with sponsoring a child and getting to watch, not only her money go to a good cause, but to see her sponsored child grow over the years. She then introduced a short video which played, urging people to sponsor a child through World Vision, and introduced a 10-15 minute intermission that immediately followed.
When the intermission concluded, the lights dimmed again and a wall of small lights were illuminated at the back of the stage. Also, three small video screens were now in use as well, which became part of the next show from New Zealand act Rapture Ruckus. One of the screens in the middle of the stage began a countdown of two minutes as the end credits theme music to 2010's TRON Legacy played over the speakers. When the countdown and the music finished, Brad Dring of Rapture Ruckus came out, complete with sunglasses, to the tune of "Tonight." Brad's stage presence was energetic and infectious as he utilized platforms on either side of the stage to stand on (or lay on at times) and interact with the audience. The dance-style music--with a hip hop edge--translated excellently live. After "Tonight," Brad introduced the Rapture Ruckus band and then proceeded to play "All Things New" from their latest album, Open Your Eyes. "Break The Line" followed, and Brad donned his sunglasses again (he had removed them briefly for the previous song) and danced to this track in a way that cleverly mimicked a video of his head (also wearing the sunglasses) on the screens in the backdrop. It was a neat effect and the song served as a set highlight. He then paused to talk some more with the audience, including sharing about how BEC found his band and wanted to share them with the United States audiences. He then performed the boisterous "Going Home," for which Dring nicely mixed U2's "Where The Streets Have No Name" into the close of the song. He then talked a bit more and offered up a free autographed vinyl of Open Your Eyes to the audience, which he made sure to give away to someone who owns a record player and is over forty years old. It was a nice touch, and then he closed with "No Matter What" from their BEC self-titled debut EP.
A ten minute intermission preceded the night's main event, and before too long Orlando rock band Fireflight emerged to the tune of their new single and tour title track, "Stay Close." Arguably the best song on their new album, Now, it was a little surprising to hear them open with their new single, but it set the tone nicely for the rock onslaught that would follow. Frontwoman Dawn wore an all-white ensemble with a long, sheer black sweater over top, while the rest of the crew was dressed mostly in black. In the many times I've seen the band live over the years, this was probably the biggest-produced show I've seen from them. For example, the mini-light backdrop and screens were a nice touch. It's always been exciting to watch artists' performances grow and mature with them over time. They immediately moved from "Stay Close" to "Stand Up," from Unbreakable, and "Fire In My Eyes," from their Grammy-nominated album, For Those Who Wait. Dawn took a moment to mention their new album Now and asked if they could play a new song, moving right in to the rocker "Ignite," followed by their hit single from their debut album, The Healing of Harms, "You Decide." It was shortly after that song that the band slowed things down a little for the ballad "He Weeps," another new song. It's an emotional song--and a personal one, in the same vein as "Name" from For Those Who Wait, and it was a nice addition to the set. Dawn shared a bit about life's struggles and how we are more than conquerers through Christ, before appropriately playing another slow song, the rock ballad "All I Need To Be." The five-piece then picked up the energy again with "For Those Who Wait," before clearing the stage to leave their fairly new drummer, Adam McMillion, all alone to show the Pennsylvania audience what he's got with a feature solo. After Adam tore the kit up with some impressive drumming know-how, the band returned to play "The Hunger," followed by another new one, "Stronger Than You Think." I was pleased with their decision to work several new songs into their set list. I've found over the years that too many bands seem to play it safe by playing just the songs fans know best in the time leading up to a new album release, instead of breaking out new songs to test on the audience and get them pumped for a new album. And with that said, Dawn followed the new track with a little plug for Now, informing everyone that this evening was the very first time the record was on sale to the public, and a good four days before it's official release. They then launched into the album's title track, "Now," a fast-paced rock song, and followed it with "You Gave Me A Promise" and "What I've Overcome." As their set drew to a close, after offering up a hearty assortment of Fireflight favorites, the band closed with their biggest hit, "Unbreakable" and walked off the stage. Unfortunately, the young Lancaster audience didn't seem to know the encore drill as a chunk of the attendance began heading toward the door (and it definitely wasn't because they hadn't been enjoying the show). Some stayed to chant "One more song!", to which the band inevitably returned, causing Dawn to ask the crowd, "Do you want to hear one more song??" The band then broke out their For Those Who Wait rock hit, "Desperate" for an excellent finish.
The Stay Close Tour was an intriguing mix of music from rock, pop, and hip hop/dance acts from different areas of the world. While the latter half of the night exhibited a stronger batch of songs and more professionalism than the earlier half, it was a wonderful tour, especially for youth groups and younger people--one that rock fans certainly enjoyed. Definitely get the chance to see Rapture Ruckus and Fireflight if they head into your neck of the woods anytime soon!
-- John DiBiase, 3/3/12
Stay Close Tour 2012 Photo Gallery
click on an image for a bigger size
**vertical images cropped for thumbnails**
Devin Williams
Cory Lamb
Fireflight's Dawn Michele (Compassion International)
Rapture Ruckus
Fireflight
*all photos by John DiBiase and are the property of Jesusfreakhideout.com