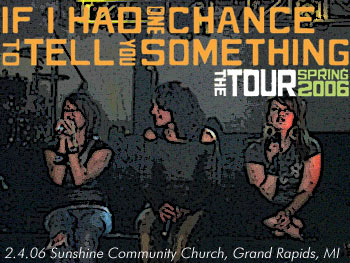 Rebecca St. James, BarlowGirl, Jadon Lavik
2/4/06, at Sunshine Community Church, Grand Rapids, MI
A Christian music veteran at the still young age of twenty-eight, Rebecca St. James has shown herself to be one of the leading forces in the industry, constantly touring and creating new art whether as a musician or an author. Now in support of her long awaited release, If I Had One Chance To Tell You Something, Ms. St. James recently hit the touring circuits with supporting acts BarlowGirl and Jadon Lavik in tow.
Newcomer Jadon Lavik got the evening off to a start, performing songs from 2004's Moving On Faith and the forthcoming Life On The Inside. For those who may have not been familiar with the music of this singer-songwriter-guitarist, a rendition of his popular radio single "What If" should have been enough to remind the audience who he was. Lavik acquainted everyone with his musical style, which brings to mind the likes of Matthew West and Paul Colman. Before moving off stage to make room for the next act, Lavik completed his set with "Changing Happy" and "Let It Go."
Now before I continue, I have to admit that I am more that just a bit biased when it comes to BarlowGirl. Since the girls' Fervent Records self-titled debut, I've considered myself to be more than simply a "listener" or "fair-weather fan," perhaps due to the fact that I, too, am a fellow female musician. Whatever the reason, and with all confessions made, I believe it's now okay to carry on. This sibling trio jump-started, literally, with "On My Own." Drummer/vocalist Lauren Barlow took over from there on "Pedestal," commanding the crowd from behind her drum kit. One may expect that a drummer singing lead vocals may cause the band's timing to get slightly off, but the girls never missed a beat. Afterwards, guitarist Becca Barlow took a brief moment to speak candidly about her struggle with eating disorders and how she broke free, leading to the image-themed "Mirror."
Up to that point, BarlowGirl had filled their set with material from their debut project. To begin to add in songs from their sophomore outing, the sisters first employed rocker "Let Go," the first single from Another Journal Entry. This was one of the highest energy tunes BarlowGirl did the whole night where once again drummer Lauren Barlow sang lead. The evening then began to take a more worshipful turn as bassist/keyboardist Alyssa Barlow introduced "I Need You To Love Me" with a cover of Jeff Deyo's "Lord, I Give You My Heart" and Chris Tomlin's "Enough" coming right behind. Each of the Barlow sisters proved none were just an "Average Girl" next before spiraling down to their time slot's conclusion. What better to close such an excellent performance than the band's smash hit "Never Alone?" Without a doubt the crowd favorite, BarlowGirl's set came to a memorable end, the perfect way to prepare everyone for who was next.
After a rather brief set change, the evening's headliner, Rebecca St. James, made her way to stage wasting no time getting down to business with the intense rock vibe of "God Help Me." With a four-piece band and two vocalists to back her up, St. James kept pressing forward with the worship hit "Lamb of God" and new song "Love Being Loved By You." A main part of St. James' platform over the years has been her bold stance for purity. One tool that has helped her in this area is a song written to her unknown future husband entitled "Wait for Me." Clearly Ms. St. James had the audience's attention which led her to share about another important part of her ministry - Compassion International. Before dismissing for intermission, she performed "Beautiful Stranger," which is based off of her experiences with those a part of the organization, explained the great need for children to be sponsored, and gave fans an opportunity to take interest in that need.
Returning with the techno flavor of "Reborn" (from 2000's Transform record), Rebecca St. James, seemed poised for a high-action second half of the show. To keep up with the musical theme imposed by the previous song, "Thank You" ensued, which appeared on her most recent effort, If I Had One Chance To Tell You Something. As a part of a collection called Music Inspired By The Chronicles of Narnia, St. James wrote a track called "Lion," which found itself as a part of the show's set. With an on-screen montage from the hit movie, it was quite a crowd-pleaser. The piano ballad "Forgive Me," also from If I Had One Chance..., followed with Alyssa and Lauren Barlow returning to offer their vocal talents to recreate the album version. The Barlow's harmonies paired with St. James vocals made for one of the night's most memorable moments.
As long as I can remember, a usual part of a Rebecca St. James tour is a personal testimony from the singer and an altar call. This time around another new work, "I Can Trust You," opened the doors for the opportunity only after St. James shared a personal testimony. With such an overwhelming response, I began to wonder if there was even anyone left to perform the last few minutes of the show for. St. James finished the evening off with her most recent hit "Alive," complete with a brief snippet of "Blessed Be Your Name." While still remaining true to her signature live concert style, St. James worked in new material and fresh new elements which showed signs that this artist won't be leaving us any time soon.
When the evening was over, the only thing left to say is that if given the chance to check this tour out, by all means do so! Rebecca St. James puts on one of the most notably well produced concerts in all of Christian music. With rockers BarlowGirl and newcomer Jadon Lavik offering themselves as worthy supporting acts, this is one tour you won't want to miss.
--
Lauren Summerford
, 2/19/06
BarlowGirl Set List
01. On My Own
02. Pedestal
03. Mirror
04. Let Go
05. I Need You To Love Me
06. Lord, I Give You My Heart
07. Enough
08. Average Girl
09. Never Alone
Rebecca St. James Set List
01. God Help Me
02. Lamb of God
03. Love Being Loved By You
04. Wait for Me
05. You Are Loved
06. Beautiful Stranger
***Intermission***
07. Reborn
08. Thank You
09. Lion
10. Forgive Me (with Alyssa and Lauren Barlow)
11. Take All of Me
12. Blessed Be Your Name
13. I Can Trust You
14. Awesome God
15. Alive/Blessed Be Your Name
If I Had A Chance... Tour Photo Gallery
click on an image for a bigger size
Jadon Lavik
BarlowGirl
Rebecca St. James
*all photos by
Lauren Summerford
and are the property of
Jesusfreakhideout.com