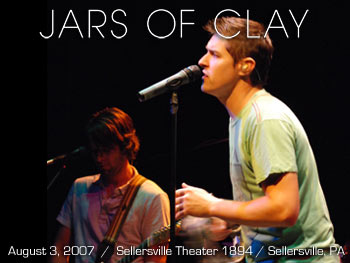 Jars Of Clay
8/3/07, at Sellersville Theater 1894, Sellersville, PA
It's probably been twelve years since I've seen a Jars Of Clay show where they were the only act performing. The plus side to a one-band show, especially one with a catalog of music as extensive as Jars Of Clay's, is you're likely to enjoy an extended performance with a wider variety of the band's music than if it were just a regular tour. And since twelve years ago was when the band only had a single album of songs to their name, this was our first opportunity to catch a wide array of songs from their impressive career.
On this day a year ago, Jars Of Clay had gathered at this very spot, only with folk artists like Christopher Williams and Judd & Maggie opening that time. The quaint and intimate Sellersville Theater 1894 was the perfect venue for this kind of a performance, and while Jars could have just as easily performed a more acoustic-based show like the artists before them, they instead plugged in and rocked their audience. This particular show wasn't much different. However, the band's set didn't begin until a surprisingly late 9pm, but Jars emerged to perform shortly after the projected time, opening with the title track from their latest release, Good Monsters. It's an especially quirky song to begin a show with, but they followed it quickly with the drastically more serious rocker, "Work," and the rather redemptive and upbeat "God Will Lift Up Your Head." A cover of the famous hymn "Nothing But The Blood" was next, with "Take Me Higher" from Good Monsters following. A Jars of Clay show has become an expectantly tight and well-presented performance. And with a right mixture of humor during the in-between song chatter, it's good fun as well. They talked a bit about the show the night before in New Hampshire where they apparently had messed up several songs (according to them at least), and the fans still loved it. They proceeded to resurrect an old fan favorite, "Frail" with hopes of performing it with greater success than previously attempted. As the melodic and serious song drew to a close, vocalist Dan Haseltine worked in a few lines from Jennifer Lopez' "Jenny From The Block," singing it in the same melody and tone as the regular verses of "Frail." It's this kind of random, unexpected humor that fans have come to expect from a Jars set.
With a special acoustic intro, the guys launched into another classic, "Love Song For A Savior," and followed it up with another song they hadn't played in awhile, "The Eleventh Hour." Jars has a great stage presence - leagues better than when they first began, especially since now they're brimming with confidence that they lacked a dozen years ago. Haseltine is visibly passionate about the songs they sing, with the other three (Steve, Matt, and Charlie) offering up a sort of professionally subdued enthusiasm. Sadly, the band's weakest link in their live show is their hired bass player who displays very little emotion, looking as if he might rather be doing anything else but being on stage at that moment. But the sonic presence of the band goes unharmed, and Jars Of Clay is the kind of artsy alt pop/rock band you can always expect great things from. And the unexpected kept coming as Haseltine followed the melancholy "The Eleventh Hour" with a talk about their friend's children's show - something I can't say many expected would be a song introduction. But an introduction it was and they broke into the delightful "Triangle Song," which the band had written for the children's show Come On Over! (guitarist Steve Mason has guest-starred as Steve, the Super Cool Guitar Guy) for a character who learns to play the triangle. The song was a fantastically fun treat for the Sellersville audience.
The Cash-influenced love song "Mirrors & Smoke" followed, leading a string of Good Monsters selections. "There Is A River" appropriately followed, along with the emotional and sobering "Oh My God" and "Surprise." The Julie Miller cover "All My Tears" breathed a little life into the audience, revving them up further for "Flood" and their radio hit "Dead Man." The Good Monsters b-side "Love Me" is becoming a wonderful live favorite, followed by The Eleventh Hour's "Revolution" and a cover of INXS's "Don't Change." With that, the guys left the stage, but the audience undoubtedly wanted more. The core foursome that began Jars Of Clay walked back out on stage and performed a memorable rendition of "Liquid," before they offered their version of Gerry Rafferty's classic "Baker's Street" (complete with Haseltine on the melodica). "Sunny Days" from Who We Are Instead was a great pick next, with Haseltine following it with a message about Blood:Water Mission and the crisis in Africa before closing with "Light Gives Heat." It was an appropriate way to zing the audience with a thought to chew on before they left, and a great song to close with.
Jars Of Clay has become a band you can be sure to receive a great live concert from. This particular setting was perfect for them, too, to deliver over twenty songs and connect with their fans in a sold out little theater. Even if you happen to catch these guys at a festival sometime, be sure to find a show with a more intimate venue so you can experience the band at their absolute best.
--
John DiBiase
, 8/16/07
Jars Of Clay Set List
01. Good Monsters
02. Work
03. God Will Lift Up Your Head
04. Nothing But The Blood Of Jesus
05. Take Me Higher
06. Frail / Jenny From The Block
07. Love Song For A Savior
08. The 11th Hour
09. The Triangle Song
10. Mirrors & Smoke
11. There Is A River
12. Oh My God
13. Surprise
14. All My Tears
15. Flood
16. Dead Man
17. Love Me
18. Revolution
19. Don't Change
20. Liquid
21. Baker's Street
22. Sunny Days
23. Light Gives Heat

Concert Photo Gallery
click on an image for a bigger size
Jars Of Clay
*all photos by
John DiBiase
and are the property of
Jesusfreakhideout.com