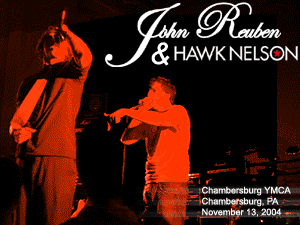 John Reuben, Hawk Nelson
11/13/04, Chambersburg YMCA, Chambersburg, PA
I've been going to rock shows for ten years now and I'm starting to feel old at just twenty four. With many of the non-tour shows being youth events, a twenty-something can feel a little out of place. But youth events are important and essential outreaches and alternative forms of entertainment for young people today. My wife and I attended Hawk Nelson's energetic and fun set on Friday, November 12th in Cherryville, PA at The Barn Bash youth event. The band put on a solid performance and even offered a brief word to the crowd of teens about why they do what they do. The following night, Hawk played another youth event at the YMCA in Chambersburg, PA along with our boy John Reuben. Kevin and I took a ride out to Chambersburg to see these two talented artists in action.
The YMCA packed a modest crowd into one of its small gymnasiums for what was to be a very intimate concert experience. With a ticket price of free, youth had little reason not to attend. And with football vet Steve Fitzhugh, formerly of the Denver Broncos, offering a message to the audience, how could the night get much cooler, right?
Tooth & Nail Records pop/punk rockers Hawk Nelson opened the evening bathed in red spotlights with the title track from their debut album Letters To The President. Their high energy set roused the crowd of the evening before in Cherryville but barely seemed to effect much of the Chambersburg audience. Despite the band's best efforts, most of the kids just kind of stared on (with the exception of three or four overzealous guys trying to mosh in the middle of a lethargic crowd towards the close of the band's set). The Hawk boys did their best, leaving us wondering what was wrong with the audience, but their time restraints left little room for much interaction with people between songs. The set felt somewhat rushed while the night before had much more breathing room for the band. If I hadn't seen the guys in a much better setting for them the night before, I wouldn't have seen how much better they fair on their own. Perhaps the fact a new pop/punk band performing with a more well-known rapper attracted mostly a Reuben audience. This could only be confirmed when John would perform...
Following Hawk Nelson's valiant (and fun, mind you) efforts, the audience was encouraged to sit on the gymnasium floor for Steve Fitzhugh's message. As I've gotten older, I've found many speakers a whole lot less entertaining than I used to. But Steve had a charisma and a way of relating to his listeners that few possess. Using heartbreaking stories from his childhood and points against peer influence, Fitzhugh was indeed a wonderful addition to the evening.
John Reuben and his band (featuring Tim from House Of Heroes stepping in for a couple dates) closed out the event. Reuben opened with the silly but fun "Treats" and immediately began working the crowd. Reuben is one of the few performers I've seen who has been able to faithfully pump up his audience night after night. He clearly enjoys what he does and by the end of his set, the crowd is into the show whether they like or not. From "Treats," the band moved into "Move" and the more edgy "Have No Opinion" before pausing to roll into his routine about 'Cheap Crowd Participation' tricks. This year, John began incorporating into his set a session where audience members can have their chance to freestyle on the mic. Whether amusing or downright painful to watch at times, it's undoubtedly fun for the crowd to get involved and for some to get their harmless 'fifteen minutes of fame.' Mixing up the fun and serious, Reuben also offered "Do Not," "Time To Leave," "Freedom To Feel," "Doin'," "Life Is Short," and ended with the old school favorite "Gather In." The now dwindled audience of faithful attendees began chanting for one more song which Reuben and his band graciously answered with "Higher."
Venues and audiences are important for the artists' performances. While I've seen Reuben perform well to large to minimal audiences, I got to see the stark contrast between audiences and their effect on the Hawk boys over the course of two nights. I thoroughly enjoyed both evening's sets from the young band and encourage fans to support each of these talented artists. Next year, catch Reuben on tour with Thousand Foot Krutch and Pillar; and catch Hawk Nelson on tour with KJ-52 and Falling Up in the Spring with another tour following that with Audio Adrenaline, TobyMac, and Kutless!
--
John DiBiase
, 11/14/04
Hawk Nelson Set List
01. Letters To The President
02. California
03. First Time
04. Right Here
05. Like A Racecar
06. Long And Lonely Road
07. Someone Else Before
08. Things We Go Through
08. Every Little Thing


John Reuben Set List
01. Treats
02. Move
03. Have No Opinion?
04. Sweater (by Weezer) / Cheap Crowd Participation
05. Do Not
06. Time To Leave
07. Freedom To Feel
08. Doin'
09. Life Is Short
10. Gather In
Encore:
11. Higher



Hawk Nelson / John Reuben Photo Gallery
click on an image for a bigger size
Hawk Nelson
John Reuben
*all photos by
John DiBiase
and are the property of the photographer and
Jesusfreakhideout.com