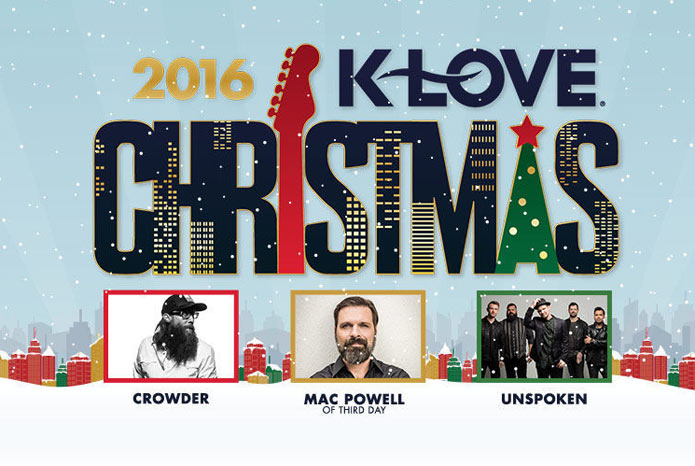 K-LOVE Christmas Tour 2016
12/1/16, at Victory Family Church in Pittsburgh, PA
We all know those people that start with the Christmas music the moment Halloween ends. I feel as though there's an unwritten rule that suggests that one wait until at least Thanksgiving before singing about the "holly jolly's." K-Love seems to agree, as their annual Christmas tour has officially kicked off and not a moment too late. The tour, which begins in late November and runs all the way until a few days before Christmas features Unspoken, Mac Powell (of Third Day), and Crowder this year.
The night kicked off with Unspoken taking the Christmas tree and lights-adorned stage. They played through a selection of songs in support of their recently released sophomore album, Follow Through, with a few Christmas tunes sprinkled throughout. They also included their recently released laid back jam, "Christmas Everyday." The highlight of their set, however, would be a medley of more secular based Christmas favorites because "as you can see, we're out here first. So Mac and Crowder have dibs on all of the 'holy' Christmas songs," lead singer Chad Matson explained. The medley included such favorites as "All I Want For Christmas," "Run Run Rudolph" and a wonderfully deep version of "You're A Mean One Mr. Grinch." Mac Powell then took the stage and got the crowd on their feet with the traditional favorite, "Joy To The World." Before going into the Third Day Christmas original "Born In Bethlehem," Powell explained to the audience that it was one of his favorite songs that he has written over the band's long, storied career. Also featured were the Third Day classic "I've Always Loved You," an Alabama cover "Christmas In Dixie" and a track off of Mac's recent solo country effort, "Run Outta Love."
Kenny Rodgers the Artic Fox (wearing a Santa hat) signaled time for the night's headliner, Crowder. Much to my surprise (perhaps naively, considering it's a Christmas concert), Crowder's set featured almost no original tunes. Save for "How He Loves" and "Come As You Are," the set featured exclusively Christmas tunes and absolutely nothing from the recently released American Prodigal. It's understandable considering the theme of the show, albeit a tad surprising. In 2011, the dearly departed David Crowder*Band released a brilliant holiday EP, titled Oh For Joy. This is where the bulk of Crowder's set would lie. The band kicked off with the wonderfully twangy versions of "Go Tell It On The Mountain" and "Angels We Have Heard On High." After a conversation about the appropriateness of "Grandma Got Run Over By A Reindeer," and the creepiness of line "...he sees you when you're sleeping" in the classic "Santa Claus Is Coming To Town," Crowder welcomed Mac Powell back out to the stage for a gift exchange. Accompanied by the hilariously sad-looking Santa Claus, Crowder gave his present to Mac - a bottle of Muscle Milk (which may or may not have been taken from catering - it was still cold). Mac showed appreciation and chugged the drink before offering his persent to Crowder - cat socks. Then they launched into the Elvis Presley classic, "Blue Christmas," featuring Mac Powell's wonderfully deep voice. The night took a more spiritual, reflective tone with "How He Loves" and "Come As You Are," bridged beautifully with a few lines of the Leonard Cohen classic, "Hallelujah." Crowder was then joined on stage again by Mac Powell, his band, and Unspoken for one last sing-a-long, "Feliz Navidad" -- complete with snow!
The K-Love Christmas show is running through this month, and is well worth going and checking out if they are near. If feels more laid back than a typical concert - akin to gathering and watching a classic Christmas special with family on the holidays. And that's exactly the purpose.
--
B.J. Smith
, 12/7/16
K-LOVE Christmas Tour 2016 Photo Gallery
click on an image for a bigger size
**vertical images cropped for thumbnails**
Unspoken
Mac Powell
Crowder
*all photos by BJ Smith and are the property of the photographer and Jesusfreakhideout.com
&crowdersp;