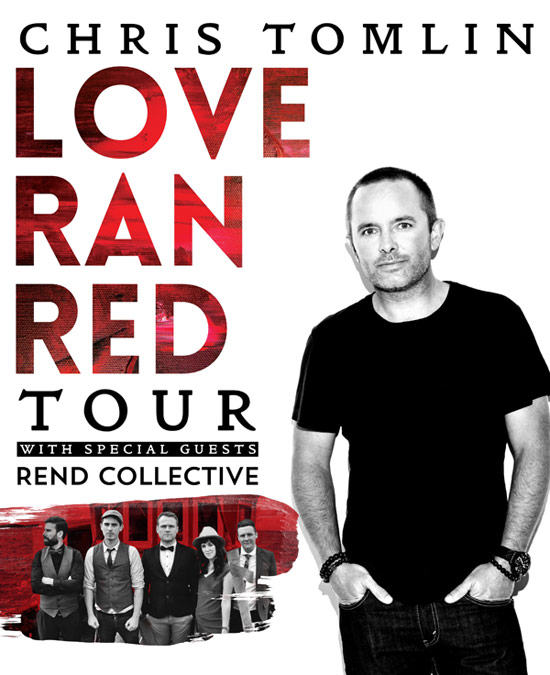 Love Ran Red Tour
11/14/15, at Console Energy Center in Pittsburgh, PA
On the final night of the Love Ran Red tour, Chris Tomlin and Irish friends Rend Collective brought their brand of worship to Pittsburgh. I've been privlidged to see both live in concert prior (reviews of which can be found on this very site) and I would happily photograph/review them for many more years to come. Rend Collective has one of the best live shows in Christian music, and you won't find a more authentic, genuine performer than Chris Tomlin.
Rend Collective kicked off the night with a 30-minute set, blistering through old favorites and new tracks from their album that was released earlier this year. Given the limited set time, some notable songs were unfortunately left out, but the new tracks, including "You Will Never Run" and (especially) "Every Giant Will Fall," work to perfection, meshing will with old standards. We were even privy to witness a live bagpiper join the crew during "Joy Of The Lord."
Chris Tomlin took the stage shortly thereafter with the familiar chords of "White Flag" kicking things off. Nearly every song he releases becomes not only a hit, but a standard within churches across this nation. So understandably, the Chris Tomlin show plays like a greatest hits album with no lulls, no weak spots, and really no areas where the 15,000 in attendance don't know every lyric. So rather than listing through every songs performed, I'll tackle two memorable moments from this show.
In one of the more special moments of the show, Tomlin was joined by Pat Barrett (of Housefires), the writer of "Good Good Father" for a surprise duet of the song that has been sweeping the worship scene lately.
However, in perhaps the most vivid (i.e. chaotic) moment of the show, Tomlin, joined by DJ Promote, started a dance party to "God's Great Dance Floor." It was nothing out the usual, but when Tomlin invited the people to join him up front around the stage for said dance party, the Pittsburgh crowd took that to mean join Tomlin on stage. Thus began a mauling of fans (mostly teenage girls) to join in the festivities. It was a friendly affair, although quite funny. "I've never been mobbed by a crowd before!" remarked Tomlin after the song.
During a break in the concert, Chris Tomlin took an intermission to answer questions sent in via Twitter by those in attendance. When recanting the tale of how his journey in the music ministry began, he spoke the words prayed over him by an older youth pastor- "Lord, make Chris a psalm writer for our generation." I've never heard a better description of Chris Tomlin.
While the Love Ran Red tour would end here, it's not hard to catch Chris Tomlin on tour. He's currently out touring his new Christmas album, while Rend Collective will be embarking on a headlining tour of their own early next year. Both acts are well worth your money, and I cannot imagine anyone going home disappointed. Both acts are geniune, love The Lord, and it comes across in everything they do. Check them out!
--
B.J. Smith
, 12/1/15
Love Ran Red Tour 2015 Photo Gallery
click on an image for a bigger size
**vertical images cropped for thumbnails**
Rend Collective
Chris Tomlin
*all photos by B.J. Smuth and are the property of the photographer and Jesusfreakhideout.com