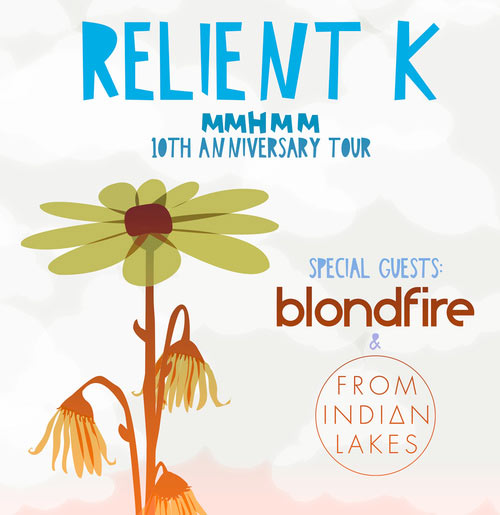 Relient K - MMHMM 10th Anniversary Tour
12/2/14, at TLA in Philadelphia, PA
I hate to open a review with a complete cliche, but seriously... time flies! To even ponder the thought that it's been a solid 10 years since Relient K released their career best album, MMHMM, is mind-boggling. Yet, just as rock band Anberlin was making the rounds saying a final farewell, Relient K was on a somewhat similar celebratory tour, but instead honoring the decade that's passed since the release of MMHMM. For this tour, former drummer Dave Douglas returned and the band performed the album from start to finish, with a few added bonuses to round out the night's offering of music.
It's been a tumultuous few years for Relient K. After releasing an unsually poppy album in Collapsible Lung, most of the band departed, leaving just Matt Thiessen and Matt Hoopes holding the reins. The future of RK has been rather uncertain for a while, so it was a little surprising -- but rather smart -- to see them launch a MMHMM-centric tour to remind fans just why they loved Relient K in the first place.
On this rainy December night, we arrived a bit late to the venue, missing opener From Indian Lakes, and getting inside just as Blondfire was beginning around 8:20pm. Philadelphia is a lot like New York City when it comes to traffic and parking issues--even if it's on a smaller scale--and after we found a space in a nearby lot, we were set for the show (but as we were leaving, some guy insisted we needed to pay more money since it's a "concert night" and we were pretty sure he was just trying to scam us). After seeing Anberlin's tour at this venue just a few weeks before, I found Blondfire to be a huge improvement over the vulgarity from Gasoline Heart. The female fronted rock band was a nice, benign lead-in to the main event.
With a couple newcomers in the band as support, the Matts and Dave opened with energy and enthusiasm with the first track from MMHMM, "The One I'm Waiting For." The original tour backdrop, now torn and tattered, hung from the back of the stage, while incense sticks gave off a light wisp of smoke from each one displayed around the stage. Hit "Be My Escape" was next, followed by "High Of 75." Thiessen then introduced the album before continuing on with "I So Hate Consequences," "My Girl's Ex-Boyfriend," "More Than Useless," "Which To Bury, Us Or The Hatchet?," and so on. The audience was having a blast, often shouting the words back to the band; it was definitely one of the more fun shows I've been to in recent memory. Before "Life After Death And Taxes," Thiessen talked a little about the tour's openers, before picking up an acoustic to play the album closer, "When I Go Down." With the completion of the album came the close of their set and they waved goodbye and walked off. But the audience cheered for more and, naturally, they returned for what would be another set of Relient K fan favorites.
"Sadies Hawkins Dance" served as the lead-off for the second half, followed by "Mood Rings" and "Come Right Out and Say It." "Devastation and Reform" followed, and then "Sahara." Thiessen paused to introduce the band (including Josh on guitar and Tom on bass) and then performed "Forget and Not Slow Down," for which their guitar tech joined them to provide another guitar. Thiessen then performed a brand new, unreleased Relient K tune, titled "Look On Up To The Sky," which was a soft, pensive acoustic song. Apparently, they've been playing it live for some time, but it hasn't appeared on any of their albums yet. To close, they performed the catchy number "Blink," from Collapsible Lung, and then left the stage.
Although this tour has wrapped by the time I've written this, I'm sure Relient K will be making the rounds on the road in 2015, even if it isn't revisiting MMHMM. If you've ever been a fan of the band, they still put on a great live show and one not to miss. Hopefully we haven't heard the last great album worth celebrating from this Ohio outfit.
--
John DiBiase
, 1/6/15
Relient K Set List

01. The One I'm Waiting For
02. Be My Escape
03. High Of 75
04. I So Hate Consequences
05. The Only Thing Worse Than Beating A Dead Horse Is Betting On One
06. My Girl's Ex-Boyfriend
07. More Than Useless
08. Which To Bury, Us Or The Hatchet?
09. Let It All Out
10. Who I Am Hates Who I've Been
11. Maintain Consciousness
12. This Week The Trend
13. Life After Death And Taxes (Failure II)
14. When I Go Down
15. sadies 16 mood 17 come right out and say it 18 devastation 19 so I'll ask one thing just one thing of you 20 band intros (josh far right guitar tom on bass) forget and not slow (tech played guitar too) 21 new one acoustic "look on up to the sky" 22 (talk about the album) blink
Encore
20. (*Fin)
MMHMM 10th Anniversary Tour 2014 Photo Gallery
click on an image for a bigger size
**vertical images cropped for thumbnails**
Relient K
*all photos by John DiBiase and are the property of Jesusfreakhideout.com