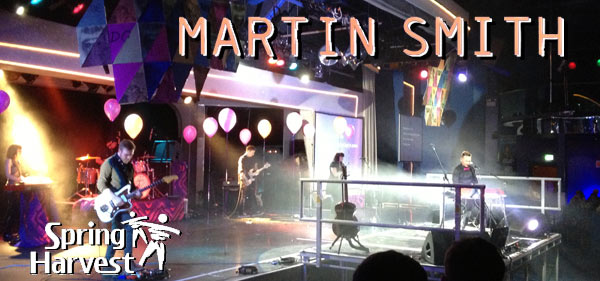 Martin Smith
4/3/13, at Spring Harvest 2013, Skegness UK
We're four years and four Martin Smith solo EPs on from the end of Delirious, but it's likely the singer will forever been known as "the former Delirious front man." Delirious' impact on UK Christian music is un-paralleled. For the majority of their career, they were both the biggest and the best British Christian band. Delirious are long gone but the buzz around Martin Smith's music certainly isn't. A diverse audience had gathered to hear the singer's new material at Spring Harvest 2013. Pensioners in wheelchairs sat at the sides while energetic students jumped around in the center of the venue.
Minutes away from the first notes being played there were a number of questions running through my mind: Would Martin be able to craft a new sound? How much Delirious material would be included in the gig? Would the new songs be as powerful as the old classics?
The night opened with new song "Oh The Joy." It took a while for the audience to engage and sing along, but the volume increased after the infectious drum beat of "Fire Never Sleeps" had kicked in. Few can simultaneously put on an entertaining show and remain focused on God's glory, rather than their own. But just like the old days, Martin treaded the tightrope between worship leading and performing with ease. It wasn't a faultless show, however. Martin needed his iPad on stage to help jog his memory on some of the newer songs. But overall, the singer was confident and seemed genuinely surprised at the huge turnout, remarking "I'm amazed so many people are here tonight, this is incredible."
Smith's audience still wasn't particularly vocal…until the following words left the singer's lips. "We thought we'd do an old Delirious song." A huge cheer went up. "This is called 'Obsession'." The hairs on my neck stood up at the mention of the word. Once in a while, a song is written that is so remarkable; commenting that the song is "drenched in passion and emotion," doesn't even come close. Taking to the piano and introducing the next song, Martin explained, "This song came out of a prayer of being in a period of wanting to know what God wanted. You never know the future and God is clever in the way he never reveals it to us. I went to America and hung out with this guy called Chris Tomlin who's written a load of amazing songs - well you know who he is don't you. This is called 'Waiting Here For You.'"
Perfectly suited to a female vocal, Martin was happy to let Sarah Bird (wife to lead guitarist Johnny Bird) lead much of the song. A chorus of "Majesty" was followed by a spontaneous rendition of Hillsong's "Cornerstone." God's Great Dance Floor is the tune of the moment, so it wasn't surprising to see it make an appearance. Another Tomlin/Smith co-write, the song went down exceptionally well as hundreds joined together in singing "I feel alive, I come alive, I am alive on God's great dance floor."
By this late stage in the set, it was becoming more and more obvious that Martin was enjoying himself. "It never gets boring, does it?" he remarked after being invited back for an encore. A new version of "History Maker" was the perfect final track. Impressive new guitar lines had been composed, as the best of the old was mixed with the new.
That last phrase sums up the answer to my first question: "Would Martin be able to craft a new sound?" Yes, the sound is new, but it still retains all the qualities that made his early material so unbelievably good. No one would blame Martin for taking a break from music. He's spoken many times about wanting to spend more time at home with his family. And while that period is by no means over, there is a sense that the singer is well on his way back into the public's eye. With his debut solo album just days away from release and a number of gigs lined up, Martin Smith's welcome back party is well under way.
-- Sam Hailes, 23 is a freelance journalist from the UK. You can follow him on
Twitter
.
Martin Smith Set List

01. Oh The Joy
02. Fire Never Sleeps
03. Awake My Soul
04. Obsession
05. Waiting Here For You
06. Majesty (Chorus)
07. Cornerstone
08. Shepherd Boy
09. Back To The Start (God's Great Dance Floor)
10. History Maker
Spring Harvest 2013
click on an image for a bigger size
**vertical images cropped for thumbnails**
Martin Smith:
*all photos by Sam Hailes and are the property of the photographer and Jesusfreakhideout.com