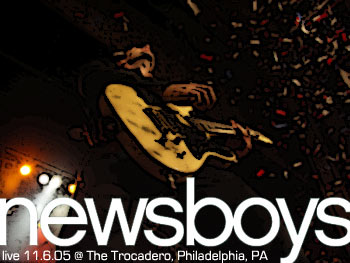 Newsboys, John Reilly Band
11/6/05, at The Trocadero, Philadelphia, PA
When you go from never being to a popular venue to visiting it twice within a week, it may feel rather odd. But the drastic differences between the two shows we've attended at this club may be the more differentiating factor. On October 30th, we travelled to The Trocadero in Philadelphia, PA to see Switchfoot's Nothing Is Sound Tour. Since their signing to Columbia Records, the band's live shows have had a much more strict, almost ironically commercial restraint. While maybe it's more notable by someone like me who runs into more snags doing the "Christian music media" thing at a mainstream show, it should still be quite noticeable by even the casual fan. Why? Well, for starters, The Trocadero is a dark, classic theater that has been gutted and converted into a club/bar. Naturally, the Switchfoot show may have been all-ages, but the option to drink was given. However, take a veteran Christian pop/rock band like Newsboys -- who even have been having leaning towards the worship genre in the past few years -- and toss them in such a venue and watch the atmosphere change immediately. The Trocadero was a lot more lax on security and the drinks being carted around by fans were merely plastic cups of water or soda. A refreshing change.
The Trocadero seemed all-around more welcoming for the Newsboys show (and, much to my elation, the JfH Camera™ was able to attend with me as well this time around). When we arrived in seemingly plenty of time to see the show from the start, we were forced to join an enormous line that extended over a block past the venue and further down around the corner. Sadly, even though the crowds were still waiting to get inside, the show started promptly at 6PM with local act John Reilly Band.
In flat-out honesty, John Reilly Band is an acquired taste. Sort of a local indie version of Caedmon's Call or Five O'Clock People with a dash of Dave Matthews Band, the violin-flavored folk worship band was an interesting band to find playing the stage at The Trocadero. The audience was filled with fans of the band and JRB put forth a worthy effort. However, despite a stage coated in talent, the band was easily out-shined by the main event. And an extended intermission between the acts helped separate the distinctly independent feel of the opening act from the professionalism of the Aussie headliners.
Now, I first saw Newsboys ten years ago when they headlined their Going Public tour and Audio Adrenaline opened up for the band. It was an incredible tour and the fun-loving band unashamedly put on a show to remember (there was no pun intended there... honest). Since then, I've watched the progression of the band quite closely. From the departure of their lead singer and chief personality, John James, to their shift to be more worship-focused, it's been quite a ride. And it must be noted that it's incredible how the band has managed to make an impressive and longlasting shift from James to drummer Peter Furler filling his shoes. It may not have been seamless, but there seemed to not even have been a hiccup in the popularity with their fanbase. And the band has thrived ever since (seriously, these aren't intentional puns).
Although the intermission was painfully long, the wait was well worth it. Opening with "Joy," Newsboys emerged to an enthusiastic crowd (some unreasonably enthusiastic -- oh don't play innocent, you know who you are!). It was surreal to see the band in such an intimate setting again. And through this experience, I discovered just how unbelievably tiny the "photo pit" at The Trocadero is. Perhaps I could stand to lose a few pounds, but my goodness it's small! So when "Million Pieces" followed, and an intense amount of paper confetti was launched into the air, I was immersed in red and white pieces of ticker tape (...and mysterious chunks of dust). It was a fun moment in the set and made for quite a sight to the 'million pieces' floating around the theater. The live staple "Entertaining Angels" was followed by their rendition of the popular worship anthem "Blessed Be Your Name," and a few choruses of the band's own "A Beautiful Sound." After "He Reigns," the band sat down on the stage while Peter Furler shared an inspiring message with the audience. He challenged the audience to seek God more fervently and to spend more time in the living Word. I find his messages stronger than most preachers these days. Perhaps it's because his delivery is honest, relevant, and down-to-earth, but for whatever the reason, he's a great speaker. He closed his message with a prayer, candidly adding that he doubts many have prayed at The Trocadero, only reminding me how unique of an experience the evening really was.
After leading the audience in prayer, the band moved right back into a spirit of worship with "It Is You," and ended in an explosion of energy with "Shine." The band walked off stage, leaving a roaring crowd to anticipate an inevitable encore. They then returned with the fun runaway hit "Breakfast" and introduced the band. Finally, the band went out with a bang, closing with a rousing, brand new worship song entitled "I Am Free." The set felt rather short with really only about ten or eleven songs played, but including Peter's message, the band was on stage for over an hour and a half.
I really enjoyed seeing the Newsboys in a small venue again. It's easy to feel like you're just a decoration in the midst of a large audience in a large venue where you could walk into a show, see it, and leave, and feel like the only thing you got out of it was a pair of ringing ears. But then there are shows like this where you feel very much involved with what's going on on stage. And I couldn't help but notice the joy on Furler's face through the duration of their show. It's quite possible he had the best time out of anyone. So if you have a chance to catch these guys in action at a smaller establishment, don't miss it!
--
John DiBiase
, 11/11/05
Newsboys Set List
01. Joy
02. Million Pieces
03. Entertaining Angels
04. Blessed Be Your Name / Beautiful Sound
05. He Reigns
06. *Peter's Talk*
07. It Is You
08. Shine
Encore:
9. Breakfast
10. I Am Free

Newsboys Photo Gallery
click on an image for a bigger size
Newsboys
*all photos by
John DiBiase
or
Amy DiBiase
and are the property of
Jesusfreakhideout.com