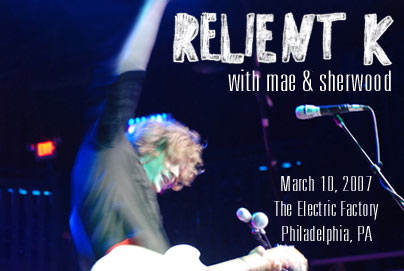 Relient K, Mae, Sherwood
3/10/07, at The Electric Factory, Philadelphia, PA
It would be difficult to forget my first experience at Philadelphia's Electric Factory attending the Underdog Tour in 2000. It was an intimate experience for me, helping out with Audio Adrenaline's street teaming with Forefront Records, but it ended up being a great venue for a rock show. I returned a few years later to see Anberlin open for Relient K, and never thought it would be quite this long before I'd return for a third time. March 10th was the second date on Relient K's Spring 2007 tour, and incidentally also just four days after the release of their fifth studio album, Five Score And Seven Years Ago. Joined by mainstream indie rock act Mae and newcomers Sherwood, this marks Relient K's first headlining tour of 2007.
We arrived at the venue early for a chat with a few of the RK guys (the interview will hit this site soon!), and left to return to the jam-packed parking lot in time to grab a space and wait for the doors to open. Being that this was a Saturday night show, the performance wasn't starting til 8pm so it was a guaranteed late evening. But almost promptly at 8:00, the house lights dimmed and the San Luis Obispo, California-based pop/rock act Sherwood stepped out on stage. The Electric Factory is probably one of the more concert-friendly bar/club type venues in the city. While we've been to The Trocadero and TLA, which are more drab but classic old theaters converted into bars, The Electric Factory, while still having an edgy feel, is more suited for bigger crowds in a more spacious setup. Since the last time we'd been to the Factory, screens have been installed in all corners of the building so those who can't clearly see the stage can see a wide-angle shot of the stage from wherever they are. The only problem with this is it's more of a nosebleed-view of the stage and rather pointless to watch if you're near (or far from, actually) the stage and can see enough to be satisfied. Perhaps if the camera changed angles or was a bit closer, it'd make more sense to have them (but chances are the intended purposes for those screens exceed the use of a wide-angle shot of the evening's performance). Sherwood's brand of indie pop rock was notably energetic yet quickly forgettable as their music and most of their performance really didn't leave too much of a lasting impression (however the Napoleon Dynaminte-esque antics of keyboardist Mike Leibovich were something that will be remembered). Admittedly, I was unfamiliar with Sherwood's music, so this indeed affected my experience of their set, but similar situations in seeing an artist for the first time live in the past has made me a "believer," so to speak (Family Force 5 is a prime example), and on this night, maybe Sherwood just wasn't clicking with me.
After their brief set of performing songs from their forthcoming debut A Different Light, Sherwood exited, allowing for a short break to precede the next act. Having accrued quite the underground following over the past few years, Mae seemed an interesting match for this particular tour lineup and I was looking forward to experiencing them live for the first time. The band was one that had taken time to "grow" on me and before too long The Everglow was in rotation with my usual listening preferences. But as the band has taken strides to distance themselves from ties with any kind of "Christian" labeling (which I suppose they're entitled to do), I've become out of the loop about what the band has been up to. Regardless, I was interested in seeing their live show. From their opening song, which apparently was a rough and edgy new track, it was apparent I haven't been missing all too much as it seemed like Mae was struggling to find their performance footing. Vocalist Dave Elkins, whose voice is soft and melodic on the band's recordings was singing significantly lower for each of their songs and frequently strained or off-key. While not every song of theirs seemed drastically "off" from their recordings ("Someone Else's Arms" was probably their strongest live song), their set seemed less like the creative minds that crafted something like The Everglow and more like an aspiring local band who got a sweet deal performing with a few signed acts. When the guys debuted a brand new track from their upcoming record Singularity, entitled "Waiting," it was tough to imagine just what it might actually sound like when heard in its recorded form. By the time the band finished their seemingly short set, I was disappointed with my first experience with Mae's live show.
An intermission separated the openers from the main event, and it wasn't long before the accapella intro to Relient K's "Plead The Fifth" began to play and the rock quintet launched into "Who I Am Hates Who I've Been" from their 2004 record Mmhmm. The stage backdrop consisted of a massive Relient K banner that featured a cartoon squirrel, with a row of standing lights set in front of it. The guys and their array of musical toys were spaced nicely on the stage, and positioned in such a way that would allow frontman Matt Thiessen to turn from his mic and guitar to his piano at his left (with two more mics attached for vocal purposes) and back again. Early on in the set, fans were throwing bags of Skittles and other items at the band (for those who don't know the group's history, it's common knowledge that the guys enjoy Skittles and Combos, specifically), including a t-shirt announcing a fan named Bethany's birthday. The guys mixed up the old and new favorites, continuing on with "Devastation and Reform," "Chapstick, Chapped Lips, And Things Like Chemistry," and "The Best Thing." Although you're not likely to hear the band talk about God from the stage, the heart and faith of Relient K still comes out from time to time in song, and "Forgiven" offers a blatant message of Christ's forgiveness in our lives. At this point, Thiessen paused to offer for the band to sing "Happy Birthday" to Bethany before dipping into the past for the fan favorite "In Love With The 80's." The catchy "Must Have Done Something Right" followed, along with a special acoustic moment for "Faking My Own Suicide." The guys invited former Supertone guitarist Ethan Luck on stage to help with the song, as they used a synthetic flame machine (a fan that blows a lighted sheet to simulate a fire -- probably the same exact machine TobyMac used previously on his tour for the song "Catchafire"), to create a "camp fire" feel. It was a fantastic idea and a fun surprise for the audience, but I think it would have been even more effective if the guys had gathered around the fake flame to perform the song. They kept the "flame" going for a cover of Weezer's "Surf Wax America" before shutting it off and continuing with their own material with "Life After Death and Taxes" and their hit "Which To Bury, Us Or The Hatchet?" Midway through the track, they announced it was their final song and closed with the soft "Let It All Out." The guys then left the stage and would inevitably reemerge for a few encore songs. During most of their set, people around us were screaming for one song in particular, and when the Matt prefaced the song with excusing it as one of the "stupidest" songs they've written, they proceeded to play "Sadie Hawkins Dance" to an overwhelming response from the crowd. The entire room was moving and the energy carried on as the band continued into "Be My Escape," complete with Thiessen tossing his guitar aside for one of the few moments in the night where he used only a microphone (which allowed Luck to help end the song with a partial performance of the "Star Spangled Banner" on guitar... using his teeth). Finally, the guys closed their sweet sixteen-song set with "I So Hate Consequences" and left the stage with reverb resonating long after the house lights had returned and the audience began making its way out the door.
Relient K has successfully matured from a clever and catchy pop/punk band to a maturing yet fun-loving group of talented musicians. And with their latest album release, the band has proven their staying power in music. While some stronger opening acts would have made this a must-see tour, the headlining act was worth the wait through the average warm-up bands. Fans of Relient K will want to catch this tour to hear some of their new favorites live and to support their band, while those looking for the perfect rock band lineup this Spring will have to look elsewhere...
--
John DiBiase
, 3/11/07
Relient K Tour Photo Gallery
click on an image for a bigger size
Relient K
*all photos by
John DiBiase
or
Amy DiBiase
and are the property of
Jesusfreakhideout.com