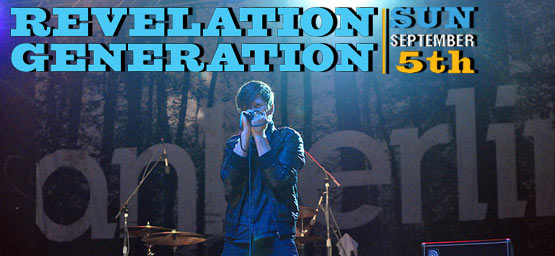 Revelation Generation (RevGen) Festival 2010
9/4 - 9/5/10 in Frenchtown, NJ
For the past several Labor Day weekends, Revelation Generation (AKA "RevGen") has been the premier Christian music festival in New Jersey, hailing from Frenchtown. While the festival has surely seen its fair share of growing pains (as many festivals do as they grow), RevGen has certainly had to overcome some unusual obstacles through the years (for example, heavy rains and flooding, while something Creation Fest has dealt with being in a valley, washed out the fest a few years ago from remnants of a hurricane). And each Labor Day weekend, for as long as I can remember, I've attended a family picnic in New Jersey. While a lot of people might actually dread such events, I have very fond memories of this annual occasion, and ever since RevGen launched, it's been difficult to forsake the usually impressive artist lineups for the family outing... but I do.
This year, RevGen moved from its Friday night/all-day-Saturday schedule to all-day Saturday and all-day Sunday. Once again, I missed out on Saturday, but I was able to attend this year's festival on Sunday. To make matters all the more complicated and dramatic this year, my very pregnant wife was told she could deliver "any day now" by the time of the festival, so it wasn't until the actual day of the fest on Sunday that I knew I was able to go (and was given her personal blessing. For the record, as I write this review, she still hasn't delivered).
Overlong intro and explanation for this being half of a festival review aside, it was a wonderfully mild early September afternoon for the second full day of RevGen 2010. The festival features two major stages, named for big cities in the U.S, and two side tent stages, offering a wealth of musical options for people to choose from. I arrived just in time for Essential Records sister duo Tal & Acacia to begin performing in the Nashville Stage tent (which feels much like Creation Fest's Worship Tent, if you're familiar with that). It was just the Wulfing sisters standing up there by themselves, with Tal carrying her acoustic and Acacia stationed behind her keyboard. I'd only had the pleasure of seeing the sisters once before, and it was for just one acoustic song at GMA Week 2009. This time around, the keys played a major role in their sound, providing a thick electronic backdrop - usually in drum beat form - complimenting the girls' lovely harmonies. All their song selections were from their debut, Wake Me, including "Garbage In," "Top Priority," "Merry Go Round," "Love's Gonna Getcha," and others. To close, the girls shared about the true meaning behind their song "Walking Your Dog," which lyrically has often been interpreted as a girl telling off a guy. But Acacia revealed that it's about God wanting our dedication and devotion to Him and how He won't just be providing us with the "American dream," but that He can give us so much more through a relationship with Him. She was so fired up in talking about it that it definitely leant an added dimension to the song when they played it afterwards.
I perused the large merch tent area a bit, which housed many festival sponsors and some band merchandise, before going over to the Philadelphia Stage (which is like a second Main Stage, but for rock acts... much like Fringe for Creation Fest) to catch some of Emery's performance. When I made it over to their set, they were performing the infectious "Edge of the World" from their latest release, ...In Shallow Seas We Sail. The guys seemed as full of energy as always up there, but the sound seemed a little off compared to their usual sets. Before playing "The Party Song" from their 2007 album, I'm Only A Man, the band announced their next record, which they're working on now, and mentioned that it would be one of their more aggressive records to date. The band played a few more songs before closing with "In Shallow Seas We Sail," making way for fellow Tooth & Nail act Mae to step up.
It's been some time since I've seen Mae live. I probably last saw them on tour with Relient K in 2007 and their set hadn't been very memorable, but with some ridiculously catchy material on their releases The Everglow and Singularity, it's difficult to not be able to get into some of these songs when performed live. When Mae began their RevGen set, they did it without announcement and started right off the bat with an exceptionally mellow song. I didn't recognize it, but it was certainly an odd choice to launch their set -- and mid-day on a rock stage after Emery, no less. It felt much more like something you'd hear at a coffee shop set than a Mae show. But right afterwards, the quintet went right into "Suspension," seemingly coming to life, and even waking the crowd up a bit. After another mellow entry followed, vocalist Dave Elkins announced that this was only their third show ever since they reunited as the original five members of the band, and only their second show in the States. "The Everglow" followed, along with "Embers and Envelopes," which Elkins mentioned was the first song the guys had ever written together, and succeeded that with "Anything." At that point, Elkins offered two song choices to the audience, allowing them to shout out their preferred choice for play. The songs were "Painless" and "Soundtrack For Our Movie," with the former winning out. After "Summertime," we decided to head over to the main stage, dubbed the "New York Stage," to catch Relient K's late afternoon performance.
The New York Stage was loaded with gear. The main event for the night was titled "TobyMac & The E.R.A.C.E. All-Star Jam," and it was evident that most of the gear needed for the rest of the night was already on the stage. Relient K was the last act before the major festivities, and they got the ball rolling by opening with "Be My Escape." Fans of the band would notice immediately that second guitarist Jonathan Schneck was absent from the stage (due to his wife having a baby recently). In his stead was former TAIT band guitarist Justin York, who has often been seen on stage with other artists, including Steven Curtis Chapman. York looked to be especially enjoying himself amongst the RK boys, as they moved into "Forget and Not Slow Down" before frontman Matt Thiessen paused to talk to the audience. "The Lining Is Silver" was next, followed by "The One I'm Waiting For" and "I Don't Need A Soul." I then left to slowly wander back over to the Philadelphia Stage, and before I got to my destination, Relient K performed a cover of Toto's 80s classic "Africa" and then their own "Sahara" and "High of 75."
At 5:50, an unbelievable event took place... a reunion performance from The O.C. Supertones. The Supertones were officially the first Tooth & Nail Records band I got into back in 1996, and from then on, the Tones had burrowed into a special place in my heart. It had been over five years since I last saw them on their farewell tour in the Spring of 2005. And ever since I'd heard they were doing some shows at fests again this year, I had hoped to catch one of these sets. To say seeing the Supertones was the highlight of my own RevGen experience would be an understatement. Just watching them soundcheck with "Go Go Go" was a delight. But when their large black canvas backdrop rose behind them, and the all white-shirt-black-tie clad guys emerged to perform "Adonai," it was a truly surreal experience. It had been even longer than five years since original drummer Jason Carson had performed in the Supertones, and it was great to see the drummer-turned-pastor back in the saddle. The energy on stage was high and infectious. It was as if the Tones had never quit. Although frontman Matt "Mojo" Morginski made several cracks about their age, it never showed in their performance. He still danced and jumped like in their younger days. The audience was certainly eating up their set, having no trouble getting into the performance and even skanking up a dust storm -- literally. The dry weather had caused quite a bit of dust and dirt to stir up in the audience, even causing Mojo to choke on the dust while performing (especially during their closing song). But after "Adonai," they continued with "Supertones Strike Back," "Resolution," "Hallelujah," "Grounded," and "Louder Than The Mob." Mojo encouraged crowd participation for the "singalong" "Away From You," before Jason got up front and shared from his heart a bit, before leading the band on vocals and guitar for worship song "There Is No One Like Our God." While Jason sang, bassist Tony Terusa sat at the drums and Mojo stood off to the side, apart from the rest of the band, strumming the bass. Soon, the band was back in ska form and performed "Little Man," "Who Can Be Against Me," and closed with another fan favorite, "Unite." Mojo, Jason, Tony, and trumpet player Darren Metler were all original members, but the rest of the originals were absent. In place of trombone player Dan Spencer was his brother Nathan Spencer, and former PAX217 member Jesse Craig filled in on guitar. The end result was a fantastic and fun show. Hopefully it gave the Tones enough of a taste of the fun of playing together again to do some more gigs in the future.
After the Supertones had finished, we made our way over to the New York Stage where the All-Star Jam was underway. Tommy Simms was playing guitar at the time, providing more of what sounded like dinner accompaniment music than a Main Stage performance. Mr. Talkbox supported Simms as well, and soon a very pregnant Natalie Grant emerged in a military coat to perform one of her own songs. The artists seemed to be playing only a song or two per set, which might seem just like a tease for anyone who had been hoping to see a full set from any of the given artists. Next was former Foreigner vocalist Lou Gramm who performed one of his own solo songs from his first Christian album, "Made To Be Broken," before performing the Foreigner hit "Jukebox Hero" for the RevGen crowd. Although I had been a Foreigner fan right before I got into Christian music as a young teen, Gramm's voice is now pretty worn and past its prime. In his defense, though, the vocalist is 60 years old now, but it was a mix of excitement and disappointment to hear how limited Gramm's voice is today. The All-Star Jam seemed like a neat concept, and although it's tough to make a judgment call on the whole experience after only seeing part of it, it reminded me of a similar event that occured at a banquet during GMA Music Week a few years ago. It was the "E.R.A.C.E. All-Star Night" in 2005, featuring Michael Tait, Tommy Simms, Rachael Lampa, Out of Eden, Phil Keaggy, and others. It was a neat event for a sit-down banquet, but I'm not sure it was the ideal event for an outdoor festival.
At about 7:15, Universal Republic rock act Anberlin closed out the Philadelphia Stage with a headlining performance. These guys have always put on a great show, and they seem to only be getting better with time. Frontman Stephen Christian is always a flurry of energy on stage, and it's contagious for any fan of their music. They opened with a series of signature adrenaline-fueled rockers, leading off with "Godspeed" and continuing on with "The Resistance," "A Whisper & a Clamor," and "Disappear," before Stephen addressed the crowd and performed the first song off their brand new album (Dark Is The Way, Light Is A Place), "We Owe This To Ourselves." "Paperthin Hymn" was next, and then an unfamiliar piano solo caught everyone off guard for when "The Unwinding Cable Car" followed it. Another ballad, "Inevitable," was next, before Christian announced their "True Faith" cover, and followed that with another new song, "Impossible." At this point, an extended guitar intro gave way unexpectedly into "Dismantle/Repair," which the band changed up slightly as Stephen threw in a piece of the chorus from U2's "In The Name Of Love." To close, they ripped into "The Feel Good Drag" and exited the stage. With the audience going nuts, Anberlin came back out for two more songs. Stephen announced first that their keyboardist would be leaving them because a show he had written was sold to Fox (although he didn't say what it was). They then played "Readyfuels" from their debut Blueprints For The Black Market, and wrapped up their set with "A Day Late." It was a solid show, and a great finale for the night.
Unfortunately, watching Anberlin meant missing TobyMac's set over at New York Stage. It's a tough decision, but I hadn't seen Anberlin in quite some time and I had seen TobyMac already this year for his current tour. I was, however, able to catch the tail end of Toby's set from a distance, even his closing cover of dc Talk's "Jesus Freak," as I walked around with some friends. Overall, this was the best experience I've had with RevGen yet. Aside from the artists I watched, there are a lot more bands to see and experience at the festival. Visit www.revgen.org for the latest on the festival, including who's playing (or has played), and more. And maybe we'll see you there next year!
--
John DiBiase
, 9/13/10
Revelation Generation 2010 Photo Gallery
click on an image for a bigger size
**vertical images cropped for thumbnails**
Tal & Acacia: Sunday, 2:05pm Nashville Stage
Emery -- Sunday, 3:05pm Philadelphia Stage
Mae -- Sunday, 4:15pm Philadelphia Stage
Relient K -- Sunday, 5:00pm New York Stage
O.C. Supertones -- Sunday, 5:50pm Philadelphia Stage
Natalie Grant -- Sunday, 6:15pm New York Stage
Lou Gramm -- Sunday, 6:15pm New York Stage
Eric Samuel Timm -- Sunday, 7:25pm Philadelphia Stage
Anberlin -- Sunday, 7:55pm Philadelphia Stage
*all photos by
John DiBiase
and are the property of
Jesusfreakhideout.com