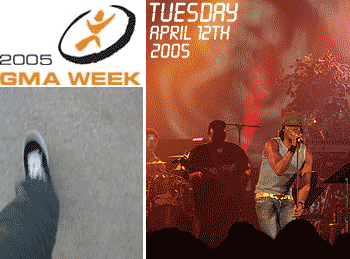 Tuesday ended up being that day of the week you weren't sure you were supposed to get up for. We got off to sort of a late start, which had us rushing frantically to our first interview at 10AM. Time was so tight, in fact, Amy dropped me off at the front of the Renaissance and I took the elevator up... to the 24th floor. Without an escort once again, I found myself riding the elevator at least one full trip before someone had gotten on with access to the locked floor. When I finally found my way to the Gotee Records suite, I was told the interview had been moved to the 15th floor. Already a good ten to fifteen minutes late, a label rep escorted me (not that I even needed an escort at that point) to the room where I was to interview John Reuben (click here to read the interview). Now, originally looking at my schedule, I kinda thought I had it good. See, my next interview at 10:30 was supposed to be in the same room. So, you guessed it... about 20 minutes later, already late for my 10:30, Amy (who had joined me minutes before the interview with John was over) and I had to go back to the 24th floor. Have fun picturing us banging on the stairwell door again, cause you know we did. Thanks to the help of a confused and probably somewhat frightened cleaning lady, we were let onto the floor for our interview with 4th Avenue Jones. And as if being late wasn't bad enough, try interviewing a band of six people in an open suite with two babies in the room and other people coming in and out the whole time... I love you, Gotee, but seriously. One word to keep in mind for next year. Ready? "Escort."
By the time we'd gotten out of the Gotee suite, it was already time to locate our next interview for 11:30. Of course, in my flustered state, I read the details of where we were going wrong and ended up at the wrong suite altogether (but we did get free CD's out of the deal, so hooray for that!). But we did find the right room in plenty of time to quiz the great Canadian boys Hawk Nelson. Following their interview, things just didn't get much smoother. We had roughly three hours till our next interview, and we retreated to the hotel room to drop off my unnecessarily heavy laptop (thanks DELL, for using concrete to make the base of it) and prepare for our final interview. It was at this point that we began the long and somewhat painful process of deciding "what should we have for dinner?" After few choices and much indecision, we settled upon the fine Eddie George's Sports Grille inside the Hilton. And when is there a better time to finish prepping for your next interview than minutes right before it starts?
At 3PM, we quizzed rock quintet Kids In The Way, once again in the Flicker suite at the Hilton (click here to read the interview), and proceeded immediately from there to the Renaissance for a meet & greet with several artists, including Fusebox, Kainos, Detour180, and Heather Powers. We had a great time, and when the groups had to jet to set up for an evening showcase, we left for the 3rd floor coffee shop at the Renaissance (where I spilled most of my capuccino all over myself. Woohoo!), before heading to the E.R.A.C.E. All Star Night in the Renaissance Ballroom.
The E.R.A.C.E. All Star Night began around 7PM and lasted till 10PM, despite all information specifying it's end time was an hour earlier. It was an evening with the sole purpose of unifying people of all racial and skin color. The event got off to a quick start, with the lights dimming and two large screens displaying a montage of scenes pulled from films with race themes. Scenes from films like The Patriot, A Time To Kill, Glory, and Remember The Titans helped drive home the evening's message of unity. When the clips ended, the lights on stage quietly illuminated a lone saxaphone player, Kirk Whalum, before he was joined by bass accompaniment. Rachael Lampa opened the evening with one of her songs before Out Of Eden came out. Following an offering from the trio, Joy and Andrea left the stage, leaving their older sister Lisa Kimmey alone to perform a few songs solo. Michael Tait came out next, reading lyrics from a sheet as he performed a few cover tunes for the crowd. Guitar legend Phil Keaggy soon joined Tait for a rare moment of seeing the two together on stage. Kirk Whalum came back out after Tait left the stage and welcomed Keaggy back out on stage to join him. Some of the strongest moments of the event were watching Whalum and Keaggy improvise off of each other. Whalum's brother Kevin soon joined them to provide some a cappella and contribute to the improvisation. The trio had a great thing going for them, but when Keaggy left the stage, the Whalum brothers just didn't seem to really know when was a good time to end their drawn-out set. When they finally finished, the crowd was revived by Nicole C. Mullen's refreshing presence. She performed the title track from her latest record Everyday People, and followed it up with "Black, White, Tan," calling her caucasian husband David out on stage to join her. Producer Tommy Sims followed, with a set that also went a little too long, performing little known solo material from his career. The evening then came to a close with a regretfully rushed set from TobyMac, one of the E.R.A.C.E. foundation founders, and his entourage. Because the evening showcase had run longer than expected, McKeehan had to abbreviate most of his songs, even pausing to ask the crowd if they wanted to hear more upbeat rock material or slower songs. Toby performed several of his most engaging cuts including "Diverse City," "The Slam," "Love Is In The House," and "Catchafire."
We ended the evening by quickly exiting the banquet and rushing to The Envy on 2nd Avenue to catch a late evening showcase with Kainos, Fusebox, and Detour180, who had all asked us to come see them play. The tiny bar was rather cramped, so it didn't take long for the smoke from a few people with cigarettes to get to me. As soon as Detour finished their set, we made a quick exit and went back to the hotel room for the night.
On to
Wednesday
... --
John DiBiase
, 4/19/05
GMA Week: Tuesday Photo Gallery
click on an image for a bigger size
[random images]
Kirk Whalum
-- E.R.A.C.E. All Star Night @ Renaissance Hotel Ballroom
Rachael Lampa -- E.R.A.C.E. All Star Night @ Renaissance Hotel Ballroom
Out Of Eden -- E.R.A.C.E. All Star Night @ Renaissance Hotel Ballroom
Michael Tait w/ Phil Keaggy -- E.R.A.C.E. All Star Night @ Renaissance Hotel Ballroom
Tommy Sims -- E.R.A.C.E. All Star Night @ Renaissance Hotel Ballroom
TobyMac -- E.R.A.C.E. All Star Night @ Renaissance Hotel Ballroom
*all photos by John DiBiase or Amy DiBiase, and are the property of Jesusfreakhideout.com
GMA Week 2005 Review: Sunday | Monday | Tuesday | Wednesday