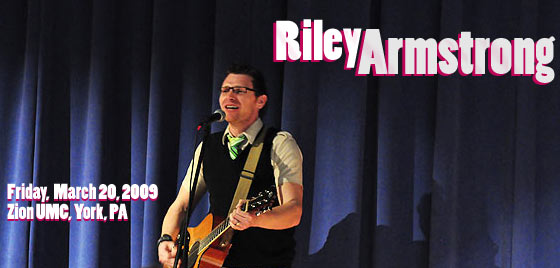 Riley Armstrong
3/20/09, at Zion UMC in York, PA
On the first day of Spring, things like flowers, rain showers, bumble bees, sunshine and free Rita's Italian Ice come to mind. However, few probably think "Riley Armstrong," when they think of Spring. However, when we got wind that the Canadian singer/songwriter was headed back to the states for a special performance in York, Pennsylvania... well, we couldn't think of a better way to spend our first day of Spring.
The last time I'd seen Riley Armstrong live was on The Underdog Tour in February, 2000 -- and I have to admit, I'm not entirely sure we actually made it to the venue in time to see his performance (maybe we just caught the tail end of it)! Riley was once signed to Flicker Records - in fact his self-titled debut was the first release on the "FlickerRecords.com" label (yes, the ".com" was actually once part of the name). After two releases on Flicker, Riley's presence in Christian music quieted a bit and in 2005, he released his first new album in three years through 7 Spin Music, La Loop. But no longer being a blonde dreads-wearing kid from Canada touring the U.S. with his acoustic, Armstrong is now a husband and a father, with a new outlook on life and music. In 2007, Armstrong released a unique independent project that captured his live show quite nicely, aptly titled Alive and Acoustic.
While Riley has laid low musically for the past couple of years, his warmhearted and personal performance at the little Zion UMC Church in York seemed like nothing out of the ordinary for Armstrong. His show started promptly at 7pm, and we arrived just in time for Armstrong to be introduced and assume center stage. To start, Riley recorded a beat loop all made vocally and set it as the backdrop for his first song, "Different Is Beautiful." After the first chorus, Riley joked that he was dropping the second verse because it was "boring" and began substituting verses from Will Smith's "Fresh Prince Of Bell Air" TV show theme song before he returned to "Different Is Beautiful." He again substituted yet another song, his own "These Are A Few Of My Favorite Fonts," a hilarious take on the classic in which he literally sang about the names of Font type. After he successfully earned more laughs from that one (and rightfully so), he finally finished "Different Is Beautiful."
The silliness rendered in just the first song was enough to set the tone for the night. Riley would frequently tell stories almost like a stand-up comedian might, and then worked in songs in between the stories. For example, after "Different Is Beautiful," Armstrong began talking about his job as a landscaper before he got into music and lead that into his fan favorite "Sleep" from his debut album -- complete with his own impression of his alarm clock to interrupt the dreamy anthem for rest -- and then proceeded to talk about alarms and losing his cell phone. This then served as an intro to the song "Cell Phone" from La Loop, which inspired the singer to talk about deleting and re-recording voice mail messages he's left on other people's phones. At this point, Armstrong invited two volunteers from the audience to come up and asked them to repeat back a silly catch phrase, which he then recorded and used as a custom-made beat loop. Although he didn't use it for a following song, it was still a fun little moment to get some crowd participation. Armstrong's songs started to take a more serious turn as he performed "All The Difference," encouraging the audience to sing backup for a portion of it. And after his reflection on Pennsylvania, paying tolls on the turnpike and hilarious stories on driving through New Mexico and seeing warning signs for missile testing(!), Armstrong started to talk about his habit of people watching and musings about where people's lives might be with or without Christ in their life. This made a great segue into one of his best songs to date, the ballad "The Only."
At this point in the night, the church took a sort of intermission in Riley's set to have a short basketball competition between a few kids to win some prizes (like Riley Armstrong merch, for example). And when the night resumed, Riley reopened with the silly "My Girlfriend's Famous" from Whatever The Weather. He then began reflecting on the 80's and its trends (like legwarmers) and presented a medley of 80's cover songs that included: "The Sun Will Come Out Tomorrow," "I Think We're Alone Now," "You Spin Me Round," and "Take On Me." Riley then mentioned The Karate Kid and launched into "The Glory Of Love," followed by "Every Rose Has Its Thorn." After briefly reminiscing about 80's movies and their sequels, he played "Owner Of A Lonely Heart," "We Built This City," and closed with the theme from Mr. Roger's Neighborhood. Riley then talked about the awkwardness of ending songs and how it doesn't always translate well with some audiences, and then delved into the topic of life's worries, confessing that he often has a problem with worry. He quoted Lamentations 3:20-24 and talked about waiting on God and addressed trusting in Him and in His purpose for everything. Armstrong's set began to wind down, and he recorded another beat loop for the worshipful "Above Every Name," even taking a moment later in the song to record his own BGV loop before finishing by singing over it. He then began talking about losing luggage at the airport, crazy ideas for t-shirt slogans, and concluded with a message on God's love, before closing his set with "Greater Than" from his debut release.
It was really a pleasure to see Riley Armstrong on stage again and to hear him share from his heart and share stories from his experiences. It's unfortunate that Armstrong seldom makes it to the states these days, but hopefully we will be hearing more from this talented singer/songwriter again soon.
--
John DiBiase
, 3/24/09
Riley Armstrong 2009 Photo Gallery
click on an image for a bigger size
**vertical images cropped for thumbnails**
Riley Armstrong
*all photos by
John DiBiase
and are the property of
Jesusfreakhideout.com