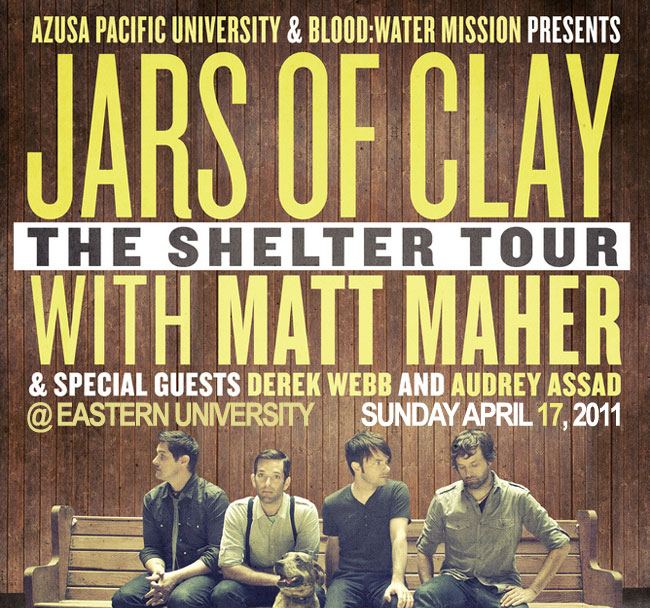 The Shelter Tour
Jars of Clay, Derek Webb, Matt Maher, Audrey Assad
4/17/11, at Eastern University in St. Davids, PA
Last year, Jars of Clay weaved together a worship experience called The Shelter, enlisting the help of friends and fellow musicians to create a unique collaborative effort. To support that release, the band heads out on the road this Spring with the support of Derek Webb, Matt Maher and newcomer Audrey Assad to bring the studio experience into a live setting. Among the many stops on the tour, the team stopped at Eastern University and hosted the show in the college's gymnasium; it's definitely a different setting for such a performance.
I've attended Eastern a number of times for shows - from the more intimate acoustic performances (like Justin McRoberts) to a full-blown rock show (like with Thousand Foot Krutch). This was only the second time I'd seen a show in their gymnasium and it was again a positive experience. For those not interested in the standing room in front of the stage, a number of bleachers were set up along one side of the gym. Those seemed to fill up real fast and, before the show began, the standing room had gotten pretty packed for this sold out show.
The evening of music began with Sparrow Records artist Audrey Assad, who released her debut album The House You're Building last year (which earned her a New Artist of the Year Dove Award nom too). This was my first experience seeing Audrey live and I was looking forward to hearing her songs in their less produced and more intimate form. Sure enough, Audrey opened her set as just her and her piano, a wonderful display of soft piano music with a transparent heart and reflection on Christ. She started with the hymn "His Eye Is On The Sparrow" before performing one of her own cuts, the title track from her album, The House You're Building. Afterwards, she talked about having just been married a couple months ago and wanting to perform a love song. With that, she performed her own "Ought To Be" (also from her debut), before inviting Matt Maher to join her for the last song of her set. With Maher on his acoustic guitar and Audrey still at the piano, the duo played a cover of Bruce Springsteen's "Hungry Heart" (to honor her home state of New Jersey, where Springsteen is also a native) before Audrey left the stage and Maher's band joined him for his set.
As a famed worship leader, Matt Maher made a name for himself first as a songwriter and indie artist before being given a wider platform through a signing with Essential Records and releasing Empty & Beautiful in 2008. He opened with his most recognizable song, "Your Grace Is Enough" (which was also on his debut), and with a full band to back him, the show picked up a great deal of energy, as well as a really enthusiastic and passionate response from the crowd. With "Great Things," Maher continued with the corporate worship anthems, following it with "Hold Us Together" from his latest album, Alive Again. Matt then invited Audrey back on stage, and with just the two of them - Matt on acoustic, Audrey on piano - they performed Maher's song "Garden." Audrey then left the stage again and Matt sat at the piano for "You Were On The Cross," an intimate song that, coupled with "Garden," are timely songs to sing with Easter just a week away. To close, Matt picked up his acoustic again and his band returned for the upbeat anthem "Christ Is Risen."
When Matt and his team exited, Jars of Clay frontman Dan Haseltine stepped up to the microphone to briefly talk about Blood:Water Mission and asked the audience to consider giving to the charity. He also informed the crowd that the organization made their goal in November of last year, delivering clean water to 700,000 people! Haseltine then introduced the next artist, Derek Webb, and left the stage. Webb, who originally launched his career as part of Jars' labelmates Caedmon's Call, emerged with just a guitar and a mic, with an electronic set up to his right. Starting with a few acoustic songs, Webb opened with "The Very End" from his album The Ringing Bell. He then warned the audience, "I hope it's not too early in the night for sarcasm" before performing "A New Law" from Mockingbird. Before the next song, Derek stopped to talk about his latest project, Feedback, an instrumental project inspired by the Lord's Prayer with each track representing a verse from the prayer. After playing one more acoustic song, "Wedding Dress," the spotlight switched to backlight the artist as he set the mood for the first three cuts from Feedback: "Our Father In Heaven," "Hallowed Is Your Name" and "Your Kingdom Come." Webb bounced between a guitar slung over his shoulder, his Macbook, and a keyboard as he painted a unique landscape of music to inspire a worshipful heart. The three tracks flowed seamlessly and it was a great way to close his set. I'd love to hear a full concert of just Webb's instrumentals sometime.
Webb left the stage and a short intermission followed, allowing the audience to mingle, check out the merch tables, etc. Before too long, the light dimmed again and the remix for "Two Hands" (from the Deluxe Edition of The Long Fall Back To Earth) served as the intro for the Jars of Clay set. The remix naturally led into their hit single "Two Hands" for an upbeat and engaging start to their set. Only three of the four core Jars members were present at this show, however. Matt Odmark, one of the band's two guitarists, wasn't present due to his wife being in labor back home, so the guitarist from Matt Maher's entourage was filling in instead. While Odmark's presence was certainly missed, the musicality of Jars wasn't hurting. For the beginning of the next song, Haseltine stood in front of a standing tom drum that was bottom-lit by a pinkish light. As he pounded on it, glitter, which was being illuminated by the light, flew from the surface of the drum as the band performed "Small Rebellions," the lead off song from The Shelter. The worshipful feel continued with "God Will Lift Up Your Head" from Redemption Songs, before Dan encouraged some crowd participation for classic songs like "Faith Like a Child" and "Love Song for a Savior" - which both were wonderful set additions. No matter how often they play those songs from show to show, they're still heartwarming set list additions. Jars then returned to the new material, inviting Audrey Assad on stage for a rousing performance of "Shelter."
At this point, Haseltine paused between songs again to talk about how important it is for people to stop defending being "right" when it comes to our opinions and beliefs and to learn to respect and love each other more. He emphasized the value of community and invited Matt Maher, Derek Webb and Audrey back on stage to perform "Eyes Wide Open" with them. The slow and lovely "Love Will Find Us" was next, for which Derek left the stage leaving Matt and Audrey still supporting Jars (Maher actually sings on this track on the Shelter album). The more rock-flavored "All My Tears" followed, performed solely by Jars of Clay. Afterwards, Dan talked a bit more again, this time reflecting on the band having worked together with The Blind Boys of Alabama when they recorded "Nothing But The Blood" with the legendary group on Redemption Songs. It was an upbeat and soulful performance (complete with a well-placed tambourine accompaniment) and a highlight of their set. Haseltine then talked about the tour they just came off of, The Rock and Worship Roadshow, and how they had attempted to make up for their mere 30-minute set by offering a special VIP acoustic performance for the fans where they helped pick songs for the guys to play. He then introduced the next song as being one they had kind of forgotten but had often been requested, the mellow and emotional "The Valley Song." Haseltine spoke one last time then about their self-titled debut album and some nostalgia about record stores, leading into a great rendition of "Flood" that was acoustic-driven (like its original version), sans drums and bass. However, the highlight of the entire evening was the inspiring and passionate performance of "Run In The Night" from The Shelter, a song that continued to build as Jars performed it - and a song the members themselves were clearly getting lost in. Without a moment to really breathe, "Run In The Night" flowed right into the anthemic "We Will Follow," which wrapped up their set. The six of them then cleared the stage, and after plenty of cheering, Jars of Clay returned one last time, accompanied by Webb, Maher and Assad, for a memorable rendition of the hymn "I'll Fly Away."
The Shelter is a project that encourages community - something that Jars of Clay has often stressed as a band. The tour supports this idea and carries it out wonderfully. Much like their previous Love Came Down Christmas tour that saw collaboration between Jars and the likes of Sara Groves, Sixpence None the Richer and Leeland, The Shelter Tour is an experience like few other tours. If you get a chance to see it, definitely don't pass it up.
--
John DiBiase
, 4/21/11
The Shelter Tour
click on an image for a bigger size
**vertical images cropped for thumbnails**
Audrey Assad:
Matt Maher:
Derek Webb:
Jars Of Clay:
*all photos by
John DiBiase
and are the property of
Jesusfreakhideout.com