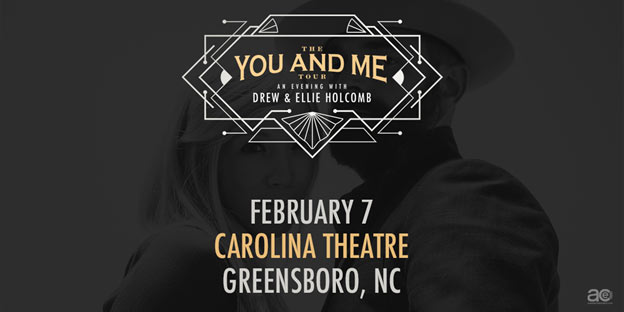 The You and Me Tour: An Evening with Drew & Ellie Holcomb
Drew & Ellie Holcomb
2/7/19, at The Carolina Theatre in Greensboro, NC
I am a really big fan of husband and wife bands. Whether it's Vocal Few, The Gray Havens, Over the Rhine, or Jenny & Tyler, I find that seeing people who walk through life together and make music together to be a special thing. I had heard some music from both Drew and Ellie Holcomb in the past, individually, but I wasn't familiar with it. But after hearing songs from their EPs they made together and hearing they put on a great live show, I decided to catch them when they came to Greensboro--and am I glad that I did.
Unfortunately, due to traffic and difficulty parking, by the time I got to the theatre they had already played through "You and Me" and "Another Man's Shoes," and were in the middle of "Morning Song," and due to Drew audibly stating he forgot part of the song, he started it over and he and Ellie finished the song strong. It was little moments like these that would make up the entire evening. Next was the new song "Family," and "Live Forever," which Ellie sang solo. "What Would I Do Without You" followed, which Drew mentioned is his favorite song he's ever written, and then transitioned into their cover of the popular Sting hit, "Fields of Gold."
Next came what was easily the cutest moment of the night when Ellie sang her song "Sing" and Drew brought out their daughter Emmylou to sing the song with Ellie. It was a tender moment and easily a highlight of the night. For the next few songs, Drew and Ellie shared a mic, playing their new song, "Electricity," and the never released song, "Harmony," which is about how Ellie wants Drew to sing harmony even though he can't. They then closed out the first half of the set with "Love Anyway," which is a song Drew wrote regarding his friend's organization, Preemptive Love Coalition. It's a beautiful song and a great way to close out the first half of the evening.
After a brief intermission, Drew came out and played "American Beauty" and the title track from his forthcoming album, Dragons, which both my friend and I agreed had a Johnny Cash vibe to it. Following this, Ellie came back out on stage and they performed the song "Tennessee," which Drew mentioned was his favorite state, and North Carolina being his second, which pleased this NC audience. A brief talk about college sports followed, which if you live in NC is never a good idea, then played "Hung the Moon (Uh Huh Song)" during which Drew had an impressive harmonica solo. What would follow would be the most worshipful moment of the night, with Drew leaving the stage and Ellie sharing a message highlighting how God doesn't let us suffer alone, and then going into the title track from her most recent album, Red Sea Road. It was a beautiful time of worship and probably this reviewer's favorite moment of the night. What followed was Ellie talking a bit about siblings and then asking her youngest sister, Carly Bannister, who's also a singer/songwriter, to play her new song, "Whiskey," with Ellie singing backup. Having listened to her music since the concert, I can say I'm a fan and look forward to seeing what else she releases.
After this, Drew came back out for a medley of songs requested by the audience, mixed with fan favorites. This consisted of songs like "I Like to Be Me When I'm With You," "Fire and Dynamite," "Mercy," and "Good Light." Next was the lively "Ring the Bells" from their Goodbye Road EP with Johnnyswim and Penny & Sparrow, and closed out their set with "Here We Go," for which they did a synchronized dance on stage; it was very sweet, and a fun way to "close out" their set. After leaving this audience clapping and yelling for more, Drew & Ellie came back out to perform the fan favorite "The Wine We Drink," and closed out the night by Drew unplugging his guitar and he and Ellie coming to the front of the stage and performing their cover of the Willie Nelson favorite, "On the Road Again," leaving this Greensboro audience on a very intimate note.
In my opinion, Drew and Ellie set the standard for how a married couple should do a show, focusing less on the music and performance and more on family and relationships. It was an experience where, at the end of the show, I genuinely felt that I knew both Drew and Ellie quite well, something which I don't experience at many shows. I would recommend checking them out live if you can.
To find tour dates, you can go to https://www.drewholcomb.com or https://www.ellieholcomb.com
--
Jack Glasheen
, 3/8/19
Drew and Ellie Set List

01. You and Me
02. Another Man's Shoes
03. Morning Song
04. Family
05. Live Forever
06. What Would I Do Without You
07. Fields of Gold
08. Sing
09. Electricity
10. Harmony
11. Love Anyway

(Intermission)

12. American Beauty
13. Dragons
14. Tennessee
15. Hung the Moon (Uh Huh Song)
16. Red Sea Road
17. Whiskey
18. Medley: I Like to Be Me When I'm With You/Mamma's Sunshine, Daddy's Rain/Wonderfully Made/Good Light/Mercy/Fire and Dynamite
19. Ring the Bells
20. Here We Go

Encore
21. The Wine We Drink
22. On the Road Again