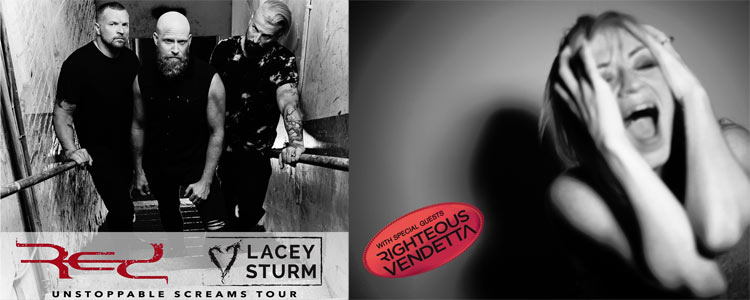 Unstoppable Screams Tour 2018
4/15/18, at The Masquerade (Heaven) in Atlanta, GA
Christian Rock heavy hitters Lacey Sturm (former lead singer of Flyleaf) and Red teamed up for an amazing tour, bringing along relative newcomers to the genre, Righteous Vendetta. The three-band combination made for an amazing show that left a lasting impression.
Righteous Vendetta set the tone early on, starting off with "Psycho" and continuing with their latest video single, "War is Killing Us All." Throughout their 8-song set list, lead singer Ryan Hayes had amazing energy, and his bandmates kept up well--most notably, drummer Zach Goggins. I look forward to seeing what the future has in store for them, and highly recommend checking them out.
Finally getting to see Lacey Sturm live was a real treat, and worth the wait. Even being over 6-months pregnant (due on the 4th of July!) she had tremendous exuberance. Her song choices were great, and even a little surprising, as she covered a Nine Inch Nails song in "Something I Can Never Have" and one of the best versions of "Forever" I've ever heard. Being the former frontwoman of Flyleaf, she also performed some of the hits from her time with the band, including "Cassie" and "Fully Alive." Her testimony was powerful as well, telling a personal story of coming from a broken home not knowing where she would be sleeping some nights to having such disbelief in God until she came to know him. She was great to see live and I'm so glad she decided to continue her singing career on a solo level.
With over a decade of music behind them, and having seen them several times, I knew what to expect with Red. They've never been one to shy away from changing their set list from tour to tour, however, the choices they made for this one did surprise me. Of the 16 songs performed, half of them were from their new album, Gone. As much as I love it when artists perform new songs on stage, I hate that so many other great tracks missed the cut because of it. What's more unfortunate is that not one song from the Release the Panic album was played by the band. Thankfully, some past greats were performed, including "Feed the Machine," "Faceless" and "Breathe into Me." The song choices did not take away from the overall performance by the band, and the energy that I've come to know and love from lead singer Michael Barnes, twin guitarists Randy and Anthony Armstrong, and touring drummer Dan Johnson was still present. The more I watched their set through the night, the more I forgot the song choices that were bothering me early on, and was able to enjoy the show greatly.
Overall, I had an amazing time watching the Unstoppable Screams Tour in Atlanta, and I'm so grateful they added the Atlanta date to the tour. I look forward to seeing all three bands again soon.
--
John Breuer
, 5/7/18
Unstoppable Screams Tour 2018 Photo Gallery
click on an image for a bigger size
**vertical images cropped for thumbnails**
Righteous Vendetta
Lacey Sturm
RED
*all photos by John Breuer and are the property of the photographer and Jesusfreakhideout.com