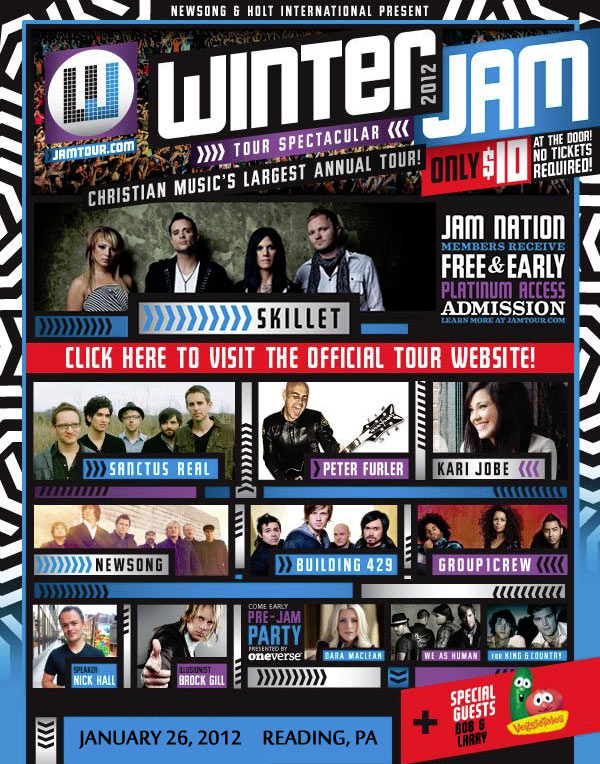 Winter Jam 2012
1/26/12, at Sovereign Center in Reading, PA
Celebrating its sixteenth year, the Winter Jam Tour Spectacular returned to the Sovereign Center in Reading, Pennsylvania, bringing with it a star-studded lineup that boasts an impressive live experience. Headlining this year for the first time are hard rockers Skillet, who, in recent years, have become something of a phenomenon. Their live show has grown to be one of the biggest you can possibly see in the Christian music circuit, which throws just about every spectacle trick in the book at its audience. So with these guys capping the night, artists from EMI CMG, Provident and Word imprints have united, along with tour hosts Newsong, to offer a unique and diverse evening of music.
What can you expect at Winter Jam? For one, it's merely $10 a ticket, but there are no official "tickets;" anyone who attends the show must expect to get their ticket on a first-come, first-serve ba6sis. In addition to that, you cannot save or reserve any seats. There are VIP "Jam Nation" tickets, however, that allow those ticket holders early admittance to the show (and free admittance to one show of their choice) where they can attend a special Q&A session before the festivities begin, as well as snag a seat before the regular ticket holders can. At this show in Reading, the Q&A was with two Newsong members, two Sanctus Real members, and both Joel and Luke of for King & Country. With a large group of Jam Nation ticket holders, there aren't too many questions that can be answered, however. Also, only three of the 10 acts were represented, which may be disappointing to anyone hoping that, for example, headliners Skillet might answer a few questions.
The doors opened at 6:00pm, with a mad dash of rabid fans who had been waiting outside for hours in the cold and wet January weather pushing their way through the crowds to secure a decent seat. Around 6:15/6:20, the house lights remained on as they introduced the first act of the night, Atlantic newcomers We As Human. With a rock sound that's right up the alley of any Skillet, Disciple or RED fan, We As Human definitely knows how to work a rock crowd, but doesn't offer much to set them apart from similar bands in the genre. They've got that expected modern hard rock style that has nothing unique to define them, but is something that diehard fans of that sound will overlook. They played three songs, pretty quickly too, the second of which they dedicated to the U.S. troops. For the third song, and their most recognizable, "Dead Man," vocalist Justin Cordle hopped down into the audience to interact with the Winter Jam goers. Once they finished, an advertisement for the band that worked in an urgence for fans to text something to a specific number to support a cause displayed on two screens that bookended the stage. In fact, nearly every artist had some kind of ministry or cause they talked about during the night. And the first several artists each encouraged the audience to text something to a number to support a ministry or be entered into a contest. With how fast the lineup was moving, it seemed overwhelming how many different causes were being repped in such a short amount of time. New duo for King & Country, comprised of Rebecca St. James' brothers Joel and Luke Smallbone, stepped up to the stage next. Each "Pre-Jam Show" artist got about 10 minutes to play, with the set changes being super quick. The performances were pretty much in rapid-fire succession, with some of the artists' songs being abbreviated just to fit them all into the alotted time. With a full band supporting them, for King & Country opened with "Fine Fine Life" from their debut album Crave (which, for the record, isn't being released until the end of February but is on sale exclusively at Winter Jam until then), and then moved into the album opener, "Light It Up," before closing with "Busted Heart (Hold On To Me)." Their set was good, but probably wasn't really a solid representation of what we can expect from these guys (I, for one, am curious to hear more of their stuff). To close the Pre-Jam show, Fervent Records' solo artist Dara Maclean performed her own unique brand of soulful pop, also with a full band to accompany her. Opening with the upbeat "Free," from her debut album You Got My Attention, Dara showed her soulful side before slowing it down for the worshipful "Yours Forever," and then closed with her upbeat and fun hit single, "Suitcases" (but not before briefly sharing about a ministry called OneVerse). The full-band performances for both Dara and the Smallbone brothers definitely added to the night, making their shows feel more full, allowing the artists' music to be properly presented. With the conclusion of Maclean's set also came the conclusion of the Pre-Jam show, as a set change and mini-intermission helped prep for the main events of the night. Already, the night was off to a pretty good start, easily surpassing a more lackluster show opening from the last Winter Jam I attended in 2010.
Hip Hop/Pop duo Group 1 Crew (yup... Pablo officially left the trio, unfortunately) were the first act to open the main portion of Winter Jam 2012. The lights went out and the screens that did a 360 around the top of the stage illuminated with a video feed from the stage show, lyrics from select songs, and other assorted imagery. The stage also illuminated with a lot more production, creating a huge, impressive presentation. Manny and Blanca of Group One, took the stage -- complimented by a full band as well (last time I saw them in 2010 on tour with Fireflight, it was just the two of them) -- in black pants with glowing green-striped trim (which lit up closer to the end of their set). "Outta Space Love" was an appropriate way to open, and the two danced around the stage, making full use of the catwalk before them. Without wasting much time, they continued with "Movin'" before mixing up an old school style medley of R&B classics, including "Celebrate Good Times" and "Ain't No Mountain High Enough," before continuing with the lead-off track from their latest record, Outta Space Love, "Turn It Up." They slowed it down a bit for the funky piano pop ballad "Walking On The Stars." Things picked back up, however, for the anthemic "Keys To The Kingdom" (in which Pablo's presence was especially missed) from Ordinary Dreamers, before they closed with "Manipulation."
As the crew set up for the next show, illusionist Brock Gill focused everyone's attention on a small stage platform in the back of the arena as he brought two kids forward to perform a card trick between the two. He made some jokes about setting up the boy and girl if the trick went right -- which, when it inevitably did, Family Force 5's "Love Addict" began playing over the sound system. It was a fun trick and a great way to fill up time.
Provident's Building 429 took the reins next. Formerly more of a pop rock band, they seemed to be a bit influenced by Group One's show in the sense that their performance was big and anthemic pop. They kicked off their set with "Made For You;" as a band who made their name on their arguably overrated single "Glory Defined," it seemed like a completely different band was performing, despite it being most of the same guys in the band, including lead vocalist Jason Roy. But their latest album, Listen To The Sound indeed has ushered in a new era for these guys and it was certainly apparent by their live show. The title track from that album was among the songs they played, as well as "Where I Belong" and what appeared to be a reprise of "Made For You" before their set ended (and with just 15/20 minutes to play, you'd think they'd have chosen another song from their long career?).
At this point, tour hosts Newsong got their turn at sharing their music. Just as they began, a white sheet dropped down in front of the band, hiding them from the audience as they began performing. The lights remained low as an image slowly begain to appear in pieces, projected on the sheet. Near the end of the song, it was revealed to be an image of Jesus (as portrayed by Jim Caviezel for the movie The Passion of the Christ), and then the sheet was whipped away to reveal the group as they sang "Arise My Love." It was an intriguing approach to their show. They performed several songs, including "Rescue," and after they cleared the stage, Newsong member Eddie Carswell came back out to talk to the audience about their latest album, One True God, urging them to check out the record before leaving the venue tonight. He talked about how the record was on sale at a "Pay what you can" price in which, if you couldn't pay the $15.00 tag, you could literally set your own price to obtain a copy (which also includes a second copy inside the case for you to give to a friend or acquaintance as an evangelistic tool).
Sparrow Records' Kari Jobe then took the spotlight to deliver a straight-up worship set for the Winter Jam audience, which had been set up well by Newsong's worshipful show. This week had also seen the release of her sophomore album, Where I Find You, so it was a pretty big week for the young lady from Texas. Also with a full band as support, Kari delivered a four-song set with rising worship anthems that worked really well to stir the heart. She's a charming worship leader, and she effectively mixed older and new tracks together to introduce her new songs while keeping some familiarity for those just wanting to worship along. "We Are" jumpstarted her set nicely before she slowed things down with "Love Came Down." "You Are For Me," from her self-titled debut, followed, and then she stirred a powerful response from the audience with her hit, "Revelation Song." After she finished, speaker Nick Hall took his place on the small stage in the back to give a pretty straight-forward Gospel message for what was most likely a mixed audience where, hopefully, some believers brought unsaved friends along for the event. Hall called for action from the church too, but since it was primarily an evangelistic message, it really wasn't anything Christians haven't heard countless times before at other church events or youth rallies. Still, Hall did well enough, and wasn't one of those speakers where it just sounds like you're being scolded for fifteen minutes straight.
At this point, there was indeed a real treat for the Reading, PA audience. Two years ago, when the tour last came to this location, the Newsboys performed with then-new lead vocalist Michael Tait. However, this year, former lead vocalist Peter Furler was performing with his own band at his side, including Superchick guitarist Dave Ghazarian (who recently released his first solo album as "David Ian"), drummer Jeff Irizarry, and fellow former Newsboy Phil Joel on bass. Furler opened with "Reach" from his debut album On Fire, and continued on with two more of his own songs, "I'm Alive" and "Closer." It was certainly a surreal sight to see Phil and Peter together again--and to see Furler performing at all. It had seemed like he had retired when he had left the Newsboys, but thankfully that is not the case (if you're wondering, his solo career was sort of launched due to some prodding by friend and producer Steve Taylor). With the stress of fronting as successful a pop-hit-making machine as Newsboys gone, Furler seemed to be happier and having more fun on stage than he's had in years. After he introduced his bandmates, with each one getting a moment to shine with some solo work (including Furler taking some time behind the drum kit himself!), Furler reminisced about Pennsylvania and how the Newsboys had signed their first recording contract in Allentown, PA. He then talked about penning the next song, and the foursome broke into "He Reigns" from the Newsboys record, Adoration. Then, to the excitement of anyone who's been following that band since the late 90's, Phil Joel took lead vocals on the next song, "Entertaining Angels," from Newsboys' 1998 album, Step Up To The Microphone. With their performance running into overtime, the group closed with "I Am Free," to which Peter gave his usual inspiring message about freedom in Christ, as he did when he performed it with Newsboys. It was a solid set--and one that just made me miss his presence in Newsboys so much more.
Newsong's Eddie Carswell returned to share about Winter Jam sponsor HOLT International, and encouraged the audience to consider sponsoring a child through their organization. An intermission commenced, and then Brock Gill came out one more time to perform a really unique trick involving a water-filled coffin (which I won't spoil here). As the night wound down, only two more acts remained. The second-to-last was Ohio rock band Sanctus Real, who started their set while performing among the audience. They opened with the rocker "Take Over Me," with lead vocalist Matt Hammitt standing in the crowd, and they returned to the stage for "The Face Of Love." With more than enough music to try to fit into their short set, they brilliantly mixed several hits into one medley, with "Not Alright" quickly following "Face of Love" and "Whatever You're Doing" and "Everything About You" being mixed in right afterwards. After getting those out of the way, the rest of their set was much more toned down, as they performed all songs from their most recent record, Pieces of a Real Heart, starting with "Redeemer." What has become their biggest hit to date, the ballad "Lead Me," followed, which was especially meaningful to see Hammitt's family standing off to the side of the stage, singing along to the prayerful song about becoming a better leader in his household. To close, Hammitt introduced the Sanctus Real team and brought everything to a finish with "Forgiven." It was a good set, although some songs like "We Need Each Other" would have been a great crowd pleaser for such a huge audience, and the rocker "Turn On The Lights" would have been especially appropriate since they were preceding an explosive show from Skillet.
However, Skillet fans had to wait just a little bit longer as Newsong's Russ Lee took the spotlight on the little stage to share an inspiring song about a parent who had called the band after Winter Jam a few years ago to share the story of how her troubled teenager had come to the Lord after attending Winter Jam (and then died two weeks later in a freak accident). Lee shared that the cost of a show like Winter Jam is considerably more than what a $10 ticket brings in, and initiated a love offering to be taken for Winter Jam. While this was happening, Dara Maclean returned to perform her song "Yours Forever" again acoustically while on the small stage. And after some more time passed, the lights dimmed one final time as Tate Olsen and Jonathan Chu emerged with their cello and violin (respectively) and golden Phantom of the Opera-style masks as they performed a string version of Skillet's "Whispers In The Dark" with a "Skillet" curtain displayed behind them. The curtain then dropped and the band began performing the song in full, complete with pyrotechnics (which surprised me, given they're indoors). "Comatose" was next, and John Cooper took a moment to unashamedly proclaim their faith before the band launched into "Awake and Alive." Cooper talked a bit more and then broke out the little video camera in order to film the audience for YouTube while they performed the sentimental and fun pop rock song "Those Nights." Afterwards, the entire drum riser slid out from the back of the stage toward the catwalk, and two platforms on either side of the catwalk served as pedestals to raise guitarist/keyboardist Korey Cooper and new guitarist Seth Morrison up and down as the band performed "Hero." Jen Ledger's kit even rose up and down like Korey and Seth's stands. In addition to pyro, they used smoke cannons on this one, and throughout the night, there were instances of loud firework bursts (including during "Hero"), which were nearly ear shattering. Next, everything returned to a sense of normalcy as John shared the much-told inspiration behind the song "The Last Night" and performed that song, as well as the power ballad "Lucy." A faux-encore of sorts was next as a creepy, almost demonic face was brought out on stage. With the lights out, only the eyes and mouth illuminated as a disturbing growl filled the air. It was obvious which song would be next, but the theatrics were a little over-the-top... even for Skillet. The lights went up to reveal John perched on top of this creepy face (which bears a striking resemblance to the "Punisher" logo), and he performed most of the song while on top of it. Tate and Chu returned once again for a string intro to the final song, "Rebirthing," which served as the night's grand finale (complete with spinning sparklers at the back of the stage). It was an impressive bringing-down-the-house performance from the band, and a solid way to conclude the evening's big festivities.
Although Winter Jam has been around for nearing two decades, I never remember hearing about this event until more recent years. I don't believe the scale of Winter Jam has been this big until a few years ago, either. But the massive production and great sampling of veteran and new talent makes for a unique experience and a diverse evening of Christian music. It's a night not to be missed, and one well worth your hard-earned ten dollars.
--
John DiBiase
, 1/28/12
Winter Jam 2012 Photo Gallery
click on an image for a bigger size
**vertical images cropped for thumbnails**
We As Human
for King & Country
Dara Maclean
Group 1 Crew
Brock Gill
Building 429
Newsong
Kari Jobe
Nick Hall
Peter Furler
Sanctus Real
Skillet
*all photos by John DiBiase and are the property of Jesusfreakhideout.com