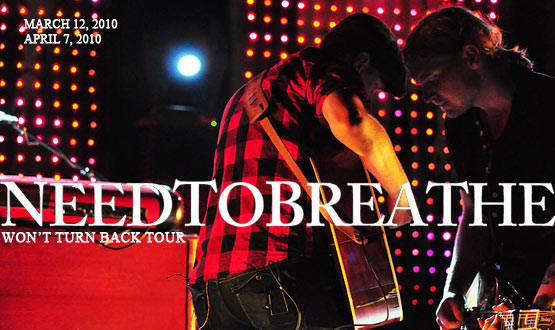 NEEDTOBREATHE
3/12/10, at House of Blues Orlando in Orlando, FL // 4/7/10, at World Cafe Live in Philadelphia, PA
Like the best musical discoveries, I first became a Needtobreathe fan by total accident. All it took was a copy of The Heat from a used CD bin to get me hooked, with The Outsiders turning out to be one of my favorite albums of 2009. But there was one thing missing... in my several years as a fan I caught a performance or two, but I'd never seen a full Needtobreathe show! So how could I not be excited to find out that their spring headlining tour was coming to one of my favorite venues, House of Blues? With supporting acts Graham Colton and Stephen Kellogg and the Sixers, Needtobreathe's return to Orlando was even better than I expected.
The Orlando House of Blues, located in the Downtown Disney shopping and entertainment area of the Disney World Resort, is a two story venue that has generous standing room without sacrificing the intimacy of smaller clubs, a perfect setting for this concert. Even though the doors had already been open a while when I arrived and the lower floor was filling up, I had no trouble catching up with a couple of friends in the pit area and getting a great spot just a few rows from the stage.
Graham Colton arrived first, a solo artist with a pop songwriter feel. In his 30 minute set, Colton played right through several songs with only an acoustic guitar, and expressed surprise and gratitude to fans in the audience who immediately called out requests. (At one point commenting with a big smile, "Hey, I have fans here!") Overall, I liked his sound. He commented that he normally plays with a full band, but he had the personality, style, and skill to pull it off on his own.
After Graham Colton came Stephen Kellogg and the Sixers, an alt-country band that quickly commanded the audience's attention. I knew nothing about them before, but by the end of their set, I knew I was a fan. First of all, these four guys were incredibly talented. Bass player Kit "Goose" Karlson was especially fun to watch as he deftly switched instruments from song to song, from bass and keys to accordion and tuba (yes, a tuba!), and lead guitarist Sam Getz started off providing rootsy flavor on a slide guitar before picking up his electric for some amazing riffs. But most of all, I love it when a band looks like they're having the time of their lives, and the Sixers did just that. A touching moment came when the drummer traded his kit for a banjo, and the four stepped away from the mics to play "My Old Man," a song dedicated to Kellogg's father. Before and after their final song, Kellogg rattled off a string of partial random covers ranging from Modest Mouse and Taylor Swift to "The Wheels on the Bus" and the Ghostbusters theme. (You kind of had to be there.) I'll be the first to admit that I'm no fan of country music, but their style and personality won me over for sure, and by the end of their 45 minutes onstage, I was looking for their merch table.
After The Sixers, the curtains closed for a surprisingly long set change. It caught me off guard, because I always expected Needtobreathe to be a stripped down experience, no frills, just music. When the curtains swung open, I realized how wrong I was!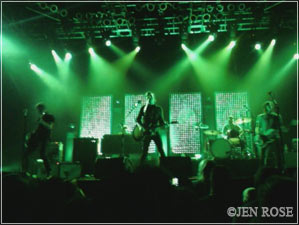 Needtobreathe is a strong contender for both Christian and mainstream audiences, and they play to their audiences well. So it only makes sense that the Won't Turn Back Tour, mostly playing the club circuit, is a full-on rock show... lights, smoke, the works. Earlier, my friends and I had tried to guess what standard they'd open with. "The Outsiders"? "Lay 'Em Down"?
Nope. When the band took the dark stage, it was the opening beats of "Prisoner" that led the way and set the night in motion. From there, they jumped straight into "Girl Named Tennessee" with lead singer Bear Rhinehart yelling to the audience, "Are you ready to dance?" (Not that we could in the packed pit, but it was a good idea anyway.) All throughout the evening, the guys seemed genuinely surprised and grateful for the turnout. It's worth noting that up until now, Needtobreathe has mostly played the opening act; for example, the last time they played Orlando HOB they were opening up for Third Day. So it felt almost historic to see them play their show, on their tour, at this venue, the arrival of an amazing band that's finally getting noticed.
Of course, the set mostly featured songs from The Outsiders, and though that's totally understandable, I do wish there had been a few more older songs in the mix, specifically from The Heat, the album that made me love them in the first place. Still, the setlist was strong and a great representation of where they are now. "More Time" from The Heat slowed things down just a bit before diving into the thundering "Hurricane" and the current radio single "Something Beautiful." "Lay 'Em Down" got the most enthusiastic reaction with its clapping, stomping intro, and was followed by covers of Ben Harper's "Better Way" and The Beatles' "Get Back."
One surprise came when guitarist Bo Rhinehart introduced himself and, after joking that "sometimes they let me sing," took lead vocals for the mellower, folkier "Won't Turn Back." His voice is much softer than his brother's gritter sound, sometimes almost so quiet it was hard to hear above the music. But what doesn't come from Bo in vocal power is more than made up for with his personality and energy, and when he finished, Bear teased, "He's such a ham. That's why we don't let him sing." The music took another turn for the softer with a quiet acoustic take on "Stones Under Rushing Water." Though the album's duet aspect was missed, Bear carried the song beautifully on his own.
With their classic "Don't Wait for Daylight" and the unique, Peter Gabriel-esque "Through Smoke," they left the stage to calm things down before the inevitable encore. Of course, a band wouldn't wrap it up without playing their biggest songs, right? They returned for three more songs led by the new album's title track "The Outsiders" and its closer, the rousing "Let Us Love."
But perhaps the most powerful moment was the final performance. Instead of going out on a loud rock note, they opted to turn off the lights, smoke, mics, and amps -- "all this mess" as Bear put it -- for a stripped down acoustic rendition of "Washed by the Water." As the four members gathered close to the edge of the stage, a hush came over the room and the crowd pressed closer to hear Bear introduce the song written for his preacher father. With all amplification gone, the experience felt more intimate, more like sitting in someone's living room than a concert hall, and the band's true talent showed in all its raw glory, every crack in Bear's voice and every note of music clear and strong. I would say for all the fun of the rock show and the "wow" factor of the performance, this is Needtobreathe in their truest element, as they were meant to be heard, and it was a beautiful way to close out the night.
This tour is still well into its early dates, with a couple months and many cities across the country to go. The Needtobreathe buzz continues to grow, and for good reason... these guys are a rare sort of talent that transcends genre lines to welcome Christian and mainstream audiences alike. Whether you're a longtime fan or just getting to know them, this is a tour not to be missed.
--
Jen Rose
, 3/15/10
When the Won't Turn Back Tour rolled into Philadelphia to the beautiful World Cafe Live, it was the first night of the tour with new supporting acts for NEEDTORBREATHE. I'd seen NTB perform this venue two years ago as a headlining act but with a much smaller audience and therefore in a much more intimate setting. This time, it was packed. It was something that even surprised and humbled the NTB boys.
So for this leg of the tour, acoustic solo artist Matt Hires opened, presenting a batch of his own songs, even debuting a brand new one he'd never played before. Matt seemed a little nervous, but still served as a talented warm up for the night. I was then a bit surprised when Nashville talent Will Hoge stepped up. Bearing a look that resembled a sort of merger between Bruce Springsteen and Adam Sandler, Hoge carried himself like a veteran. And although I was completely unfamiliar with Hoge, he seemed to have a decent amount of fans present and those who were familiar with his material. The singer had a strong band of musicians to back him up and his southern rock / Americana sounded great in the Cafe venue. His show, however, was much more fashioned for a bar than the bookends of the night, as most of his songs had a sort of break-up blues lyrical theme woven throughout, with a few minor profanities popping up in a song or two. The songs were mostly negative or depressing, and it felt like a significant contrast to the headliner.
NEEDTOBREATHE's set was almost identical to Jen's experience. And like her, I was surprised at the amount of production their set had. Up until this point, I had never seen a set of theirs with lots of lighting or even backdrops. I was first won over by seeing them when they opened for Jars of Clay a few years ago and then heard their sophomore effort, The Heat. When they began their set in Philly, four black sheets were removed from the backdrop to reveal four old photographs of random guys with a strip of red paint over each of their faces (making them unidentifiable). A sea of lights poked through the banners for a neat effect, but overall, the lighting in the room was relatively dim throughout their set. This time they did open with "The Outsiders" and proceeded with all of the songs Jen mentioned as well. I was rather surprised, too, that they forsook many of their songs from The Heat, but it was still great to hear the majority of The Outsiders live.
By the end of the night, NEEDTOBREATHE had delivered another impressive performance that just continues to prove they're one of the best live bands around. Fans of southern rock will do well not to miss this tour.
--
John DiBiase
, 4/13/10
Won't Turn Back Tour Spring 2010 Photo Gallery
click on an image for a bigger size
**vertical images cropped for thumbnails**
NEEDTOBREATHE:
*all photos by
John DiBiase
and are the property of
Jesusfreakhideout.com