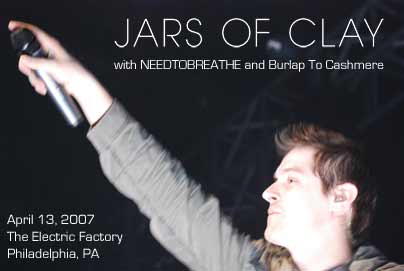 Jars Of Clay, needtobreathe, Burlap To Cashmere
4/13/07 at The Electric Factory, Philadelphia, PA
In the Fall of 2006, Jars Of Clay released one of their best records to date, uniquely titled Good Monsters. With over ten years of writing, recording, and touring under their professional belts, the foursome have come to a place of comfort where they can accomplish such a feat as the Spring 2007 leg of the Good Monsters Tour. When we talked to the guys at GMA just days over a year ago, they revealed their thoughts on possibly playing the entire new record live all the way through. And while they've yet to do that (at least, to my knowledge), at the April 13th date at The Electric Factory in Philadelphia, all but one track from Good Monsters was performed for their audience, with plenty of favorites and even a couple rarities interspersed throughout.
The show had a surprisingly early start for a Friday evening, and when we arrived "late" around 6:40pm, the duo currently tagging themselves as "Burlap To Cashmere" had already begun their set. Lead vocalist Steven Delopoulos was on stage with cousin Johnny Philippidis, both ready to entertain the crowd with music and wit, with merely their acoustics and Latin-flavored vocal talents at hand. While we missed most of what they had to offer, the guys joked about their lack of a full band and made the best of what they had to work with, closing to much enthusiasm from the audience with "Basic Instructions," from their 1998 debut album.
Seneca, South Carolina rock band needtobreathe followed, a suitable warm-up for the evening's headlining act. And what was most interesting about that is how needtobreathe played with such a sense of seasoned fervor that isn't necessarily seen in younger bands opening for established acts. But needtobreathe gave it their all with intensity, opening with "Don't Leave Just Yet," moving right into a brand new song from their pending sophomore release this fall, "Signature Of Divine." The softer melodic track was followed by an exceptional excitement from the band members as frontman Bear Rinehart admitted a connection he felt with the audience that "almost" reminded him of home. After a cover song, Bear belted out several choruses of "It's alright to shine!" along with the audience, with an energy radiating from the moment. They then moved into "You Are Here" from their debut Daylight and slowed things down for the heartbreaking "Haley." Then after a brief introduction to the song, they played their hit "Shine On" before closing with a brand new song about Bo and Bear's preacher father, entitled "Washed By The Water." There was a significant sense of intimacy in their set that ended up carrying past the extensive intermission and into what would feel like an especially memorable Jars Of Clay performance.
If you've read other reviews I've written on Jars Of Clay shows, it's nothing new to note that Jars was a band I've seen many times in the past twelve years since first seeing the guys open up for PFR before their legendary self-titled debut would even hit stores. It's always amazing to think about this band's progression and to realize they're the same four men as the timid young college students who I first saw many years ago. But the fact remains these are the same artists and when they pop open their set with their wonderful cover of Julie Miller's "All My Tears," you know you're in for a great concert experience. "All My Tears" may seem like a strange way to kick off a Jars Of Clay show, but since they started performing it live back on the Who We Are Instead tour, it's taken up special significance as a staple for the band's live set lists. As "All My Tears" fades out, the blaring electric opening riff of the intense "Work" sears through that darkness. Vocalist Dan Haseltine hops about as the band is as lively on stage as ever playing the emotional anthem for loneliness. And just as quickly as the band launched into the previous song, Jars bursts forward into the upbeat and quirky "Good Monsters." They shift gears once more for the sole offering from their 2005 hymns project Redemption Songs, "God Will Lift Up Your Head." The soaring anthem is matched well by another cut from their latest album, "Take Me Higher." Before starting the next song, Haseltine paused to tell the audience the story of how they met a man in a hotel in Canada near the start of their tour who knew they were Jars Of Clay and proceeded to tell them he loved their debut but didn't care for anything else they did. Dan then quipped that the following song has been dedicated to that man each night since then, with a wonderful rendition of "Love Song For A Savior" inevitably following. The somber "Even Angels Cry" was next, with a hint of the popular 80's song "Sweet Dreams" serving as the song's conclusion. The Cash-esque "Mirrors & Smoke" featured the fan-made Superman/Wonder Woman cartoon-themed music video as a backdrop behind the band as they successfully pulled off the should-be duet as a solo. A trio of more mellow, pensive songs ensued, starting with "There Is A River," and continuing with the sensational "Oh My God" and thoughtful "Surprise."
Although the softer songs can be some of Jars Of Clay's best work, the audience was entranced at this point, which only seemed to be the perfect moment to be shaken up with the performance of the band's most recognizable song, "Flood." The audience seemed the most alive at this point than they had been all night, and Haseltine was all over the stage, even encouraging sing-a-long participation from the crowd. And while they had everyone's attention, Jars proceeded with their most recent hit "Dead Man (Carry Me)," a suitable follow-up to "Flood," continuing with one upbeat song after the other, including a cover of INXS's "Don't Change." A surprise treat came in the form of a performance of "Love Me," a b-side from the Good Monsters recording sessions which was only made available as part of an EP through iTunes. The wonderful pop anthem worked great live and fit right in with "Revolution" from their album The Eleventh Hour, which closed out their set.
When the house lights didn't return right away, it was a safe bet that Jars Of Clay would be back for an encore. But it was one of the more fun encores I've experienced in awhile. To much of the audience's excitement, the band performed the opening track from their self-titled debut record, "Liquid," which was an unexpected but wonderful song choice. At this point, Haseltine admitted that they only had one song left, but didn't want to end just yet, and took requests from the audience. A resounding reply from the crowd cued "Worlds Apart" which has always been one of the band's greatest songs. The beautiful ballad was then performed, sans the famous ad lib at the song's finale, which left the ending feeling rather abrupt. At the request of a fan, the band then performed "Crazy Times" despite their misgivings about how it might turn out. However, the end result was brilliant and other than Haseltine forgetting a mere couple words from the second verse, the song was performed perfectly. Before ending their set, Dan shared about their Blood Water Mission project to get clean water wells built in Africa and encouraged the audience to financially support them, then closed - melodica in hand - with "Light Gives Heat."
Although this tour is just about finished, a Jars Of Clay show is one of the best alternative rock shows around today. I was equally impressed with what rising stars needtobreathe had to offer and am now thrilled about their upcoming stint opening for Ohio pop/rockers Sanctus Real. Catch these artists' shows soon if you can - you're guaranteed a great evening of music.
--
John DiBiase
, 4/14/07
The Good Monsters Tour Photo Gallery
click on an image for a bigger size
Burlap To Cashmere
needtobreathe
Jars Of Clay
*all photos by
John DiBiase
and are the property of
Jesusfreakhideout.com