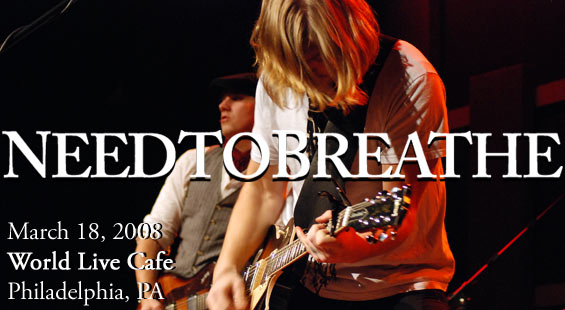 NEEDTOBREATHE, I-Nine, Absentstar
3/18/08, at World Live Cafe, Philadelphia, PA
When you see a rock show in a big city, you're likely to find yourself in a typically dark, dank bar or nightclub. In Philadelphia, Pennsylvania, your usual venue for catching a tour featuring a favorite Christian band (or favorite band-associated-with-the-Christian-music-industry), would be some place like The Electric Factory, the TLA, or Trocadero - to name a few - but one venue we'd yet to visit was a fancy little place called the World Live Cafe. Walking inside the WLC, we were surprised at how nice and inviting it was. Some bars and clubs almost give off the attitude that you're more of a pest than a guest (and I'm not talking about being media), but the WLC was immediately friendly. And once inside the bar/stage room, we were amazed at how clean and cozy the setup was. On either side of the room in front of the stage were a series of tables with candles on them, prepped for the customers to take a seat, order some food and just sit there all night - or occupy the standing area in front of the stage once the show began. It's a great layout and it's a shame more shows (that we'd attend) don't appear there.
Obviously this isn't a review just for the World Live Cafe, but considering how impressive the venue was, it has to be given some prominence. And we weren't the only ones to notice this either. Midway through NEEDTOBREATHE's headlining performance, vocalist Bear Rinehart paused to express how nice the WLC was and how wonderful the staff of the venue had been, thanking them a couple times before their set was over. The evening's music was the South Carolina band's current Spring tour with mainstream acts Absentstar and fellow SC natives I-Nine. Both openers were definitely decent performances, but neither were as strong or as memorable as the headlining act. Absentstar offered a bit of a classic / alternative rock sound with almost a complete absence of stage presence. Their vocalist almost seemed irritated by the players in the band through most of their set and it made it difficult to get too excited about their music -- especially since they didn't even seem to be enjoying it themselves (save for an enthusiastic guitarist). I-Nine followed, a quaint acoustic/folk act fronted by the spunky Carmen Keigans. The childhood friends were entertaining, and most of their music was pretty good, but they seemed to be a slightly odd precursor to NEEDTOBREATHE. One particular song lamented a relationship where apparently the guy in relationship chose his faith over the girl, and it seemed to be a bitter reflection on it. Considering how a chunk of NTB's fanbase is Christian in faith and how most of the audience was most likely there for NTB (and probably at least half-made up of believers), it was a strange song choice. Nevertheless, I-Nine is a talented quartet and stylistically a good pairing for the third act.
At around 9pm (the show had begun promptly at 7:30), Atlantic/Word recording artists NEEDTOBREATHE emerged as the night's main event. Much like their previous tour, the guys opened up with "Don't Leave Just Yet" from their debut Daylight, with frontman Bear taking a seat behind the keys for a subtle but effective way to launch their set. Next, the guys offered their single "Shine On," before performing the title track from their debut as well. With their sophomore release, The Heat, NEEDTOBREATHE returned to more of their South Carolina roots, exploring a more bluesy/southern sound while Daylight had been much more of a straightforward pop/rock record. Their current hit, from The Heat, "More Time" was a wonderful addition to their set. Being mostly an acoustical song, the band gave it a faux conclusion before resuming the song for an extended ending. In fact, the band dragged out nearly every song, making them considerably longer than their recorded renditions, taking them out with delectable jams each time. While it gives their show an extra special unique feel that you can't get on disc (while some bands just play by the book and stick to the song's original format maybe a bit too much), it allows for less songs to be played. And with two albums of material to pull from, a ten-song headlining set just doesn't seem very long. The ten songs were even played out over about seventy minutes.
"Streets Of Gold," the anthem for reuniting with a loved one some day in heaven, followed, with Bear pausing to reflect on the meaning of "More Time" with the crowd. After a member of the stage crew ran a cup of tea on stage for him after the song, Bear admitted that "More Time" had been written out of the frustrations of trying to make it in the industry, and having to ask loved ones to be patient with them to fulfill promises they'd made. He then lightheartedly admitted that having someone bring him cups of tea while they perform gave him a feeling that they'd "made it." The guys then moved right into their emotional hit "Hayley," from Daylight, slowing the song's tempo down considerably from its original. While it gave the song a bit of a different feel, the power the original composition possessed was missed. The deliciously soulful "Washed By The Water," a song inspired by Bear and Bo's pastor father's experience with his church, was a worthy successor and another song to get a rousing live treatment. But one of the most fun performances of the night was their ridiculously catchy "We Could Run Away," which ended their plugged in portion of their set. At this point, much to everyone's surprise, the brothers grabbed their acoustics, put down their mics, and performed a completely acoustic set to finish. NEEDTOBREATHE set up near the edge of the stage with Bear and Bo standing while drummer Joe Stillwell sat and tapped out the beat on a guitar case and bassist Seth Bolt switched back and forth between a shaker and tambourine. In this stripped-down form (which still sounded beautiful), the band performed "Signature Of Divine (Yahweh)," which had a wonderfully worshipful, campfire vibe, and closed with "Sweet Talker," an old fan favorite that has yet to be released on a national NTB album.
Although the setting was a city bar and the tour predominantly consisting of secular artists, it was all worth it to catch NEEDTOBREATHE's fantastic performance in such a cozy, personal setting. Easily one of the best kept secrets in music today, NEEDTOBREATHE is definitely a band to experience live, and this seasoned concert goer can't express that enough.
--
John DiBiase
, 3/23/08
NEEDTOBREATHE Photo Gallery
click on an image for a bigger size
*all photos by
John DiBiase
and are the property of
Jesusfreakhideout.com