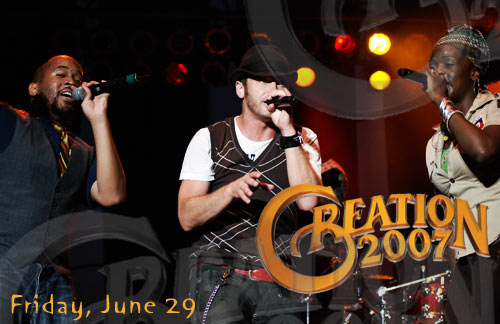 The Afters, Mainstay, MOC, Hawk Nelson, Emery, Thousand Foot Krutch, Leeland, TobyMac
6/29/07, Mt. Union, PA at the Agape Farm
When staying off-site for Creation East, there's less motivation to make it to the early morning festivities. Things begin at 9am from Thursday to Saturday with worship, speakers, and a couple pre-midday performances. But when you're arriving at your hotel late at night and having to drive back early the next day, you can waste a lot of time in transit, therefore making arriving at the festival really early all that less appealing. Regardless, most of the must-see acts really start around noon or one anyhow, and we arrived in plenty of time on Friday to watch The Afters start their set on the Main stage at 1pm.
The band was basically conceived behind the counter of a Starbucks for The Afters guys, and proves the trendy (albeit delectable) coffee chain can produce more than fine bean beverages -- whether they mean to or not. Opening their wonderful set with "Until The World," the foursome proceeded to mix the slow with the more upbeat, primarily performing selections from their 2005 debut I Wish We All Could Win, pausing to debut a few new cuts from their pending Fall release. "Someday" followed, along with a brand new, upbeat track titled "Back To Okay," which featured vocalist Josh Havens taking a break from guitar for a change to make the best of his frontman position. It was great to see Havens have a bit more freedom to run about the stage. "You" was next, in which Havens borrowed an autographed acoustic the festival was giving away that week, and the song was followed by another brand new one, the soft and emotional "Ocean Wide." Havens prefaced the ballad with a story about marriages falling apart in the church and the forgiveness that can follow the pain from such situations. When the song concluded, we had to do one of the hardest things you have to do at a festival like Creation -- leave mid-set to go watch a band you really want to see who had started at the same time as another band you also had wanted to see on another stage.
As we walked over to Fringe, the sounds of Minnesota alt rock band Mainstay's song "Danger" could be heard drifting through the trees between the food court and the rock stage. We arrived in the crowd in enough time to hear the band begin "Yesterday," before vocalist Justin Anderson announced their pending sophomore album, Become Who You Are, set for a September release, and introduced a new song. The quartet then broke into a complete metal riff, with Anderson wailing into the microphone in his best Michael Sweet impression, and jokingly asking what the audience thought of their new song afterwards. When the silliness had subsided, the guys performed "Down Silver Lake," before offering one of the best renditions of Chris Tomlin's "How Great Is Our God" I've heard to date (including better than Tomlin's version). "This Could Be" followed, along with their single "Take Away," and concluded with "These Pages."
For a complete contrast in stylings, all-female rap group MOC were next at 2pm on the Fringe, and the trio hit the stage poised for an energetic set. I'm not sure Creation was really the place for an act like MOC, but the crowd seemed to enjoy them, and surprisingly, festival-goers only had rap acts to choose from during this time slot, with Grits performing simultaneously over at Main stage.
The usual festival shutdown happened at 3pm for speaker Mat Matlock over on Fringe and a selection of seminars elsewhere, including speakers like Joshua Harris and Duffy Robbins. At 4pm, Hawk Nelson performed on Fringe Stage, with their set containing the most surreal moment I've experienced at a show in some time. As they readied for the opening song, the guys started clapping in the air to get the audience to join in. And suddenly, guitarist Jonathan Stiengard began playing a familiar, non-Hawk guitar riff. By the time vocalist Jason Dunn began singing Audio Adrenaline's "Clap Your Hands," I had to just stop and stare in disbelief. It sounded great, but I'd never heard another band besides AudioA perform it. And with them having since disbanded and therefore not appearing at this year's Creation East for the first time since I started going almost a decade ago, it was almost as if Hawk was bringing a little of AA to Creation despite their absence. Air jets blasted smoke onto the stage during the song's opening - much like AudioA had done, prompting me to wonder if those were actually the ones AA previously used. The song was a great lead-off choice for Hawk and the audienced ate it up. About halfway through it, the pop/punk quartet jumped right into "One Thing I Have Left" and moved right into "The Show." It was one of their most raucous and energetic performances that I'd seen to date, and the size of the audience that turned out for them was impressive. The title track from their debut, Letters To The President followed, along with their hit single from their follow-up, Smile, It's The End Of The World, "Everything You Ever Wanted." "Every Little Thing" and "Hello" preceded a cover of The Cars' "Just What I Needed" and another standout Hawk hit, "California." Following the suicide-inspired ballad "Zero," the guys closed with the party anthem "Bring 'Em Out."
Emery was on next at 5pm on Fringe. I'd never seen them live, so it was great to catch a few minutes of their set. In the first song, the guys were a whirlwind on stage. Keyboardist Josh Head was whipping his keyboard into the air and before the close of the song, jumped down from the stage and hung over the fence into the crowd to encourage the audience to sing along into a mic. Even if you're not a fan of their music, it was clear these guys knew how to put on a rock show.
However, shortly after they began, Canadian rock act Thousand Foot Krutch was about to start over at the Main Stage. We made our way over, and they opened with the title track from their most recent album, The Art Of Breaking. The crowd-pleasing "Move" was next, followed by the title track from their upcoming September release, The Flame In All Of Us. The style followed more of what the band has been releasing since The Art Of Breaking, and it was a nice treat for their set to preview some new music. The aggressive "Step To Me" was next, with the ballad "Breathe You In" serving as a good break for those not too keen on a Main Stage rock set. "Phenomenon" and "Faith, Love, and Happiness" preceded another ballad, "This Is A Call," before they picked it back up for "The Absolute." And to appease the screaming fans, TFK closed their set appropriately with the favorite, "Rawkfist," to end things on a strong note. At this point, the festival took a break for a live feed with former Forefront Records artist Eli who broadcasting from Ghana to report on the poverty and the missions work in the country. It was a rather sobering experience, considering that all of us were standing on a farm where thousands were gathered who had paid a sum of money specifically to watch a series of bands perform, and yet so many people are living in intense poverty elsewhere in the world. There may be a bit of freedom in watching a pre-recorded feed from a poor country filled with diseased water and starving people, because a part of our conscience can excuse that mess as something that was previously captured and not happening as we watch it. But a live feed is a reminder of what we have and what others don't, making it a much more tangible concept. Again - a sobering and humbling experience.
Provident Label Group's immensely talented new act Leeland followed, bringing an intimate worship setting to the festival attendees. There's something different about how Leeland approaches worship that is refreshing when so much of the same music is flooding the genre today. Opening with "Reaching," the band's passionate set was a great way to connect the audience's hearts to God's. "Can't Stop" followed, as well as the title track from their debut, Sound Of Melodies, and a worship cover of "Taste and See." After "Yes You Have," the foursome covered Michael W. Smith's "Agnus Dei," and frontman Leeland Mooring spontaneously prayed for the hurting in Ghana. When festival co-founder Harry Thomas soon returned to the stage to present the offering, he was visibly moved by Mooring's compassion for Ghana. Thomas took this time to reveal the importance of everyone's offering gifts due to the losses accrued by the "postponement" of last year's Creation Festival. As buckets were passed around for the offering, Leeland performed "Carried To The Table," and later closed with the powerful "Tears Of The Saints."
Speaker Bob Lenz gave the main message on Friday evening, capturing the attention of his audience and tugging on heartstrings as he shared about people's worth through God's eyes, the worth of his disabled sister, and how skewed Adolf Hitler's value of life really was. It was one of the more powerful messages I'd heard in awhile, and I was glad I had the opportunity to hear it.
Our Friday night main event began at almost 9pm when TobyMac and his incredible entourage siezed Main Stage for the pre-headlining act. The group opened with "Burn For You," and kept the energy elevated with "Cathchafire" and a sort of medley of "No Signal," "No Ordinary Love," and "J-Train." A pair of relationship-themed TobyMac staples followed in the form of "Gone" and "Irene," before he played another offering from his latest album Portable Sounds, "I'm For You." A TobyMac show is a tour de force of energy, dancing, and well-timed choreography set to a hip hop-flavored soundtrack. The former dc Talk member's shows can best be described as the closest thing to a dc Talk show since the band's departure. So when a crowd pleaser like "Boomin'" is released, you can only expect great things on stage. The Passion Of The Christ-inspired "The Slam" followed, as well as "Love Is In The House," and "Lose My Soul," in which American Idol contestant Mandisa came out to perform with the band. The delightfully fun "Diverse City" preceded another TobyMac live show staple - an old school medley, in which McKeehan and company roll out old, funky classics like "Celebrate Good Times," "Play That Funky Music White Boy," "Rollercoaster," "Freak Out," "That's The Way I Like It," and "We Are Family." One of the most entertaining things about the medley is watching the older members of the audience who might not otherwise be enjoying TobyMac's performance suddenly smile and get into the music. Later on the Friday evening schedule, fellow former dc Talk member Kevin Max was slated to perform an acoustic set at midnight, so when the band launched into "Jesus Freak," I was expecting Max to make an appearance. Sadly, this wasn't the case at all, and TobyMac's single "Made To Love," as well as "Extreme Days" soon followed to close out his time on stage. I later learned the next morning that Max never even showed up at Creation East, which explains just why he didn't join his friend for old time's sake (that is, if he would have decided to do so).
While it may not give a fair and complete recap of Friday's happenings to completely skip out on the evening's closer, Casting Crowns, we felt it to be a good opportunity to leave the night on a high note with TobyMac, and cut out to catch up on some much needed rest back at the hotel. I'm also not sure stacking the frenzied show of TobyMac before a sterile contemporary act like Casting Crowns was a very wise decision, but the multi-platinum selling act is definitely big enough to close out a Creation evening - just maybe still a bit anti-climactic however.
On to Saturday... -
John DiBiase
, 7/10/07
Creation 2007: Friday Photo Gallery
click on an image for a bigger size
The Afters -- 1:00pm Main Stage
Mainstay -- 1:00pm Fringe Stage
MOC -- 2:00pm Fringe Stage
Hawk Nelson -- 4:00pm Fringe Stage
Emery -- 5:00pm Fringe Stage
Thousand Foot Krutch -- 5:35pm Main Stage
Leeland -- 6:35pm Main Stage
TobyMac -- 8:55pm Main Stage
*all photos by John DiBiase, and are the property of Jesusfreakhideout.com
Creation 2007 Review: MAIN | Wednesday | Thursday | Friday | Saturday