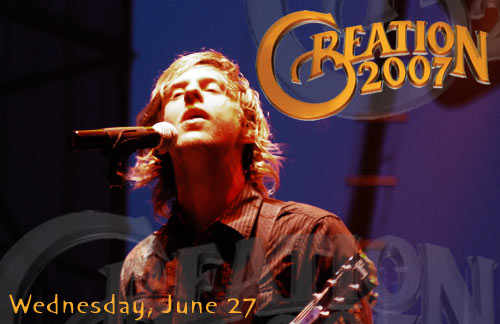 Skillet, Bethany Dillon, Switchfoot, Relient K
6/27/07, Mt. Union, PA at the Agape Farm
It's been two years now since the last Creation East Festival. In 2006, the rains during June were so heavy that the event had to be "postponed" til the next year (to all Creation-goers, this translated as "cancelled"). The festival was on for 2007, and the ticket holders for 2006 could just bring their tickets this year (anyone who couldn't attend in '07, but had tickets for '06 were sadly out of luck). The artist lineup from the previous year didn't quite carry over exactly. Audio Adrenaline has since disbanded, and other acts, like Anberlin, just weren't on the '07 billing. However, the lineup was still a strong one - one of the best in perhaps awhile - and it all looked to be a good year.
For those who have never been to Creation East at the Agape Farm in literally the middle of nowhere, Mt. Union, Pennsylvania (the farm doesn't even have an address!), I'll give you a quick rundown of what you would expect there (all seasoned festival-goers can skip this paragraph). If you decide to camp at Creation East, you may arrive a day or so early to setup camp as the festival is still being constructed on the premises. There are two major stages where music takes place, as well as a worship tent/evening "cafe" where a few events also occur. The main stage is where most everyone gathers for the evening shows, and it's a sight to behold when you see everyone gathering together for the evenings' main events. The Fringe stage is where most of the aggressive, alternative acts perform, and that stage runs from about noon - 7pm on Thursday til Saturday. It's a much more intimate setting, so if the hustle and bustle and congestion around the main stage isn't your cup of tea, the Fringe is the place for you. If you're camping and you arrive to claim a spot on the late side, you could have a spot that's a good mile or so of walking distance from the festivities. Showers are first come, first serve, limited to five minutes in a shower pavilion where water is nearly ice cold (hot showers have been made available for an additional price). This year, the festival also debuted VIP seating for the main stage, where people can pay an additional $50 bucks a day or $200 for the whole event to sit on seats on a raised up platform in front of the sound tower. It's a considerable distance from the stage, but it's your chance to sit and enjoy a day's worth of main stage shows removed from the crowd, and best of all - seated! But the high price is a hindrance (although understandable considering the tens of thousands in attendance. An estimated 75,000 people turned out for the Wednesday night shows alone!). Food is offered to you by way of independent vendors. You can get a fabulous, homemade pork barbecue sandwich for just $4.00, a delightful stromboli for $6.00, or all kinds of other foods including Chinese, cheese steaks, chicken fingers and fries, fried chicken, and an assortment of sinfully delicious desserts (i.e. frozen chocoloate-covered cheesecake on a stick). One major problem with the food court is a terrible lack of seating. If you're standing all day watching shows or walking around, there's almost nowhere to sit besides the ground. There are about two or three large park-style tables and benches in the food court and you're lucky to snag a spot once or twice during the week. Artist merchandise and all kinds of product vendors and commercial advertisers can be found throughout the festival. If the fest has some sponsors, they'll be showing videos and commercials on the jumbotron screens throughout the festival's duration to the point where you may be sick of hearing of them. But Creation is the perfect place to assemble a new wardrobe of your favorite bands' t-shirts. The Fringe stage has its own tent for merch for artists who perform there each day. It rotates as the bands come and go, so you have to be on the ball for getting stuff from who you want when they're there. At the top of a hill across from the main stage, is a huge pavilion where you're likely to find merchandise for all of the bigger artists performing (usually because a single company makes merch for all of them), and a lot of them are available for the entire week. Artists who weren't even there - like Everyday Sunday and UnderOath - had merch you could gobble up. There's also a great music store at the festival where you can snatch up the latest disc from an artist you first experience at the festival, but lines do become a problem when it comes time to hit the registers. In fact, crowd control may be Creation's biggest problem. As it's grown, areas become incredibly congested, including the merch pavilions which they've begun restricting occupancy and have begun waiting lines outside at all times. If you remember the times when there wasn't this kind of control, it's tough to want to wait through those lines.
Two years ago, my wife and I made the mistake of not bringing the most accurate directions with us and we learned the hardway. This year, with a great set of directions, we made it to the fest in near-record time for us, and ended up sitting in the infamous waiting line outside of the festival gate for about an hour. As the fest staff sifted through those camping and coming for the day, we filtered slowly through the entrance, parked, and made our way inside. Things got underway at the main stage after 5pm with the official welcome from those running the event, and announced the first artist of the year, Skillet, after 5:30. It was the first time the band was given the honor of kicking off Creation festival, and they opened their set fiercely with "Whispers In The Dark" from their latest record, Comatose. The seasoned rockers were a great way to rev the Creation festival engine and despite vocalist John Cooper's voice displaying a bit of wear and tear (a la AudioA's Mark Stuart), the band still offers up a wonderful rock performance like few around. Cooper understood the sensitivity of the audience to the mixture of youth and adults who might not like hard rock, so after "Better Than Drugs," the band chose more melodic rockers like "The Last Night" and "Older I Get" before ripping into more edgy fan favorites, like "Rebirthing" and "Obsession." Cooper again addressed the need for slower songs for the parents, then performed "Yours To Hold," before closing with another favorite, "Savior."
Skillet seemed to be off the stage before fans knew it, and a surprising follow-up was young acoustic pop artist Bethany Dillon. This talented Sparrow Records teen is a fantastic artist with a vivid future ahead of her, but it was a bit daunting to insert Dillon after a band like Skillet and before headliners like Switchfoot and Relient K. Nonetheless, Dillon performed greatly, offering up selections from her three releases, including her opener "Great Big Mystery," "All I Need," and "Let Your Light Shine." It was after Dillon that the winds began to pick up and word began to spread of an approaching storm. Just as speaker Jose Zayas was about to give his message at around 7:20, the skies opened up and the rains poured down heavily on and off for nearly an hour. By the time it started slowing to a drizzle, San Diego rock band Switchfoot was ready to brave the elements and perform despite the rain. It was around 8:30, perhaps a little later, when the sounds of the band's title track from their latest album, Oh! Gravity. filled the valley. The band was fired up and it didn't take much to get the audience equally excited. The catchy "Stars" followed, along with "Dare You To Move," and "American Dream." After a performance of "Ammunition," "This Is Your Life," and the always fun "Gone," the band made a special connection with Creation during "We Are One Tonight." Frontman Jon Foreman was feeling especially in tune with the soggy but faithful attendance and asked everyone to hold up their cameras and cell phones to take a picture simultaneously of the moment to remember it forever. After that, Foreman decided to improvise and write a song for the Creation crowd on-the-spot, and then lead right into the intimate and worshipful "On Fire." Their single "Awakening" was a fine follow-up, and the rock quintet closed with one of their defining songs, "Meant To Live" to wrap up a memorable headlining spot. During their set, Foreman announced the band would be touring with Relient K in the fall, and it was a detail fans responded to with great enthusiasm. The rumor had been just murmurs online, but this announcement confirmed the cat was out of the bag.
Zayas was given a short time slot to deliver his message entitled "Enough," presenting his point in the commonly raised voice that you can expect from speakers at a festival like Creation. When Zayas finished, a brief break preceded the main event, Ohio band Relient K. The guys emerged with the Beach Boys-esque intro of "Plead The Fifth," mixing it into "Who I Am Hates Who I've Been" and followed it by offering birthday wishes to the band's guitarist Jon Schneck before moving into "High Of 75." The rocker "Devastation and Reform" from their latest record, Five Score And Seven Years Ago, preceded "Chap Stick, Chapped Lips, and Things Like Chemistry" and "The Best Thing." "Life After Death And Taxes" was next, and frontman Matt Thiessen then paused to talk about their affection for the 80's, and broke into the Tears For Fears cover, "Head Over Heels" before playing the inevitable "In Love With The Eighties." A special acoustic rendition of "Up and Up" followed their single "Must Have Done Something Right," and led right into a wonderful rendition of "Getting Into You." "Forgiven" preceded the bitter "Which To Bury, Us or The Hatchet?" which blended beautifully into "Let It All Out," and the guys exited the stage." An encore was expected, and they presented the goofy "Sadie Hawkins Dance," in which they invited a fan on stage to use Thiessen's guitar for a solo. "Be My Escape" followed, and their set closed nicely with "I So Hate Consequences." Although it was odd to watch Relient K follow an act like Switchfoot, they performed well and it was a great way to get the festival going. As we walked back to our car so we could head to Lewistown for our hotel (yeah, we tried the camping thing - no thanks!), we watched the evening's fireworks display exploding overhead.
Sadly, we learned the next day that Relient K's bus caught fire enroute from Creation festival to Cornerstone that night. Although the guys made it out just fine, they lost a lot of their gear and personal belongings. It's strange to think a night that went so well could end so devastatingly. But for most of those attending Creation fest, it was just another night before what would be the first full day of Creation 2007...
On to
Thursday
... --
John DiBiase
, 7/3/07
Creation 2007: Wednesday Photo Gallery
click on an image for a bigger size
Skillet -- 5:40pm Main Stage
Bethany Dillon -- 6:30pm Main Stage
Switchfoot -- 10:00pm Main Stage
Relient K -- 8:30pm Main Stage
*all photos by
John DiBiase
and are the property of
Jesusfreakhideout.com
Creation 2007 Review: MAIN | Wednesday | Thursday | Friday | Saturday