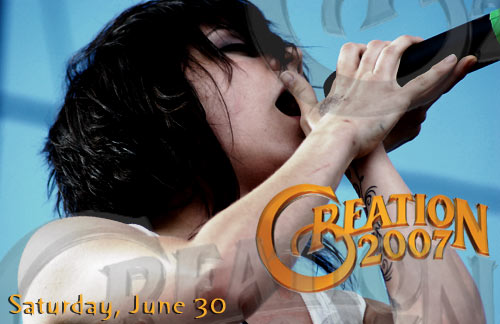 House Of Heroes, Stellar Kart, John Reuben, Sanctus Real, Flyleaf, BarlowGirl, Newsboys
6/30/07, Mt. Union, PA at the Agape Farm
Saturday at Creation East... it's the beginning of the end. It also brings the sight of your cozy bed, an air conditioned car or house, and a warm shower closer in view. Saturdays at Creation tend to have some strong talents on the roster, but it just seems like things are definitely winding down to a humble finish.
We arrived at the fest to meet a friend for lunch before catching some of Stellar Kart's one o'clock set on the Main Stage. An SK show is a fun time of pop/punk music with catchy choruses and bold messages of faith, but their songs tend to lean on the simpler side. Even their Dove Award winning hit "Me and Jesus" is simplistic, despite being encouraging. But the guys performed selections from their two releases to an enthusiastic audience, including "Hold On," "Procrastinating," "Love Control," "Spending Time," "Tree Climber" and "Life Is Good."
At 2pm, the need to split the sets occuring simultaneously on two stages happened yet again. House of Heroes started early before 2 o'clock, so we had some time to see them before John Reuben at Fringe. The trio opened with "Buckets For Bullet Wounds," the quirky opener from their self-titled Gotee Records debut. The delightfully infectious "Friday Night" followed, and as it concluded, I made my way over to John Reuben's set at Fringe. Amy stayed back for some more of HOH's show, and the threesome played "The Invisible Hook," a cover of the Beatles' "Can't Buy Me Love," and "Mercedes Babies."
A John Reuben show is a guaranteed entertaining experience whether you like his music or not. Reuben makes his innovative hip-pop mixture accessible to all audiences with his humorous delivery - often poking fun at himself and the genre, while remaining serious about his faith. The tongue-in-cheek "Trying Too Hard" served as a fitting set opener, with the cosmic "Universal" next. The standout hit from his 2000 debut, "Do Not" followed, along with the fun and sarcastic "Make Money Money" which included a moment where he paused to read a story from The ÆSOP for Children about an ant who wanted to dance. "Divine Inspiration," also from Reuben's debut, was a surprise addition to the setlist, and followed with "Nuisance," which featured the backup accompaniment for the song now including Relient K member Matt Thiessen's vocal parts (previously, someone in John's live band would sing Matt's part). A pair of new tracks were next with "Good Evening" and the title track from the new album, Word Of Mouth, followed by "Thank You," and the silly but always great fun "Doin."
At 3pm, we caught speaker Justin Lookadoo's message, "Datable," at Fringe before Ohio rockers Sanctus Real opened an hour later with a rousing cover of Tom Petty's "Running Down A Dream." The quintet's ten-song set offered the same basic list of songs from their Spring tours, with standout tracks from all three of their albums mixed in. The Petty song made a quick turnaround into the pop/rock anthem "Possibilities" before leading into "We're Trying" - a song the band debuted at Creation East two years prior, almost a full year before the song made it onto a record. Sanctus even performed Main Stage mid-day in 2005, but they seemed to be a better fit on Fringe as it allowed them to have more of an intimate interaction with their audience. Ironically, House Of Heroes had their Creation debut in 2005 on Fringe, but were upgraded to the Main this year. It may have made more sense, in the longrun, to have had their slots and locations switched given Sanctus' wider appeal. The SR rocker "Alone" and their hit "I'm Not Alright" preceded the band's call for faithfulness in marriage, "Don't Give Up." The sensitive "Eloquent" then followed, with the emotional and equally worshipful "Face Of Love" serving as a set highlight. The fivesome closed with "Everything About You" before returning for one last song with the title track from their debut, "Say It Loud."
Falling Up was slated to perform at 5pm after Sanctus, but the band couldn't make it. Sometime before 6pm, rising rock phenomenon Flyleaf performed, gracing the stage with an intensity. Opening with "Red Sam," the momentum of their show slowly built, as they played an array of tracks from their best-selling self-titled debut, as well as songs like "Justice and Mercy," which was released exclusively on their Music As A Weapon EP. I was impressed by this budding rock band's show, and wished to have seen more of it.
At 6:30pm, another female-driven rock band (although obviously more pop-based), BarlowGirl, launched into their set over at Main Stage. Although we'd interviewed the girls at GMA two years ago, we'd never seen them live, even missing their set at Creation 2005 because of the festival's poor handling of the traffic outside the gate. We finally had the opportunity to see them live this year, and the all-girl, all-sister band put on a great show. We arrived during their song "I Need You To Love Me," a delicate ballad from their hearts to God's, following it with Darlene Zschech's "Lord I Give You My Heart," and the Hillsong tune "Mighty To Save." They continued the covers with their version of David Crowder's "No One Like You," and invited Stellar Kart's Adam Agee out on stage to perform with them. They followed the worship with a few their own songs, presenting the hit "Never Alone," and then "Average Girl" from their debut. BarlowGirl closed their short set with a brand new song from their upcoming release How Can We Be Silent, an anthemic rocker, titled "Million Voices." It's encouraging to find artists in Christian music these days not afraid to share their hearts and love for Christ from the stage. At one point during their set, drummer Lauren Barlow stepped down from her kit to share a motivational message with their audience. Lauren was fired up and delivered her thoughts at an almost-shouting volume, but she challenged the men and women of Creation to be bold in their faith. The Barlow sisters are a refreshing find in today's realm of "Christian music."
Some of our friends had made it out to the festival for just Saturday's events, so we decided to use the post-BarlowGirl set time to find dinner, but the closed vendors presented a problem. After much discussion and debate, we decided to take a car off-site into Mt. Union to a local McDonald's for dinner. When we returned, Kutless had already finished their performance at Main Stage, and it was almost time for the closing act of Creation East 2007.
Australian pop act Newsboys have long been a favorite to perform Creation East, and their current GO Tour was a fitting finale for this year's Creation Festival. In recent years, the Newsboys took a more worshipful road with their music, stripping their shows of the glam and lights that made the band such a fun live performance, but they pulled off the more serious material really well. When the band returned to the pop extravagance with their GO album and resultant GO Tour, it was a reminder as to just how great this band is at putting on a big, entertaining concert. A long white catwalk was set up to protrude from the stage and extend well into the middle of the audience, stopping right in front of the Creation sound tower. The GO Tour date that we attended earlier this year didn't have the catwalk, so this was my first chance to capture the entire tour experience as it was originally intended. A recording of the title track from the album echoed throughout the valley before the band broke into one of their most popular songs ever, "Shine." The crowd went crazy, and the Newsboys kept the party feel (good and clean, mind you) alive with "Wherever We Go." Their set included a good number of songs from GO, including "The Mission" and "Something Beautiful," before a cover of Matt Redman's "Blessed Be Your Name" would fall before a fun interlude. Keyboardist Jeff Frankenstein and vocalist Peter Furler traveled down the catwalk to a small circular stage at its end, where Furler and Frankenstein peformed a medley of classic Newsboys songs, stringing together portions of "I'm Not Ashamed," "Million Pieces," "Where You Belong/Turn Your Eyes Upon Jesus" and "It Is You." And after they closed the mix with "He Reigns," the band returned to the full stage for the fan favorite "Breakfast." The fans went wild, and some held cardboard cutouts of kitchen flatware, and boxes of Captain Crunch into the air. A gigantic replica of a box of Captain Crunch set upon two poles (strangely resembling the Ark of the Covenant), made its way through the massive sea of festival-goers until it stopped near the front of the stage. The song was a highlight moment of the night indeed. Newsboys followed it up with the rap-pop of "Your Love Is Better Than Life," and broke into what would prove to be another memorable moment. Furler ran to the small stage at the end of the catwalk again, as drummer Duncan Phillips sat at his drum set, poised for what was to come. Furler burst into a drum solo on a tiny standing kit on the small stage, while Phillips returned Furler's playing with some of his own. A duel resulted, and after Furler's stage rose 25 feet into the air while he played, Phillips' full set rose into the air and began rotating as he pounded away. It was a fantastic moment that could only be followed by a worshipful finale with their take on the song "I Am Free," which featured Furler even pulling a young fan from the audience to dance with him on the catwalk.
Creation East 2007 concluded with the end of the Newsboys set, wrapping up yet another big year of music, worship, fellowship, and fun. Creation Festival has become an incredible production where between 50,000 and 100,000 people gather together on the expansive Agape Farm near Mt. Union, Pennsylvania. The fest is certainly an experience of a lifetime. Sadly, Creation East often overlaps with the equally lauded Cornerstone Festival in Illinois, and one of these years, I'd like to check that one out as well. When planning your vacations and trips next summer, you'll certainly want to put one of the Creation locations down as a must-see event of the year.
-
John DiBiase
, 7/12/07
Creation 2007: Saturday Photo Gallery
click on an image for a bigger size
Stellar Kart -- 1:00pm Main Stage
House Of Heroes -- 2:00pm Main Stage
John Reuben -- 2:00pm Fringe Stage
Justin Lookadoo -- 3:00pm Fringe Stage
Sanctus Real -- 4:00pm Fringe Stage
Flyleaf -- 6:00pm Fringe Stage
BarlowGirl -- 6:30pm Main Stage
Newsboys -- 9:55pm Main Stage
*all photos by John DiBiase and are the property of Jesusfreakhideout.com
Creation 2007 Review: MAIN | Wednesday | Thursday | Friday | Saturday