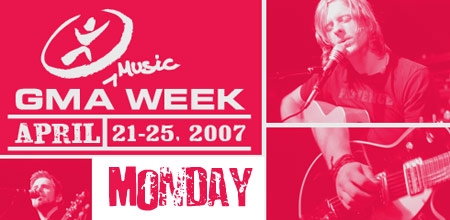 When GMA Music Week gets into full swing, it can be a bit overwhelming. The key is to plan your day out in such a way that you can get a lot done and still enjoy yourself. We kicked the morning off with a reunion with our friends in The Afters at 9:30AM at the Renaissance Hotel. One of the greatest things about GMA Week isn't just the meeting of new people and seeing people face-to-face whom you only ever talk to on the phone or online, but to reconnect with friends. Walking around the GMA hot spots like the Renaissance Hotel, the Nashville Convention Center, and any of the evening showcases, can be like a giant, week-long family reunion.
Time management is key with planning out your GMA schedule. For media, it's making sure you have enough time to get from one place to another. Having a car isn't necessary, but that also eliminates some of the freedom of getting to a location at your own convenience or going anywhere off-site. Shuttles carry GMAers from one location to another, but if you miss one at a certain time, you may be in a tight spot. The other perk to having a rental car is when everything closes down at night, you have the freedom to brave a fast food drive thru (you may want to keep your doors locked and windows rolled up!), or to visit some key city locales that stay open a bit later (the trendy Sunset Grille is a wonderful place for winding down after a long day).
Our interview following The Afters was a prime example of inconsideration on the part of other media - something you sadly have to get used to at something like GMA Week. We arrived early for an interview with Kevin Max at 10:30 in his PR's suite, only to have to wait twenty minutes for the previous interview to wrap up while it ate into our time slot. Ending and beginning the interviews on time is important for everyone, because if one runs over, it's likely to delay later interviews for the entire day or cut someone's shorter to make up for lost time. And it's not always the PR or artist's faults either. But you often have to just roll with the punches. And in these cases where your interview is delayed, you have to make sure you didn't line up another rendezvous in a different suite (or hotel altogether!) right afterwards. We had plenty of time to get to our 11:30 with Thousand Foot Krutch frontman Trevor McNevan, before getting a bit of a lunch break and downtime in the press room prior to our 2:00 with Tooth & Nail rock band Project 86. And a perfect example of how the family feeling comes into play, is when we bumped into Mainstay and Hawk Nelson's Jason Dunn on the way into our Project interview, and then ran into Family Force 5 afterwards. While all of our interviews for the rest of the day went much smoother than the K-Max dilemma, it was a bit inconvenient for another interview to be taking place in the same small hotel room as the one with JFH and Project.
We had a delightful sit-down with KJ-52 in the afternoon, which almost became more of a discussion about TV show The Office than an interview about his music. And the day of meetings and interviews came to a wonderfully relaxing close with a laid back chat with All Star United vocalist and ringleader, Ian Eskelin. The schedule also permitted some time to just stretch the legs and walk the busy Music City streets, which capped things off nicely.
The congested and supremely frustratingly frantic scheduling of the evening showcases always makes it rather difficult to choose which showcase to spend your evening at - especially when most are rather diverse in their lineup, with each one having several must-see shows taking place at once. Tooth & Nail Records held a showcase at The Anchor in the Nashville area, filling their evening with fresh talent from their roster. In the attempt to spread ourselves a bit without being too overwhelmed, we arrived at The Anchor just as Project 86 was about to go on, and the foursome opened with their intense fan favorite "The Spy Hunter" to get the night off to an energetic and ferocious start. After vocalist Andrew Schwab addressed the audience, the band began playing a few cuts from their pending new record, Rival Factions, including "Evil (A Chorus Of Resistance)" and "Put Your Lips To The TV." The new material, although bearing a distinct Project feel, was undeniably a significant change from the sound fans have come to expect from the band. The music had a more accessible feel, but it still fit the band well. However, when the guys closed their short set with "Safe Haven" from their Songs To Burn Your Bridges By installment, it only reminded longtime listeners of the intensity in their live shows that comes with their more aggressive material.
When Project left the stage, it was back in the car for us and we rushed over to Exit/In for the EMI CMG showcase and official launch of Sanctus Real's Face Of Love Spring Tour. We walked in as new Ohio-based rock act This Beautiful Republic was finishing up their set with the song "Cloud Cover," and a brief set change followed. Possum Kingdom, South Carolina band Needtobreathe stepped up next, bringing their brand of southern rock to the stage. I recently caught these guys live for the first time on tour with Jars Of Clay and it was great to see them once again. Although the guys are pretty young, they perform with the passion and strength of seasoned musicians. With vocalist/ guitarist Bear Rinehart seated behind a keyboard, the band opened with the immensely catchy "Don't Leave Just Yet." Rinehart didn't stay seated too long, and took center stage for "You Are Here" next. The rarity "Sweet Talker" followed, a live show highlight that can't be found on the band's national debut Daylight or their forthcoming sophomore project. The closing verse "It's alright to shine" became an anthemic moment of the set as Bear encouraged the audience to sing along. A brand new cut, "Signature Of Divine," the title track from their upcoming Fall release, followed, before the band played their radio hit "Shine On," and closed with the piano-driven ode to the Rinehart brothers' preacher father, "Washed By The Water."
The evening's main course followed, tour headliners Sanctus Real were next, bringing a taste of the upcoming tour with them. Opening with a cover of Tom Petty's "Running Down A Dream" offers a fitting in style and intensity rock track, Sanctus displayed an artistry that was until this point not fully exemplified on their records. While their latest album The Face Of Love offers some of their best music to date, glimmers of what's to come was shining on their opening song. "Possibilities," from the tour's titular record served as a great way to get things underway. The guys were more visibly excited than usual, most likely fueled by the presence of friends and family in the audience, as well as the pressure of launching a tour before an audience of industry reps. Lead vocalist/guitarist Matt Hammitt was pumped up more than usual, working up quite a sweat under the sweltering lights. "The Fight Song" followed, as well as "We're Trying," "Alone," and "I'm Not Alright." Hammitt prefaced "Don't Give Up" with an encouragement to not ever view divorce as an option, and followed it with "Eloquent," and a passionate rendition of "The Face Of Love." Hammitt then paused to give a tearful talk about MochaClub.org and the difference it's making in the lives in Africa. The band then ended their set appropriately with the worship-minded pop track "Everything About You."
Although it was pretty late by this time, and surprisingly a good portion of the attendence had disbanded, Switchfoot vocalist Jon Foreman grabbed a chair and his acoustic to perform a few of his own songs for the Nashville audience. By this time, those surrounding Foreman made for a much more intimate setting as he played several originals that Switchfoot fans were hearing for the very first time. The songs exhibited Foreman's elite songwriting skills from a song the artist described as a murder mystery, to even the single Switchfoot song he would play, the b-side, "Revenge." One song in particular stood out as a prayer, while others were just fun little stories. Foreman ended his sadly brief six-song set with a cover of Bad Religion's "Sorrow."
The crew of the Exit/In was quick to rush the remaining listeners out of the venue, and the evening's festivities were finished. But the night was young yet, and we retreated to the Sunset Grille for some needed downtime after a long, but eventful day...
On to
Tuesday
... --
John DiBiase
, 4/30/07
GMA Week: Monday Photo Gallery
click on an image for a bigger size
Project 86 -- "Tooth & Nail Rock Showcase" @ The Anchor
Needtobreathe
-- "EMI CMG Artist Showcase" @ Exit/In
Sanctus Real
-- "EMI CMG Artist Showcase" @ Exit/In
Jon Foreman
-- "EMI CMG Artist Showcase" @ Exit/In
*all photos by
John DiBiase
and are the property of
Jesusfreakhideout.com
GMA Week 2007 Review: Main | Sunday | Monday | Tuesday | Wednesday