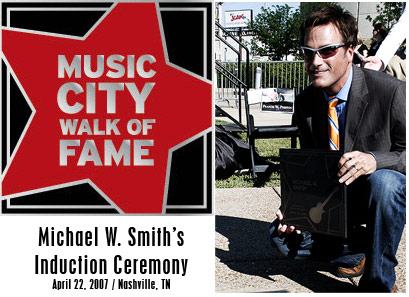 2007 marks our third outing at GMA Music Week and, to not bother trying to avoid any cliches, I embrace the idea that "three's a charm." The experiences each year have been quite different, and this year is no exception. We flew into the Nashville area earlier prior to the week's festivities than we have before, which allowed us to spread our time out better. However, as we used our extra time to catch up with old friends and spend time in the area, our GMA festivities didn't really start until the Music City Walk of Fame induction ceremony in downtown Nashville on Sunday afternoon. Reunion Records legend Michael W. Smith was among fellow history makers like The Crickets, Wynonna Judd, Emmy Lou Harris, Frances W. Preston, and John Hiatt. The event began pretty sharply at 3PM in the blazing midday Tennessee sun, as friends, family, and fans of the artists gathered in Centennial Park where the honorary star plaques are laid. The casual and glitz and glamor-free ceremony was refreshing and a wonderful way to present the awards. Each artist went through the process of being introduced by Master of Ceremonies Bill Cody, followed by being honored by a friend or family member, before being presented with a special plaque they could keep.
Towards the end of the ceremony, Smitty was introduced by actor Jim Caviezel, who is most popular for his portrayal of Jesus in The Passion Of The Christ. Caviezel expressed his longtime adoration for Smith's music before recounting how his song "Above All" had played a significant role in his work in the filming of Christ on the cross. "I heard this before I came over here," Caviezel noted toward the end of his speech, "It said 'Every generation of Americans needs to know that freedom exists not to do what you like, but having the right to do what you ought.' Certainly, Michael, you've done what you ought to do and I'm so honored to be here to welcome you to the Walk of Fame here in Music City. You are definitely one of my truest friends. God bless you and come on up here!"
Following Jim's touching tribute, Smitty stepped up to receive his honor. After an emotional embrace between the actor and singer/songwriter, Smith spoke of his experiences and those who've stuck by him through his career. It was shortly then that he stepped down from the stage and stood before the covered plague awaiting its unveiling. Caviezel was by Michael's side when the cover was lifted. Smith smirked, tilting his head to the side as he thoughtfully gazed at his honor, and slowly knelt by it for a closer look. Most of Michael's family was in attendance and they quickly joined Michael in front of his star.
We briefly mingled with the press and guests before joining fellow Christian industry media folk at the GLO.bal Cafe in downtown Nashville for a little Word Records-hosted 'coffee talk.' After caffeinating ourselves and partaking in the goodness of a few gigantic cookies, we took the rest of the evening off to spend with a few local friends...
On to
Monday
... --
John DiBiase
, 4/26/07
GMA Week: Sunday Photo Gallery
click on an image for a bigger size
Jim Caviezel & Michael W. Smith
*all photos by
John DiBiase
and are the property of
Jesusfreakhideout.com
For video footage from the ceremony, check out the video below!



*video footage taken by Amy DiBiase*
GMA Week 2007 Review: Main | Sunday | Monday | Tuesday | Wednesday